Each new moon is a celebration of new beginnings and change, for those of us who have studied occultism and witchcraft. And even if you have never studied either of these, or are a beginning student, this ritual is simple and efficient.
The new moon is right around the corner on December 7th, I couldn't have stumbled upon the ritual at a better time. And if you are like me and want to take advantage of this energy, then you are going to love this ritual as much as I do!
While trying to find the perfect ritual for promoting sleep, I stumbled upon the New Moon Wishes ritual listed in my favorite book: Crystal Muse (Everyday Rituals to Tune In To the Real You) by Heather Askinosie and Timmi Jandro. If you would like to purchase a copy, follow the link here. 
With that being said, I didn't have all the supplies she lists in her ritual, but I have been creating my own rituals for years. So with little effort, I was able to tweak hers a bit to make it simpler than before.
If you don't have some listed 'ingredients,' don't worry, because you can substitute with what you have and yield similar results. Just make sure to use crystals or stones with the same properties.
You Will Need:
A sheet of paper, and a silver sharpie (silver is the color linked with the moon)
1 blue pen (blue is the color of truth)
1 Amethyst (promotes spiritual growth)
4 moonstones (which represent new beginnings and self actualization)
1 clear quartz point (to activate your grid)
Sage
Feather
Shell or fireproof container to house your sage
Begin by saging the area that you are conducting your ritual in. Use the sage to also cleanse each of your materials, including your stones. Now hold the stones and ask your personal higher power, or the creative energy of the universe to cleanse the stones of all negative energy, and to empower them with your purpose.
On a sheet of paper, draw the following diagram on it with a silver sharpie, or even a silver gel pen.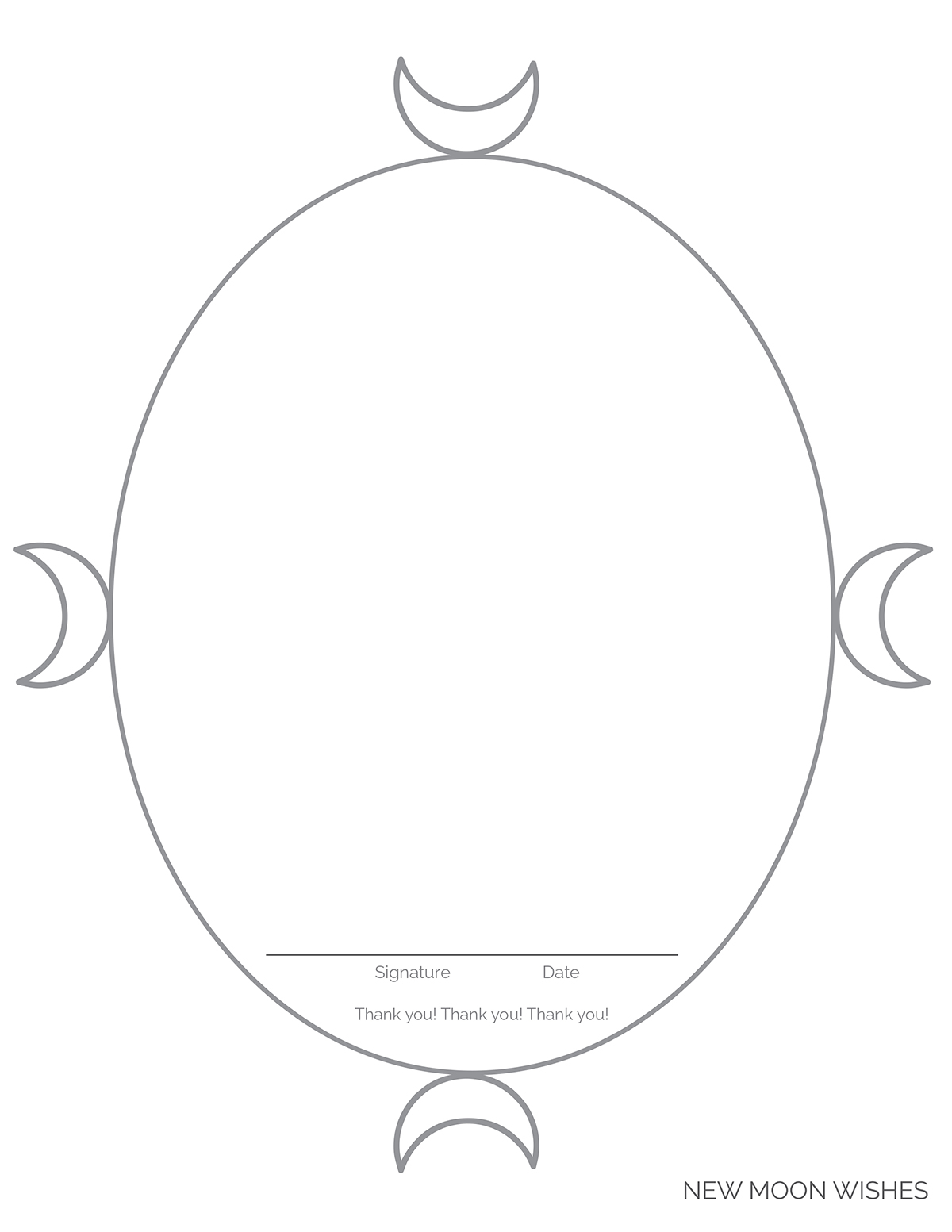 Inside of the circle, write at least 10 wishes. You can begin with 'Dear (insert higher power here)' and follow with your wishes. You can decorate the sheet if you wish on the outside of the diagram. Now, sign and date the bottom of your sheet. Now, say thank yo, and fold the sheet in half. Fold it in half a second time. Place the sheet where it will not be disturbed for 28 days, or until the next new moon.
Now, on top of your folded sheet, place your amethyst in the center. Surround that with the 4 moonstones, and place each one in a different direction (North, South, East, and West.) Use your crystal point and draw an invisible line from the amethyst to your moonstones. Keep going until they are all energetically connected.
Once the grid is completed, leave it be for the entire upcoming moon cycle. At the end of the cycle, go over your grid, and wishes. Decide which ones have and haven't manifested, and add those that have not to your next new moon wishes ritual.
Image via The Witch of Walkerville