Record-breaking temperatures have soared well past 100 degrees across the Pacific Northwest, where the are is trapped beneath a dreaded "heat dome." This historic heatwave is bringing with it fears that we could be dealing with this for the rest of the summer.
Average temperatures are usually closer to the 70s during this time of year, but now houses are seen with blacked-out windows covered with blankets to help drown out the heat. The area normally has mild summers and many houses do not even have air conditioning.
Heat has also contributed to at least four deaths in Bremerton, Washington, on Monday, officials said, where a record-setting heat wave peaked Monday at 110 degrees.
"We have never seen anything like this," said Vince Hlavaty, Bremerton's medical officer. "I hate to use the word unprecedented, but that's absolutely what this is."
In Bend, Oregon, authorities said the deaths of two homeless people in extreme heat may have been weather-related.
Also, across the border in Vancouver, Canada, where many hones lack air conditioning, at least 65 sudden deaths were reported by police since Friday. Temperatures in the Vancouver area reached just across 90 degrees Fahrenheit Monday, but the humidity made it feel close to 104 degrees in areas that aren't near water, Environment Canada reported.
"Vancouver has never experienced heat like this, and sadly dozens of people are dying because of it," Sgt. Steve Addison said in a news release. "Our officers are stretched thin, but we're still doing everything we can to keep people safe."
Records set one day are being broken the next in places like Portland and Seattle. Portland broke records three days in a row, hitting 108 on Saturday, 112 on Sunday, and then 116 on Monday.
In Seattle, Washington, temperatures rose to 108 on Monday. In Pasco, temperatures rose to 118 degrees, the hottest temperature the state has recorded since 1961.
In some places, the heat is so intense that it has even melted power cables. In downtown Portland, the Portland Streetcar service shut down on Sunday, posting a picture on Twitter of the burnt power cable. Roads have also started to buckle under the Portland heat.
In case you're wondering why we're canceling service for the day, here's what the heat is doing to our power cables. pic.twitter.com/EqbKUgCJ3K

— Portland Streetcar (@PDXStreetcar) June 27, 2021
State Route 544 milepost 7 near Everson, Wa is currently closed. The asphalt roadway is buckling and unsafe for travel. WSDOT is advised and detours are currently being set up.

— Trooper Rocky Oliphant (@wspd7pio) June 28, 2021
According to Climate.gov,
This extreme heatwave occurred over parts of the country stuck in a deep drought. Over 20% of the country is in the worst two categories of drought (D3-4: Extreme and Exceptional), with the vast majority of that land located in areas that also just saw record-setting temperatures.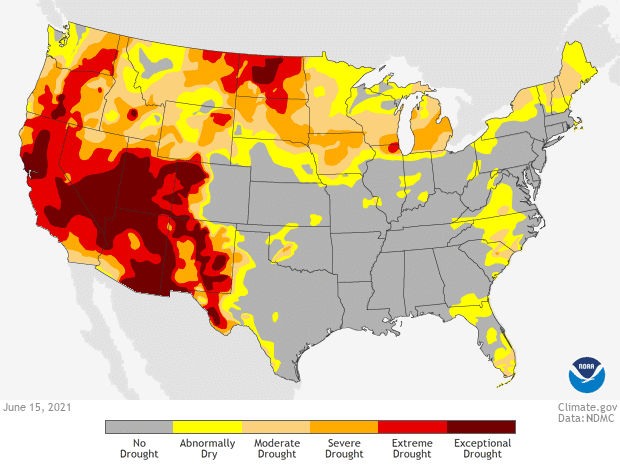 Drought and heat are natural dance partners. Drought conditions are made more likely or more extreme when temperatures soar. And vice versa, hot temperatures can be made even hotter by a drought-stricken landscape. When the ground absorbs incoming sunlight, some of that energy converts soil moisture into water vapor, which carries heat away from the surface. Less moisture in the soil means less solar energy being used to evaporate water. Instead, that energy heats the ground and the air.
Naturally, one consequence of hot temperatures and a dry region is a heightened risk for wildfires. And during the middle of June, that risk turned to reality as wildfires sprung up in California, Arizona, Colorado, Utah, and Montana. While the North American summer monsoon is normally expected to tamp down wildfire risk across the Southwest, for the rest of the West, the wildfire season is only just beginning.
Hopefully, things will start to cool down soon, but only time will tell.