If you've been wanting some kind of guesthouse or spot to relax in your garden, this might be exactly what you need. Sure, it might be small but this interesting little building is quite the sight. 
For a while now Amazon has been selling/offering something quite mind-blowing. For roughly seven thousand two hundred and thirty US dollars you could order a small cabin kit that could serve as a small guest house or garden area for you to truly relax. This sleek-looking little kit makes the ideal lounging pad and really brings things together for many. Personally, I see this as being a great 'pool house' as well. 
This kit is called the 'Allwood Solvalla 172 SQF Studio Cabin Kit, Garden House' and well, it's exactly that. While it only has an inside floor area of 172 square feet, it does seem big enough to fit a pull-out couch or futon of some sort as well as a small table which you can see in the photos below. Another thing that makes this kit quite the treat is that it doesn't take a long time to put together. It is estimated that two adults can get it done in about eight hours.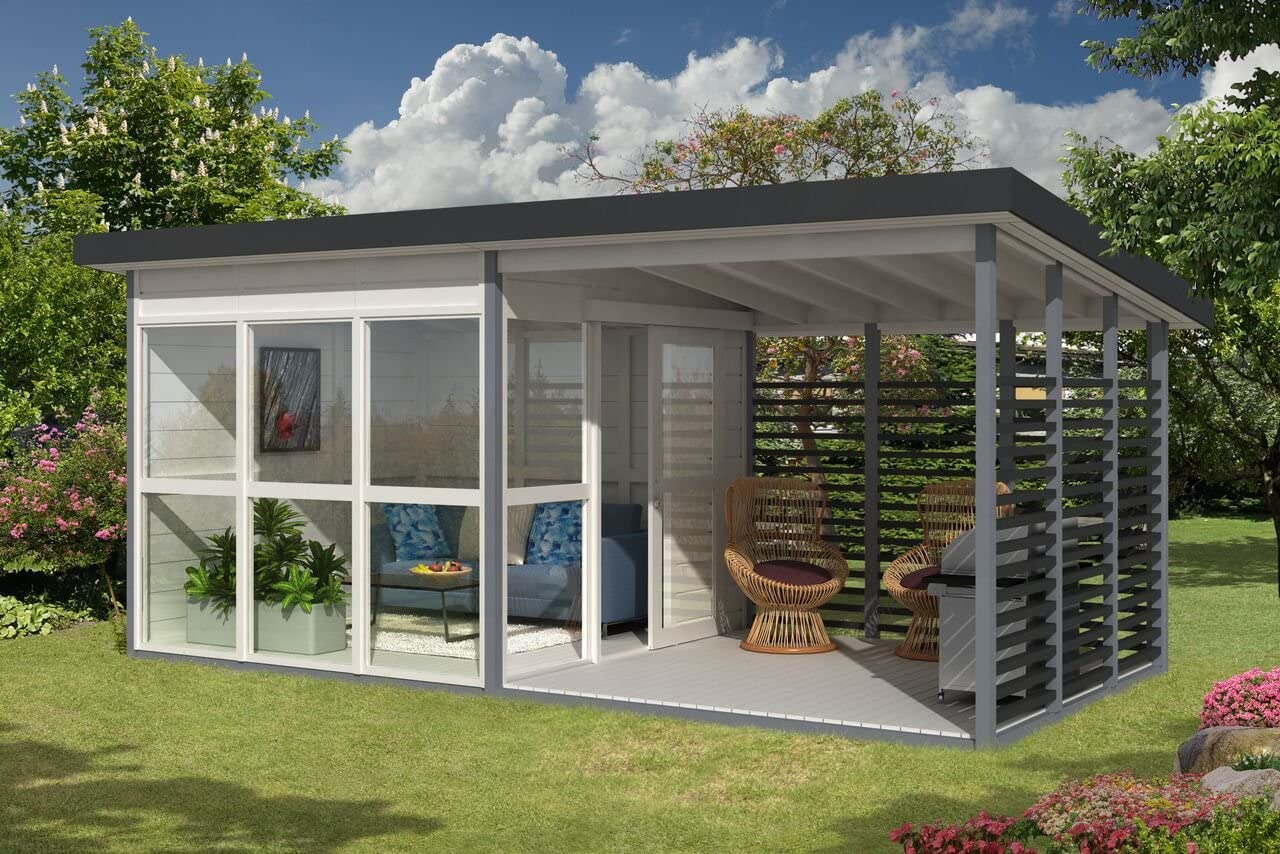 The description of this product goes as follows:
Allwood Solvalla is a garden house kit made from high quality Nordic wood. This timeless design is an alternative to classic log cabin styled structures. It works well in a variety of surroundings. Versatile Solvalla can also be set up on rooftops of multi story buildings. Assembly of this solid wood structure takes a full day for two adults. Do it yourself step-by-step directions come with the kit and only minimal tools are needed. Important: This item includes all the parts and hardware except the roof shingles and foundation materials (roofing shingles approx. cost $150.00 and foundation materials approx. cost $170.00). PLEASE NOTE FREE SHIPPING ONLY APPLIES TO CONTIGUOUS 48 STATES. ANY REQUIRED FERRY TRIPS TO ISLANDS ARE AN ADDITIONAL CHARGE.
While it doesn't have a bathroom or a kitchen, it has been noted by Allwood that you could end up also buying their add-on DIY kits for the 'guest house' if you really wanted to and could through this means take your time in getting things how you want them. Once you've got everything up simply paint it and then put whatever you want inside. Sounds simple enough, doesn't it?
Whether you're using this to house your grill, keep your pool floats, relax in the garden, or allow guests a bit of privacy it will likely fit your needs within reason. Sure, it might not be ideal for everyone but it is quite aesthetically pleasing on the eyes and will definitely do the job, wouldn't you agree?