It is estimated that 36.7 million Americans participated in some form of yoga in 2015, a number that is increasing so rapidly that experts predict it will exceed 55 million by the year 2020! While some fads will come and go, with no real staying power, it appears that yoga is here to stay.
It could be the fascinating past, dating back over 5000 years, the number of celebrities that are currently discussing their own experiences or the long list of benefits associated with the practice of yoga – the reason for this fascination in the United States today is unclear. What we do know is that yoga is more than just a 'flash in the pan' as yoga studios and well know instructors pop up across the country.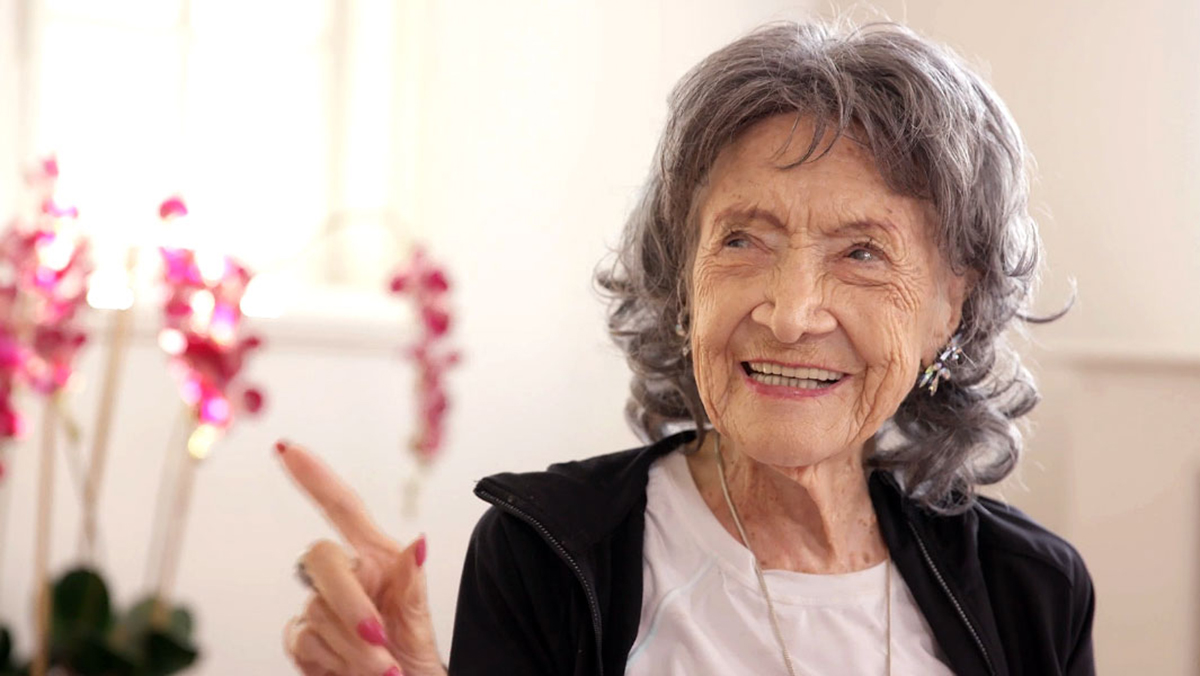 Each instructor has their own personal story and experience with the practice of yoga in their own lives, strengthening their conviction and purpose for sharing this gift with each person that walks through their door. While each of these stories is different and inspirational, there is one that has captivated people around the globe, changing lives and motivating others in their own journey of self-discovery. I am talking about the world's oldest yoga instructor, Tao Porchon-Lynch.
At the age of 99, Porchon-Lynch has been teaching yoga for over 75 years. She first began her journey in the world of yoga at the young age of 8, while living in India. Today she lives in New York and has brought her knowledge and expertise to countless people over the course of her incredible life.
In addition to her yoga practice, Porchon-Lynch used to be a fashion model and an actress, acting in movies including Show Boat (1951) and The Last Time I Saw Paris (1954). She is also a ballroom dancer, dancing, teaching and competing to this date. In 2015 she appeared on the popular show 'America's Got Talent' with her 26-year-old dancing partner Vard Margaryan, dancing a samba/cha-cha/salsa combination.
When asked the secret to living a long, healthy life, an achieving such great success, Tao Porchon-Lynch revealed her best-kept secrets:
"When the mind remains calm, the balance of the Life Force is awakened within us. True yoga helps you control and still the mind so you can harness that power. Proper breathing also is the gateway to tranquility, longevity, and vitality."
In relation to the concept of age and aging, she stated:
"Age does not necessarily equal wisdom. It depends on how you experience the world and your inner journey. If you remain curious, wisdom will come. Know that there is no such thing as 'age.' Tune into the power of the eternal and feel the beauty of life. Revitalise yourself with every breath you take."
Looking at her incredible life up to this point, Porchon-Lunch revealed her best moment:
"[My] best moment so far was marching with Mahatma Gandhi in the 1930 Salt March in India. I was part of something incredible at a young age. Gandhiji taught me to be more fearless and to face life head-on. If you believe in something, you have a purpose. Talk is cheap. Don't procrastinate. Go out and do. Make a difference in the world."
Focusing the conversation specifically on the practice of yoga and meditation, she explained:
"I love shoulder stand. It is the Queen of asanas and has so many physical benefits. All day long the blood is going down to our feet. It is good to reverse it and allow the energy to flow. I also like to do should stand when my thoughts get noise. It clears my mind.
I meditate as I watch all of nature. Nature is advertising the seasons of life. It reassures me no matter how bad the storm is, spring will follow. Nature is my encyclopedia of life.
It's not [the] yoga pose. It's the breath behind the yoga pose. It takes me on the journey through the pose. Yoga is the breath of life."
When asked about her diet, and how she has kept herself as healthy as she has up to this point, she answered:
"I love vegetables and fruit. I'm a vegetarian, but I do like to eat lobster and shrimp occasionally. I also like a glass of wine with my food. I don't like to drink alone. Wine is good for the blood. I don't eat for the sake of eating. No one should eat huge quantities of food. Be in touch with nature and the fruits of life. That will keep us healthy."
Finally, she summarized her outlook on life saying:
"Don't let your mind wander off with fear and fill with negative thoughts. They will materialize. Think positive and don't let negative thoughts enter your mind.
Don't go by age. It means nothing."
Feature Image Source: Bikram Yoga Valparaiso