A lot of people have seen the eye of Horus, but not very many actually know the meaning it holds. Sure, it's Egyptian but there is a lot more to it than that.
For those who might not be aware, Horus is an Egyptian Sky God, and he can be found throughout Egyptian mythology. He is thought to be one of the most important of the avian deities and he played the role of the protector of the ruler of Egypt. His appearance is depicted as a falcon-headed man holding scepter and ankh all the while wearing a red colored crown.
He is sometimes depicted differently but is quite prominent in all forms. Now the eye of Horus is something quite interesting, to say the least. It is a powerful symbol from Ancient Egypt also known as the Wedjat. It is said to be a very protective symbol and is sometimes referred to as the all-seeing eye. You will find it in many places across the globe these days as it has really taken off, people seem to be drawn to it.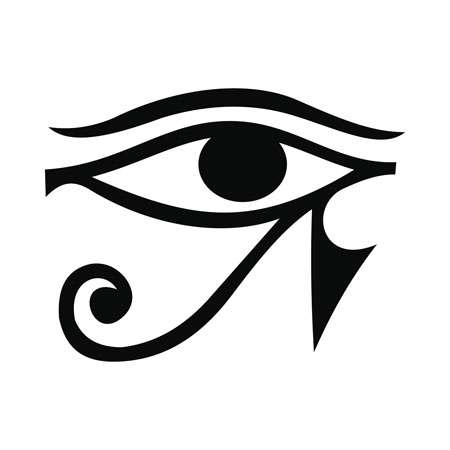 While there are lots of different versions of the story associated with the symbol below you will find a simplified version:
Osiris was murdered by his brother, Set (not sure why). However, the remains of Osiris was recovered by his wife, Isis, who used some magic to bring him back to life long enough to impregnate her with Horus before dying again. With the birth of Horus, Isis fled to hide in the weeds of the Nile, because she knew Set would want to also kill Horus (again, not sure why). Nonetheless, the two ultimately met to battle over Egypt; a clash that was ultimately decided in favor of Horus by "The Gods," earning him the title of the "God of War."
During the battle, Horus lost his left eye but was restored by Khunsu, the god of youth and moon. His right eye came to represent the sun, and the left eye, the moon, which covered most of the "sky" part of his title. Obviously, a lot more can be found, with variations on the same story in the literature, but that's the general depiction.
Horus was worshipped all over Egypt and several temples were built to honor him. He is strongly associated with healing and restoration. This symbol is thought by many to be somehow a representation of the third eye as it can see so much more than your average eye. Have you ever seen this symbol and did you know the meaning behind it before now?
Image via The Mystery Vault