Despite the stereotypes that may underlie our society (American redneck anyone?) the American population rates rather high in terms of intelligence in our world today. In fact, experts report that we are the 9th highest ranking country based on IQ scores, with the average American scoring approximately 98.
Even more interesting is the fact that many experts say that the IQ scores in industrialized countries are on the rise. Why? As science and technology continue to advance, the population as a whole has to rise up in order to keep pace. Consider, for a second, the technological prowess of children today as opposed to their parents, and, taking it a step further, their grandparents. For this reason, the average IQ in the United States has been on a slow but steady climb over the last 100 years.
We grow up looking up to those with higher IQ levels as being somehow inferior to the rest of us. They excel in all that they do, becoming the entrepreneurs and tech moguls that are dominating our world today. These individuals are the faces behind the latest social media platforms, the most advanced tech companies and the brains behind the latest innovations. Some excelled in school, while others struggled with the structured school setting, but they all possess a unique way of viewing the world around us.
A new study published in the journal 'Intelligence' warns that there may be some risks involved with being among this elite grouping. The study concludes that those with higher IQ levels are actually at a higher risk for both psychological disorders and physiological disease.
The researchers worked with members of the American Mensa Society, a well-known organization that exclusively accepts members that score within the top 2% on any one of their accepted, standardized intelligence tests. There are currently over 50,000 members in the American Mensa, the largest Mensa operating under Mensa International Ltd. at this time, with their members ranging in age from 2 to 106. The research team obtained data from 3715 members, examining the trends and prevalence of a number of different disorders and diseases among this group compared to the general population.
The results were actually quite startling! The research team explained that those with higher intelligence are more likely to experience 'intellectual overexcitabilities' as well as a 'hyper-activity of the central nervous system.' These conditions aren't all negative, in fact, they are credited with being the reason why those with high IQs are often highly artistic and creative, with "a broader and deeper capacity to comprehend their surroundings." This is the basis for the poets, the writers, the composers and more.
However, these conditions also expose these individuals to intense emotions, while also leaving them more likely to ruminate on their emotional responses for an extended period of time. These heightened emotions over time can take a toll on the mind, leading to a heightened risk of both depression and anxiety among those with high IQ levels.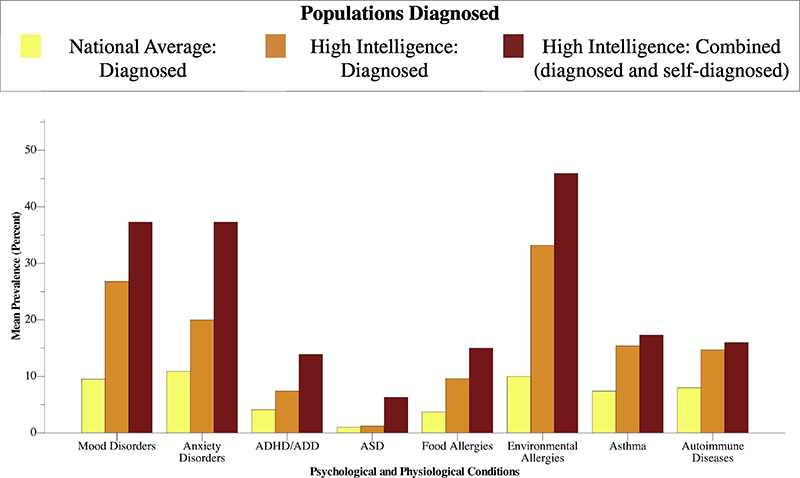 These heightened emotional responses and awareness of outside stimuli can also lead to an increase in physiological diseases. When we are overly worried and experiencing 'overexcitabilities,' the heightened stress levels can lead to the body reacting with an immune response, believing that it is in real danger (even if that danger is an imagined or overexaggerated one). This causes the body to trigger changes and activities in the hormones and neurotransmitters, preparing the body to fight off the potential danger. With the body 'on' in this way for heightened periods of time, it can cause a greater disruption to the body's immune function. Consider, for a moment, if your immune system has been 'on' for a week and you are suddenly faced with a potential allergen, how is it supposed to fight back to protect you?
Unable to respond appropriately to outside stimuli, those with higher IQs will often develop conditions like autoimmune disease, allergies or asthma. The body can no longer respond to inflammation and outside risks, hindering its ability to bring balance and stability to the body. As a result, they are at a higher risk of reacting negatively to their external environment. While someone with a healthy and balanced immune system would be able to be exposed to an allergen without any response at a reasonable level (such as pollen in the air), their bodies preventing any negative responses, the lack of an effective immune response for those with higher IQs will cause allergic reactions to occur at a much lower threshold.
Researchers behind the study confirm that further study is needed to better understand their findings. So, while we won't take away from their incredible intelligence, there may be more to understanding the intelligent among us!
Image via Vincent Van Gogh