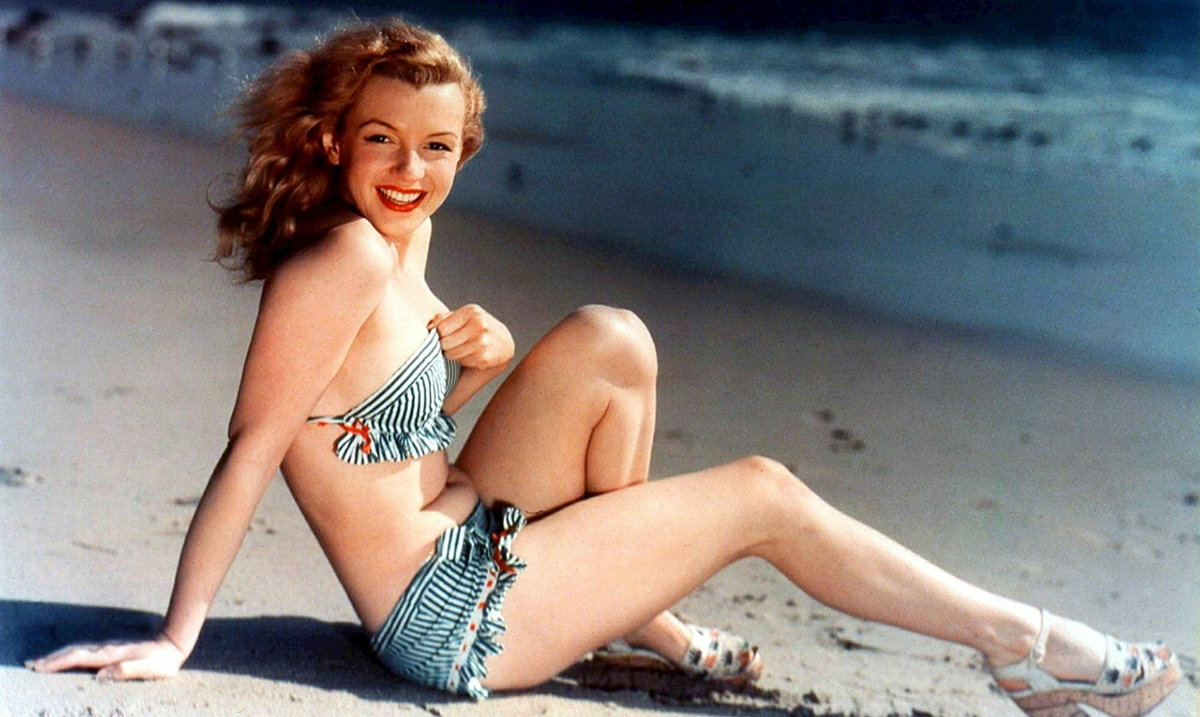 Sure, there are tons of famous pinup girls/models and have been throughout the years but have you ever really looked into which ones were popular when you were young or even when you were born? You would be surprised at who was popular back then, I know I was.
Below you will find a list of years and pinup models who were most popular in those years. Who matched with your year? I was blown away by who ended up matching with me!
Claudia is an Italian film star who gained way into the world of movies through beauty pageants. She was 17 when she entered into her first one and after that made way to several small films. She is a true beauty.
This pretty lady is an English model and actress. She is known mostly for her appearances in Playboy magazine but has also been in several films. She was called the 'most photographed nude in America.' The Early 60s were her best years.
This French beauty is an actress, singer, dancer, and model. She really has done it all. She appeared in dozens of films throughout her career but retired from acting in the 1970s.
This lovely woman began her film career in 1950 when she was merely 15 years old. She is easily one of the most beautiful women in history and was able to accomplish so much in her years. In the 1960s Loren was in the film Two Women and it really made a huge difference in where she went from there. This transformed her into a full-fledged celebrity.
This Swedish-American actress, dancer, and singer has been in many films and is one of the most famous sex symbols of the 1960s. She even starred in a film with Elvis Presley himself.
This American dancer, actress, and singer was another huge sex symbol of the 60s. She was gorgeous and rivaled with Margaret throughout the years. I absolutely love looking at photos of her!
This American singer and actress sure knew what she was doing. She got lots of attention after her role in Fantastic Voyage and from there, things only got better. Talent and beauty, oh my!
We all know who Sharon Tate is, she was featured in many magazines throughout her life and was the star of Valley of the Dolls. That being said her death was one that shocked us all and she has been and will continue to be missed. The world lost a true angel that day.
Fonda is an award winner and two-time BAFTA award winner as well. She has been in countless films and graced the big screen many times over. She is a former fashion model and fitness guru.
Kitt was an American singer, dancer, actress, activist and so much more. She has a beautiful voice and was a force to be reckoned with. She always spoke her mind and has a story like no other.
Lipton was known for many things. She began modeling at age 15 and from there became quite promiscuous. She has dated many big figures and even appeared as an assistant instructor in a Jane Fonda workout video.
Tiegs is best known for her multiple appearances on TIME and Sports Illustrated. She is considered by many as America's first 'supermodel.' Back in the 1970s, she was on the wall of every teen boys room.
Ladd went to Hollywood to begin a career in music. She was the singing voice of the Melody on Hanna-Barbera's Josie and the Pussycats animated series. She actually went on to be part of the show Charlie's Angels in the late 70s.
After winning the "Miss Teenage Memphis" in 1966 and model of the year just a few years after she became quite the fashion icon. Shepherd was on the cover of basically every magazine. She was a spokesperson for L'Oreal and went on to be quite the actress.
Grier has been a major African American star ever since the early 70s. She has carried many strong rolls and is probably best known for 'Foxy Brown' in 1974. Her career has been full of success.
Parkinson worked for quite some time as a prize presenter on The Price is Right and did Playboy as well. She has a wonderful body that captivates many and is quite the strong individual. She was in lots of pageants and made quite the name for herself.
Fawcett was huge for a very long time. She was instantly a sensation as soon as she became a part of Charlie's Angels. She literally became the 'it girl' within no time at all. People wanted her hairstyle, her body, and basically to be her.
Johnson was the first African American model to appear on the cover of American Vogue in 1974 and her career skyrocketed from there. She made a name for herself and really did things up. She has done some acting and producing and is still active even now.
Iman is a Somali-American fashion model who took the US by storm. She was one of the most sought-after models in the 70s and ended up marrying David Bowie in the 90s. She is now retired but is still quite influential.
Carter has too many titles for me to type out. She has done so much throughout her years. You may know her as Wonder Woman from back in the 70s. She was and is well known. She has still managed to stay quite active in the world of acting.
Derrek was one of the most popular sex symbols of the 80s. She was shot forward thanks to her breakthrough role in the movie '10.' She was also a face you could find in the bedrooms of teen boys across the US.
Bach is better known as Daisy Duke, yes from the Dukes of Hazzard. Many of us fell in love with this beautiful brunette. Unsurprisingly she still looks amazing even now at over 60 years old!
Thomas is best known for her role in Zapped the year 1882. It really put force behind her name. While this was her peak she was still quite influential for some time.
Brinkley became world famous in the late 70s and was on the cover of several issues of Sports Illustrated. She continued on to make quite the name for herself in the years following and even did 25 years as the face for CoverGirl. Yes, she was and is quite a woman!
Fisher was an American actress, writer, and so forth. She is best known for her role in Star Wars as Princess Leia but has done so much more. She is someone people fantasize about even now.
LeBrock was born in New York but raised in London. She began modeling at 16 and from there, things only got better. She has appeared on hundreds of covers of magazines.
This is a face you may still see from time to time. She is a talent agent, model, photographer, author, and so forth. You could say Dickinson was one of the most successful models of the 70s and of the 80s.
Crawford has been on the cover of over 600 magazines and was the first modern supermodel to pose for Playboy. She was one of the finalists on Elite Model's Management's Look of the Year back in 1983 and her accomplishments are neverending. Her Pepsi advertisment below will give you a good idea of just how obsessed we were with her.
MacPherson is a producer and actress with a quite statuesque figure. She is Australian and made the cover of Sports Illustrated magazine 5 times. Those 5 times being in the years 1986, 1987, 1988, 1994, and 2006
This Czech-born Swedish model is best known for the film Her Alibi from the year 1989. She is stunning and even does some directing. She is an American and Swedish citizen.
We all know who Kimberly Conrad is. She was chosen as Playboy's Playmate of the Month in January of 1988 and from there became far more famous than expected she was Hugh Hefner's second wife and is a mother to two of his four children. She is a model and actress.
Taylor was a clumsy child with crooked teeth that turned out to be a bombshell. She has killer hazel eyes and one of the most iconic supermodels there are. She was in a terrible car crash in the early 2000s and has had to have over 40 surgeries since then.
Campbell is gorgeous and was chosen by People magazine as one of the 50 most beautiful people in the world back in 1991. She appeared on the cover of Vogue in the late 80s and was the first black female model on the cover of British Elle. She is amazing!
Smith rose to fame as a model. She was named Playboy's Playmate of the year in 1993 and was at her peak around that era. That being said as the years went on her life took a terrible turn.
McCarthy is a very well known actress. She modeled for Playboy back in 1993 but it wasn't until 1994 that things really took off for her. She began picking up acting parts left and right once she finally made the move to Los Angeles and from there, things have remained steady.
Moore quit school at 16 to work as a pinup girl. She was cast on the soap opera General Hospital in 1963 and from there, things were a bit average. It was not until her nude appearance on Vanity Fair while pregnant that she really took off. She was in several movies in the early 90s and 1995 was a wonderful year for her.
Valletta began her career as a model but like everyone else turned actress. She landed her first American Vogue covers at only 18 and reached supermodel status in the 80s. She worked as the face of Giorgio Armani, Chanel, and more.
Anniston is best known for her role as Rachel on Friends. This being biggest throughout the 90s. She is still active in the film world and has been someone we all wanted our hair cut like at one point or another. Anniston has done several pinup shoots throughout her years and I love them all.
Electra is an actress, model, dancer, and singer. She was first spotted by a scout for Prince in California and from there released her first album. She went on to co-star on Baywatch in the late 80s and from then on she was quite the face. Her name is also on most people know and of course, she also posed for Playboy like many of the others on this list did.
This Brazillian supermodel is one I cannot take my eyes off.
She was discovered at age 14 in a shopping mall. She is easily one of the most famous faces in the business. She has been on more magazines than most other models.
We all know the face of Tyra Banks. She has been a television star for so long and is one of the most well-known models. She was a producer and writer for the movie Coyote Ugly in this year.
(Image Via: Pixabay/skeeze)