Quickly gaining in popularity, the use of crystals for healing has once again become mainstream. With celebrities such as Kylie Jenner, Adele, and Miranda Kerr speaking up about their own personal use, the number of stores marketing and selling these stones has grown, making it easier to find them than ever. In fact, it has been reported that Adele lost her crystals before her 2016 Grammys performance, and believes that their loss was the trigger for the many technical issues that they faced.
Whether you are looking to banish negative energy, seek spiritual healing, boost your creative nature or empower your inner power, there is a crystal for that! Harnessing the energies and powers of the world around us, and the universe, these healing stones have an incredible, yet mysterious power.
The energies associated with these crystals can tell a great deal about you as a person, your life path, and your purpose. Look at this image briefly and select the first crystal that you are drawn to. Don't overthink or try to logic this, trust your gut instinct! Once you have chosen one, read on to discover an important message about your future.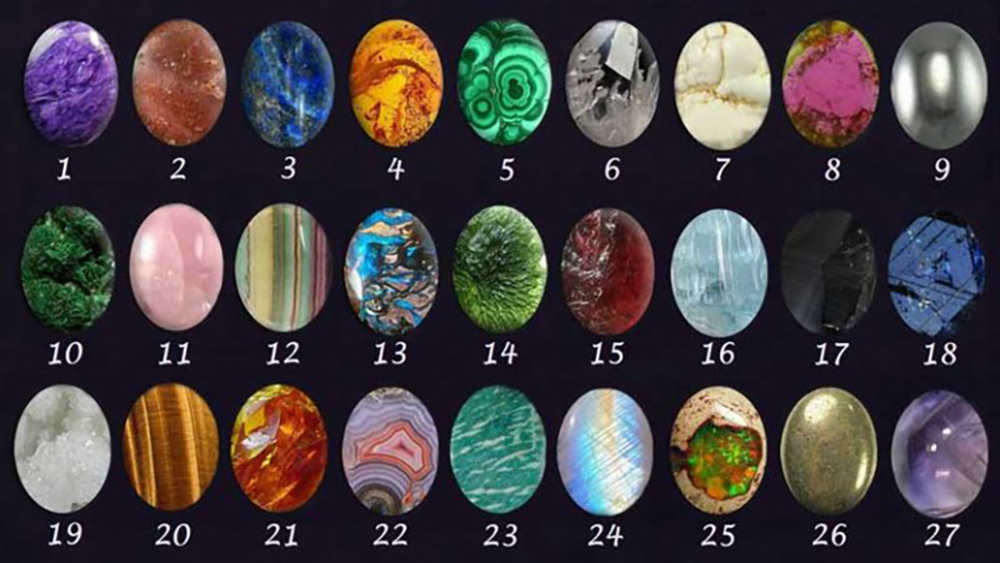 #1 – Charoite
One of the rarest stones of those listed, the charoite is associated with past lives, emotional fears, and the spiritual world. If this is the stone that spoke to you first, then you are at a point in your life where you need to face any emotional fears from your past, letting them go and moving forward into the present. This is a time of personal growth with great promise.
#2 – Sunstone
The sunstone is associated with the sun god Ra, and as such, it brings an energy of power, strength, and leadership. If you are attracted to this stone, you are approaching a time in your life where you need to step out and take control, leading others towards success which will, in turn, contribute to your own. Remember, lifting others up will also bring you closer to your goals and dreams.
#3 – Lapis Lazuli
Associated with royalty and honor, the lapis lazuli carries a strong spiritual connection. If you are drawn to this stone then you possess truth, wisdom, and vision, which means that you are incredibly skilled at seeing to the true core of the people you meet. You are able to differentiate between honesty and deception, empowering you to identify those who may be lying to you.
#4 – Amber
Amber isn't technically a crystal, it is a protective resin that comes from living trees, however, in many cases, it has encased plants or living beings creating fossils that have survived millions of years. This ability to hold onto the secrets of the past is where its energy comes from. If you are drawn to the amber, this means that you need to look back on your past in order to discover the secrets to success in your future.
#5 – Malachite
If the beautiful green of malachite has caught your attention, this is a sign that you need to re-evaluate your efforts to move forward in life. While you may be content within your comfort zone, it will not allow you to achieve your goals and dreams. Instead, you need to break free of these patterns and embrace change, allowing it to redirect your path.
#6 – Danburite
Danburite possesses the ability to create a working connection between the energy of the crown chakra with that of the heart chakra, bringing balance to the life of all who are drawn to it. It highlights the importance of discovering the 'sweet spot' between emotional and intellectual choices, not taking yourself too seriously, while also staying focused on where you're going and what you have to do to get there. This crystal is all about looking forward to your future.
#7 – Magnesite
Often used during meditation, magnesite is said to have the ability to improve imagination, visualization, and psychic vision. For this reason, it is said that if you are attracted to this stone, you are seeking a better understanding of the influences in your life, both physical and spiritual. You need to consider the motivation for each action in order to choose those that will serve you best.
#8 – Tourmaline
Tourmaline is believed to be a great protector, shielding those who possess it from physical, mental, emotional and spiritual energies and entities. It is believed that it can help you to find calm and balance when overcome by internal conflict and struggle, and as such if you are drawn to tourmaline, you are seeking balance in your life. Step back and consider your own energies, actively banishing negativity and welcoming positivity.
#9 – Hematite
Associated with feelings of calm, balance and grounding, if you are drawn to hematite, it is likely its ability to keep you feeling centered and at peace with your life. It works instantly, bringing you a wave of calmness the second that you pick it up, but you need to learn to create this balance yourself. Start assessing the ways you can create stability in your life today.
#10 – Atacamite
A newer crystal than many in this collection, atacamite is said to be incredibly effective in moving one forward in their spiritual journey. If your eyes are drawn to this crystal, then it is time to rededicate yourself in this area of your life. Focus on the discovery of your true self, and as you do you will find yourself building confidence, motivation, and enthusiasm for all that you do.
#11 – Rose Quartz
Largely connected to matters of the heart, if you chose the rose quartz then you are drawn to it's romantic and loving energies. It will help you to let go of past heartache, opening your heart back up to discover love in your life today. Furthermore, it will amplify your efforts to both seek and share compassion, understanding, and affection in your life. This will provide you with the opportunity to find someone truly special, be it a romantic love or a dear friend.
#12 – Fluorite
Fluorite is associated with stability and harmony, bringing peace and order into an otherwise disorganized and chaotic world. If you were drawn to this stone, then it is time that you seek this balance in your own life. Clear your mind using activities like meditation, cutting through the noise and chaos in order to focus on the things that matter. This will ensure that you are optimizing your efforts.
#13 – Opal
A beautiful and inspirational crystal, the Opal is said to bring love, luck and happiness to all that possess it. If this is the crystal that first caught your eye then it is time to reassess what makes you happy in this life, and what you are doing simply because you feel as though you must. Are you constantly focused on society's expectations while forgetting about your own happiness? Take this opportunity to rework your priorities as necessary to improve your future.
#14 – Moldavite
An incredibly powerful influence, if you are drawn to Moldavite then you are standing on the brink of something great in your life. It is time to truly assess every influence around you, including people, locations and events, identifying which are helping to move your forward and which are holding you back. Freeing yourself from those influences that are hindering your efforts will propel you towards your goals and dreams.
#15 – Garnet
The garnet is associated with powerful and passionate energies. If this is the stone that first caught your attention, then it is time to pay attention to your innermost desires. If you assure that your efforts are focused on these goals, then there is nothing that can stand in your way as you are empowered by an incredible strength, drive and determination. Don't pass up this opportunity!
#16 – Beryl
Beryl will focus on bringing you understanding in two very specific areas in your life, those of time and stress management. If you were drawn to this crystal, then there is a good chance you have been overwhelmed with your own life as of late, and it is time to refocus your attention on the things that really matter. Take steps to clear your mind, bringing calm and quiet, in order to allow you to develop a clear sense of purpose. Once you have found this clarity, use it as a compass to direct every decision you make.
#17 – Obsidian
This powerful crystal is associated with the darkest truths of life as we know it, both the good and the bad. If the crystal that you felt most connected with was the obsidian then you are currently battling your own inner demons in life, whether you are aware of it or not. Take the time to step back and reassess the situation, looking within yourself for the power, drive and dedication needed to move yourself forward. You already know what you need to do in life to break free from this negativity, the time has come to put it into action.
#18 – Sapphire
Sapphire has long been seen as a sign of royalty, success, and Divine power. Good news for those who are drawn to this particular crystal, this is a sign that you will soon begin to see the rewards that you have been working so hard to obtain. Stay focused in life and continue working hard, and all of your hard work will pay off in the long run. Don't forget to take a little time to celebrate and enjoy these accomplishments, but don't allow yourself to become comfortable, continuing to move forward towards the next goal.
#19 – Apophyllite
This particular crystal is one of cleansing energies, largely used in crystal healing for the purpose of banishing negative energies and welcoming positivity into your life. If this is the crystal that caught your eye, it is time to reassess the emotions, memories and experiences of your life, identifying those which are holding you back, and therefore need to be let go, and those which will work to move you onwards and upwards towards the best version of yourself.
#20 – Tigers Eye
Often seen as a powerful and mysterious talisman, throughout history it has been believed that the tigers eye allows those who are in possession to be 'all seeing' and 'all-knowing'. While it is unlikely that you can suddenly see through walls, if you are drawn to this crystal then you have a unique ability to see through the personas that people create to see their true selves. This can help you to avoid great heartbreak, while recognizing those that are truly invested in helping you to move forward in this life. Choose your friends wisely.
#21 – Zincite
A highly energized crystal, the zincite has the ability to awaken all of the chakras in the body, empowering you in every area of your life all at once. If you were drawn to this crystal, you are just starting to experience this overwhelming surge of energy in your life. Rather than allowing it to scare you, or make you feel uncomfortable, take steps to harness all that is has to offer. Focusing this energy on your goals and dreams can push you to great places in life.
#22 – Agate
Highly understated, the power of the agate is often overlooked. If, however, you felt a connection with this specific crystal then this is a sign that you need to focus your time and energy on your life's purpose. It may be time to reconsider where you are going, adjusting the focus of this purpose or changing it entirely. Trust your heart, as it will lead you towards the areas of your life for which you feel the most passion. This passion is what reveals your greatest calling.
#23 – Amazonite
Carrying an energy of power, if amazonite is the first crystal to catch your attention then it is a sign that you need to draw upon your inner warrior. You have been facing a challenge or struggle in life, and up to this point it has seemed almost insurmountable, however, if you allow yourself to draw upon this deep, inner strength you will discover the courage, determination and drive to overcome anything. It's all within you if you just open yourself to it.
#24 – Moonstone
Often seen as a mysterious entity, those who are drawn to the moonstone are about to unlock some of the greatest secrets and powers within themselves. It is time to take some 'me' time, focusing on reacquainting yourself with your inner self. Let go of any preconceived notions you may have, as this will allow you to open your mind, heart and soul to true discovery. You may be surprised by what you find.
#25 – Fire Opal
Fire opal is believed to be an incredibly powerful crystal, working to ease the pains that we experience throughout our lives including physical, mental and emotional hardships. If you are drawn to the fire opal, you are likely struggling with a difficult time in your life. Rather than focusing on your pain, step back and genuinely listen to your heart as it tells you what you actually need at this time. If there are things you have done to bring negative karma upon yourself, refocus your energy on resolving this karma, setting things right.
#26 – Pyrite
Pyrite is a crystal that focuses on the ability to harness one's own powers to move forward in this life. If you found yourself drawn to this crystal, it is a clear sign that it is time to open your heart and mind to your own hidden talents. In most cases, this can specifically be directed at a natural creative talent that has gone untapped over time. Trust in yourself and step out of your comfort zone. While it may seem difficult at first, it will take you to new heights.
#27 – Iolite
Known as the Vikings' Compass, those who are attracted to the iolite are seeking direction and meaning in their life. Take the time to record your dreams, as they are an important message from your inner self. Explore different possibilities, keeping your mind, heart and soul open. When you discover the things that speak to you most, you will begin to develop a vision of where your life's purpose is taking you.
Inspired By An Article written by Mystical Raven.