The way that education is handled in the United States is becoming increasingly frustrating for educators and parents alike. During the past few years, public schools throughout the United States were enticed to integrate the Common Core program which is single-handedly dumbing down our children, and for what?
The Federal Government dangled $4.3 billion dollars in funds to "reward" schools for satisfying certain federally determined performance on standardized test, the funds only went to the schools who implemented Common Core.
"The major criticism coming from the scholars is that it's lowered standards in both math and English language arts, the two parts of the K-12 curriculum that the Common Core covers," Wood told CNSNews.com.
An example of Second Grade Common Core Math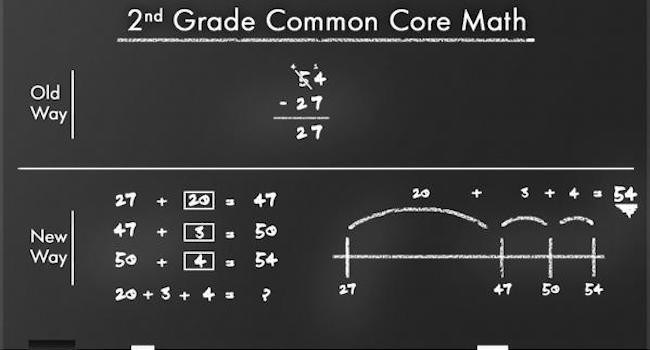 "When the Common Core was being put in place, there was a large promise that it would be 'internationally benchmarked', meaning the standards would be as high or higher than the highest standards found around the world. And if you go into Common Core materials, you will still find that phrase. But the math standards are set way below all of the Asian nations, and the U.S. language arts standards are not matched to international standards," Wood pointed out.
"The section on math is written by mathematicians who look upon the changes as a comprehensive lowering of standards so that students at the end of high school know a lot less math than they used to and are not prepared for college-level math," he said.
Not just with math but Scholars also criticized the curriculum's major de-emphasis of English Literature.
"The teaching of literature is not abandoned, it's downgraded, so you end up with a very fragmentary and impoverished view of what language can do," he continued.
"The Common Core has this peculiar emphasis that language exists to convey information. One of the results of fetishizing information is that the texts get fragmented… and there's no distinction made between work of imaginative power and work that's purely utilitarian in order to treat everything as a kind of encyclopedia entry. So in your English language instruction, you can and do get things like EPA regulations and repair manuals read alongside excerpts of the works of Robert Frost and Jane Austen."
The government has stated that their goal with Common Core was to make sure all students were "college and career ready". In theory, that is wonderful, but the truth is the Common Core program is actually resulting in colleges being flooded with students who are unprepared to do college level work.
Common Core pretended that it was going to be raising standards, but what it did, in fact, is put enormous pressure on colleges, many of which are now succumbing to that pressure, to lower their standards.
So, the actual effect of Common Core is the further dumbing down of America's children, and with colleges lowering their standards we will see the dumbing down of an entire Nation.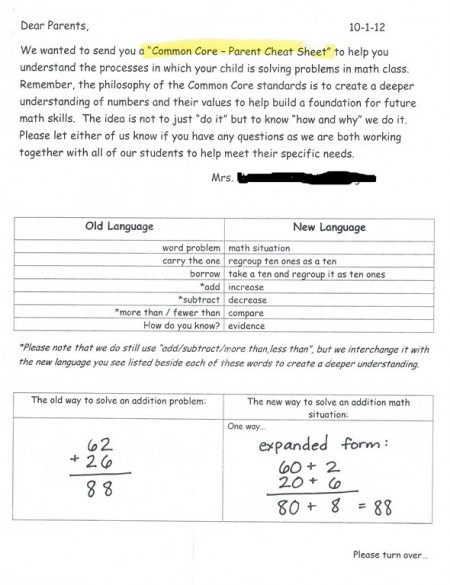 That looks a little bit like "1984" to me, with sayings like, "Old language" and "new language".
With such a program into place, students are guaranteed entry into state college without the need to take any remedial courses, as long as they pass the Common Core standardized tests.
Now there is very little that teachers are allowed to bring to the learning experience, and creative teaching styles are trivialized and pushed out of the classroom altogether. This means that no one at any level in the actual school building has any say in what students do during the school day.
What effect will this have on generations to come?
Common Core is described by proponents as a utopian education for the 21st century with primary, almost exclusive, emphasis from grades K-12 on mathematics and English language arts through "disruptive innovation" using the latest in "educational technological advancements". In reality, as you will read below, it is a critical step towards the stated goals of the wealthy elite to uniformly 'mono-mind' the global educational system, create a 24/7/365 community at our public schools, and to develop a "from-cradle-to-work-force-ready" individual. Jamie Lee
"The future of the nation and its liberties depend on the education – or lack thereof – received by today's children." Alex Newman
The rulers of this country have become so evil and anti-human, they have come to believe that intelligence is just for them and the rest of us only need to know how to follow instructions, this is the basis for today's educational system it is indoctrination, not education. If you truly care about the intelligence of your children, invest in their future and home-school.