The discussion of what is actually out there in the world is one that often ignites great debate. On one side of the debate are those who truly believe that there is life on other planets, even life that has made attempts to contact or visit us here on Earth.
The other side of the debate is comprised of those that believe the idea is crazy, pointing to what we know about the living conditions on other planets and questioning why, if this life is out there trying to contact us, have we not seen more tangible proof.
Regardless of where you fit into this spectrum of belief, the idea of life on other planets has captivated the attention of the human race for ages, inspiriting movies, television shows and other important aspects of pop culture. Often these beings are depicted as being from a specific planet, either imaginary created just for that purpose, or those that we are more familiar with, like Mars.
A new video captured on helioviewer.org, a website that was launched by NASA and the European Space Agency (ESA) reveals an interesting new twist to this idea. The website focuses specifically on the sun, providing those who are interested in images and data relating to this integral part of our solar system. This fiery ball is estimated to be approximately 5800 Kelvin, or 9980 Fahrenheit at the surface, with temperatures climbing as high as 15,000,000 Kelvin or 26,999,540 Fahrenheit at its core. They are incredible temperatures that we can't even begin to truly comprehend!
However, despite these mind-blowing temperatures that would make it impossible for anything man-made (like a space probe or a satellite) or any natural space debris that we are currently aware of to even get close to it, this new video reveals something in the shape of a butterfly emerging from the sun!
Adding to the fascination, the temperature of the sun isn't the only thing that makes this mysterious object so fascinating. Many of us underestimate the true size of the sun, as it appears much smaller when we look up into the sky and see it from here on Earth. However, experts report that the sun has a diameter of approximately 864,938 miles, which would mean that you could line up 109 Earths across the face of the sun. Yet the size of this object in relation to the sun in the video shows that it must be massive!
In the shocking video, the object is seen actually exiting the sun, as if it was present within the ball of gases itself and moving quickly away from it in a consistent structure. The shape and movement don't match any other patterns already familiar to scientists, such as that of a solar flare. Instead, it has simply left everyone baffled.
There's one more layer to add to the mystery of the butterfly-shaped object – it isn't the first time that it's been spotted! That's right, images from the telescope at NASA's Solar Dynamics Observatory reveal a similar object in 2012, connected to the sun by what appeared to be a dark filament of some sort. While scientists and researchers were fascinated with the discovery at the time, no real answers were ever found.
Check it out for yourself! Here is the image from 2012: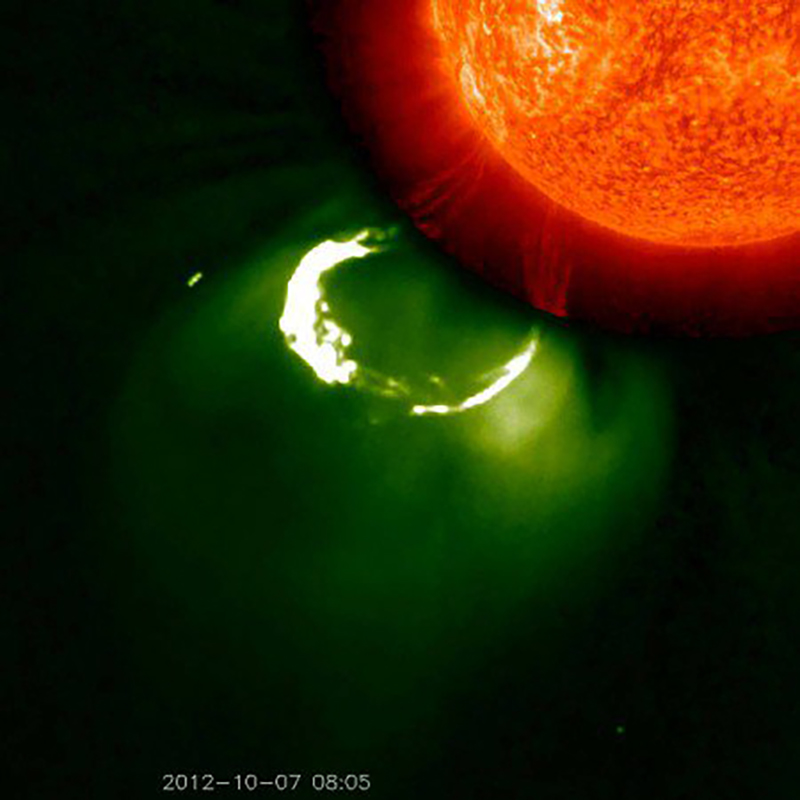 Here are several still images from the new video, as well as the video of the object leaving the sun: