You might not think of children as the foundation of a positive society, but that doesn't make it untrue. Children are extremely important to the world because they will one day inherit it – and me must make sure they are prepared to do so.
People these days just do not take the health of children seriously anymore. For some reason everyone is so self involved that they forget we are responsible for teaching and raising our young to run the world. The world will never be a better place if we are just teaching our kids to repeat our actions.
If you know anything about society today, you know that we have an extremely broken education system. The world has rapidly changed and evolved, and us along with it! There is a black and white difference between today and a hundred years ago – so why are we still teaching children the same way? In rows of ten to twelve, belittling any uniqueness and individuality, forcing children to adapt to being the same as everyone else. We need an education system to inspires young people, not shuts down their creativity. This is something that Robert W. Coleman Elementary school in Baltimore is trying to achieve – and it's doing well so far!
Employees and faculty at Robert W. Coleman Elementary are well aware of the importance of children and their developing years. They have taken the first step in reforming an almost irreparable education system. Instead of punishing students by giving them detention like every other school, they took on a different approach to misbehavior. Detention has been used in school and society in general for years, and it's obvious that it sucks at discouraging people from acts of crime. So why not reform it from the very beginning?
Instead of sending a child to a detention room and forcing them to rewrite sentences one hundred times, teachers at Robert Coleman are instead sentencing kids to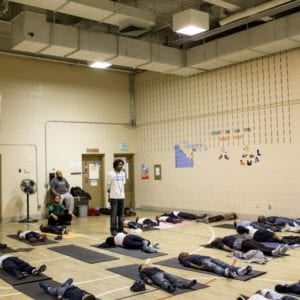 meditation for misbehavior. Yes, you heard that right – meditation.
Meditation has a ton of different benefits and can be applied to any aspect of our everyday lives. It's an amazing practice and it has had a tremendous effect on this Baltimore elementary school. Kirk Philips, the school's Holistic Me coordinator, said: 'It's amazing. You wouldn't think that little kids would meditate in silence. And they do.'
The best example was at their Christmas party, where the children meditated before they were given presents.
Mr Philips said: 'As a little kid, that's got to be hard to sit down and meditate when you know you're about to get a bag of gifts, and they did it! It was beautiful, we were all smiling at each other watching them.'
images via Holistic Me After School Program