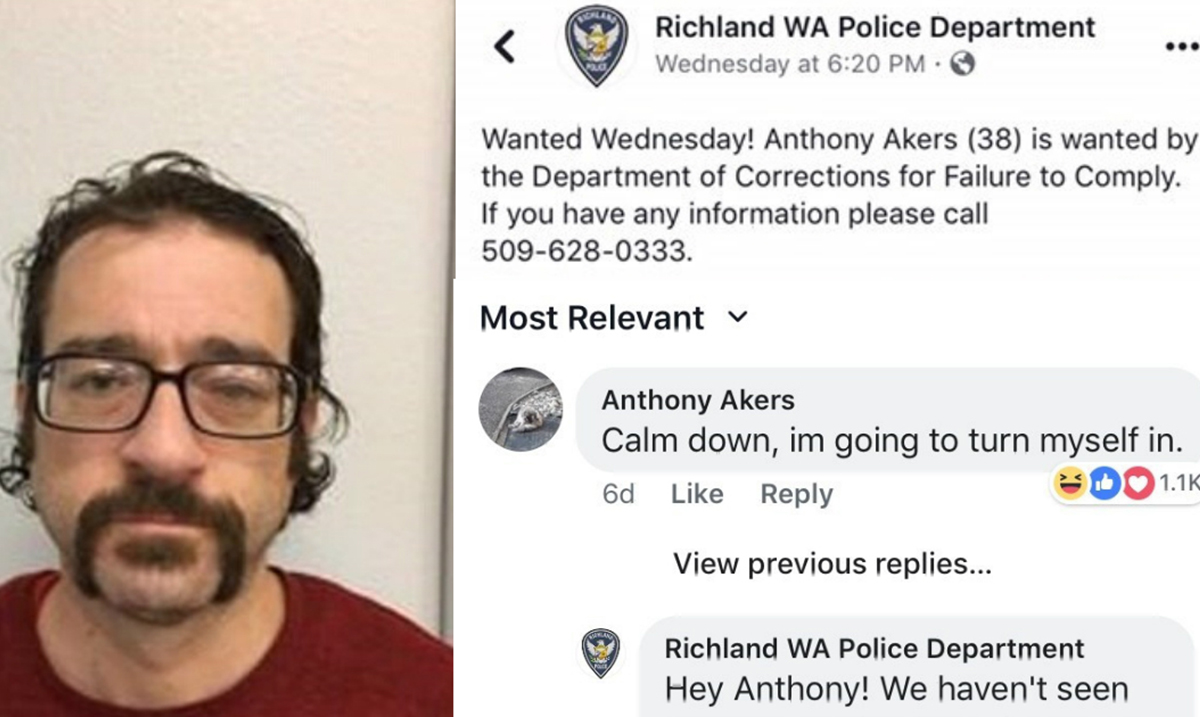 With an average of 2.23 billion monthly active users, Facebook has become a central hub for our activity online. While the social media giant provides us with a seemingly unending flow of entertainment – but I bet you've never seen anything like this!
In an attempt to modernize their efforts to connect with the public, a number of law enforcement agencies have taken to Facebook in recent years. They use the platform to share important information and breaking news, seek assistance from the general public, and to help make their officers appear more 'human' – more than just the badge and uniform. Many have found great success in these efforts. At one point, there was even a police department lip sync challenge that quickly went viral.
The Richland, Washington Police Department is no exception, their Facebook page currently followed by over 30,000 people. Sharing everything from their upcoming Cookies & Cocoa public outreach event to warnings about the winter road conditions following a recent episode of freezing rain, it is clear that they have the best interests of their community in mind.
On November 28th, department officials took to the Facebook page for what they referred to as 'Wanted Wednesday', sharing the following: "Wanted Wednesday! Anthony Akers (38) is wanted by the Department of Corrections for Failure to Comply. If you have any information please call 509-628-0333"
While the department was seriously hoping that the post would return some information to assist in locating Akers, they in no way expected what followed. Among the many replies joking about the man's appearance or suggesting that he needs to be locked up 'for a long time', one comment stood out from the others. Anthony Akers himself took to Facebook, replying with "Calm down, I'm going to turn myself in."
Keeping their calm and remaining professional, the department account responded by providing Akers with a clear set of instructions, stating: "Hey Anthony! We haven't seen you yet. Our business hours are 8:00 am – 5:00 pm Monday through Friday. Of course if you need a ride you can call non-emergency (509-628-0333) and we will pick you up."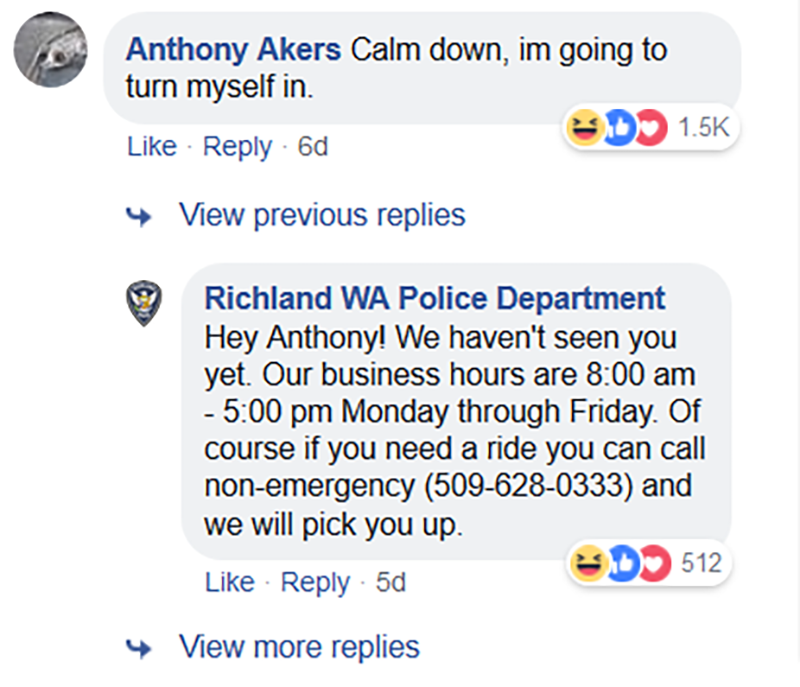 In the days that followed, Akers and the Richland, Washington Police Department went back and forth in an incredibly candid and humorous exchange. It as like a real-life drama unfolding before everyone's eyes, one that kept followers of the page returning, eager to catch the next installment. While some would watch silently, others would throw in their own comments, asking if he had turned himself in, tagging friends to come to see the exchange or offering Akers advice. Some even went as far as creating their own memes about the exchange. As for Akers? He requested an additional 48 hours, explaining that he was 'tying up a couple loose ends'.
Time passed, and it appeared that Akers was doing nothing but trolling the law enforcement officials. As a result, they took to Facebook again on December 3rd with a post stating: "Morose Monday. Dear Anthony, it is us? Last Wednesday we reached out to you as 'wanted'. You replied and even said you were going to turn yourself in. We waited, but you didn't show. After you stood us up, we reached out again – this time offering you a ride. You replied and said you needed 48 hours. The weekend came and went. We are beginning to think you are not coming. Please call us anytime and we will come to you. 509-628-0333"
At one point, Akers shared a hilarious candid response, making it clear that he was having a little fun with the exchange as well. He wrote: "Dear RPD, its not you, its me. I obviously have commitment issues. I apologize for standing you up, but let me make it up to you. I will be there no later then lunchtime tomorrow, I know you have no reason to believe me after what i did to you, but I promise that if i dont make it on my own by lunchtime tomorrow I will call for a ride to assist me with my commitment issues. Thank you in advance to your response if you are patiently giving me another chance with us, I know I dont deserve it. P.S. You're beautiful"
What was the crime that started this whole hilarious exchange? The Tri-City Herald reported that this wasn't Akers' first run-in with the law. In fact, they referred to him as a 'regular' at Benton County Superior Court, explaining that he had a "history of illegally possessing prescription drugs, resisting arrest and violating protection orders". This specific time, the charge was simply 'Failure to Comply', likely meaning he violated a condition of his probation. It's a common citation, usually triggered by a seemingly small misstep, as probation requirements are often clear and strict. After all, they are still not off the hook for having broken the law previously.
This specific story came to a conclusion on December 4th, when Akers finally followed through on his offer to turn himself in. However, he couldn't do it without updating the Facebook community, posting a selfie of himself with the caption, "Here for our date sweetheart".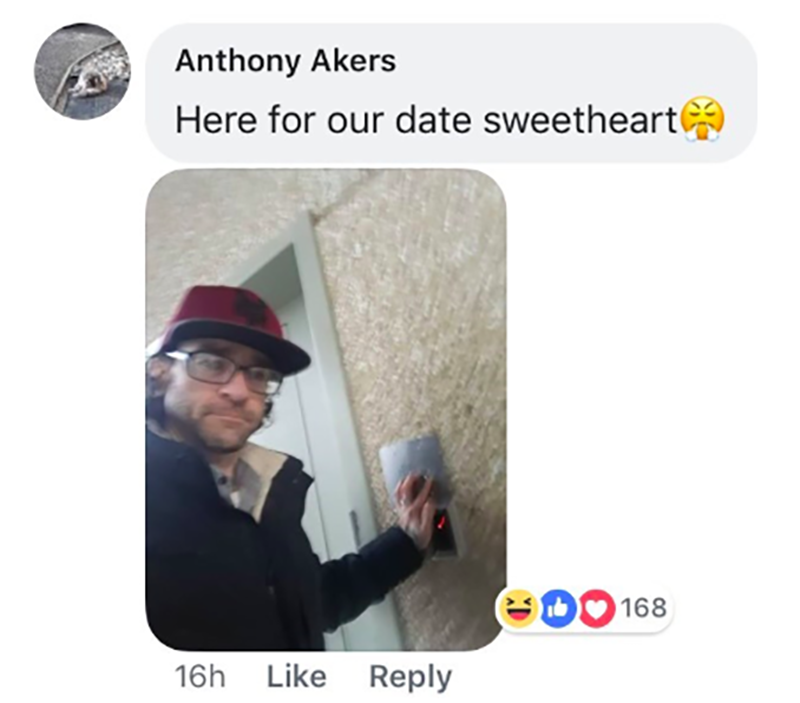 While this particular exchange was absolutely hilarious, it highlights one of the many uses of the social media platform in the department's actions. While they may have drawn some unwanted attention, Akers is now in custody.