Nearly 1000 years ago the people of Iceland underwent a significant change in their beliefs, transitioning from a place that was known for its Norse Paganism to that of a Christian nation. The leadership that took control strongly believed that the country's pagan ways were heathen and barbaric, determined to bring God back into the lives of those who resided there. In an effort to assist with the transition prominent families in Norway sent their sons to serve as priests of the church, assisting the church in their efforts to establish control.
The Norse Gods have now returned to the island for the first time since the Christian takeover. After raising the necessary funding and obtaining permission from the government, an association called Asatruarfelagid led by high-priest Hilmar Orn Hilmarsson proceeded with the construction of the first Norse temple in 975 years!
Construction on the circular temple began in 2015. Circular in shape and set 13 ft down into a hill that overlooks the beautiful Icelandic capital of Reykjavik. On top of the temple is a dome designed to allow the sunlight into the temple's exterior. Hilmarsson explained, "The sun changes with the seasons so we are in a way having the sun paint the space for us."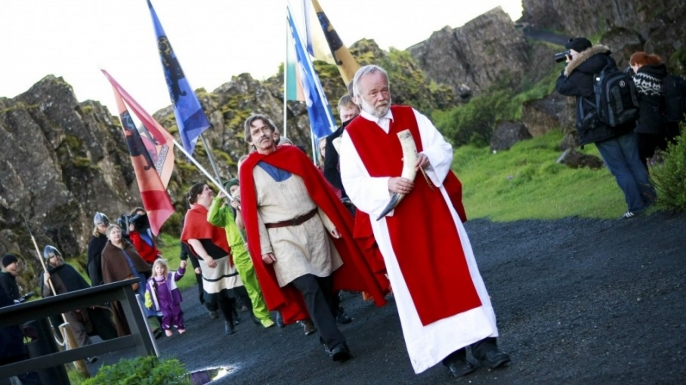 The temple will provide a space for Icelanders to publicly worship Thor, Odin and Frigg among other Norse Gods. However, Hilmarsson warns others not to take that statement too literally, saying: "I don't believe anyone believes in a one-eyed man who is riding about on a horse with eight feet. We see the stories as poetic metaphors and a manifestation of the forces of nature and human psychology."
The temple will be used as a religious location for a number of ceremonies such as funerals and weddings, as well as providing a space for the introduction of religion to children and teenagers, as well as adults who may be curious about understanding their neo-pagan ways.
Experts are not surprised by the shift back to Norse Paganism., explaining that they were never actually sold on Christianity. Michael Strmiska of SUNY Orange wrote: "From the time of Iceland's formal adoption of Christianity as the official state religion in the year 1,000 C.E., Iceland has never been a fanatically Christian country nor particularly orthodox in its Christianity. A strong case can be made that the acceptance of Christianity was motivated more by economic and political considerations than authentic Christian fervor. … Good political and economic relations with Christian Europe depended on at least a semblance of Christian conversion, and so this semblance was achieved."
This marks a new chapter for the people of Iceland!