Think about the outfit you are currently wearing and think about how much that cost you. Is that amount worth someone else's life?
Have you ever thought about where your clothing may be coming from? Sure, we think about where our food is coming from and how dangerous plastic might be but what about the people who may be literally losing their lives making our clothing? If you are one of those people who think the whole idea of someone else being at risk by 'just making clothes' is 'silly' or 'unrealistic' please continue to read this and try to be open-minded when doing so.
Did you know that the fashion industry is easily the largest employer of women across the globe? Sounds great right? Except for only 2 percent of those women are actually receiving a living wage. (Please also keep in mind not everyone in this industry is female.)
The dangers of garment factories are very real. For one, a lot of them are not built soundly at all. Many of them actually fall to the ground at one point or another and kill everyone inside of them. I recall one incident in particular back in 2013, Rana Plaza, an eight-story, concrete and glass building that housed at the least 5 'garment factories' in Bangladesh came down. It had a death toll of over 1,000 and was producing clothing for places like Walmart and JCPenney. Before its collapse, it had been deemed sub-standard but I believe even that was an understatement.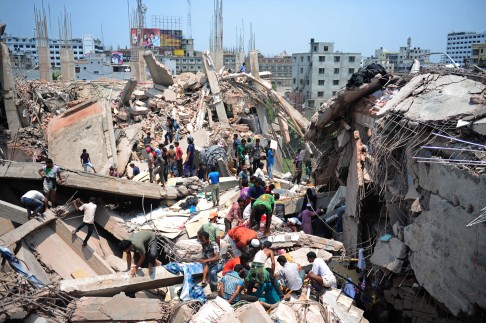 These places are not safe environments to work in, to begin with. There are often fires and other things of the sort and when a building does come down people are either dead or trapped until someone eventually gets them out, if they make it to see that day. Could you imagine?
The New Yorker Reported as follows when the incident mentioned above was still quite recent in regards to another:
Deaths in modern garment factories tend to be different from plane crashes or many other catastrophic traumas in the slow-motion extravagance of their pain. For minutes or even hours, workers' lungs fill up with smoke. For days, even a week, workers struggle to survive under rubble until someone digs them out. Akter told me about a mother in a rural village who came to her for help after Tazreen. During that fire, the woman had gotten a call from her twenty-four-year-old son, a garment worker. "Mom," he'd said, "there is a fire in the factory. I'm trying my best to escape, but smoke is filling my lungs."
"Run to the stairs!" his mother told him, according to Akter. "Run to the window, and I'll hop on a bus to come and get you."
Ten minutes later, he called again. The stairs were jammed by a stampede. "Mom, I'm trying my best. There is no way I can get out."
"Go to the toilet," his mother told him, "and run the water so that it clears the smoke and you can breathe." The son said, "O.K., I'm doing that." He tried this, without luck, then returned to the factory floor, where his colleagues' bodies were piling up in the dark.
Finally, he called home once more. This time, he rang with an apology. "Mom," he cried, "it will be my last call—I'm dying for sure. I am sorry. I tried my best. I cannot breathe." He wanted to convey a message. "I'm removing my shirt from my body, and I will tie it to my waist, so you can find me." So he ripped off his shirt, made a knot around his torso, and collapsed so as to be found the next day by his mother.
Kalpona Akter is now trying to help his family receive compensation; the process has been slow, and American companies have been reluctant to coöperate, she says. But Akter wants more than just compensation for the survivors and their families: she wants profitable companies like Gap and Walmart to sign on to the Bangladesh Fire and Building Safety Agreement, and to ensure that their subcontractors pay more than the standard, barely livable fifty-five dollars per month. In Bangladesh, the garment industry brings in more than twenty billion dollars each year. Most of its source companies do not require or allow, independent monitoring of their factories. Watching the Rana Plaza tragedy unfold, Akter can't help but think of the many promises she's heard from the government before, even recently. "After Tazreen, they said, 'Yes, we'll check out all the factories and make sure they are safe,' " she told me. "And nothing happened."
Bangladesh is not the only place this kind of thing happens in, China is also quite known for it. Workers in China endure long hours with very little pay. This is an industry full of suffering.
Of course, the industry itself is also one of the most pollutive. A study from 2014 actually found that 85 percent of man-made materials found on shorelines were microfibers derived from synthetic materials that were, you guessed it, clothing.  I am not asking you to become a nudist but I am asking you to consider the source even when it comes to something like your clothing.
Featured image via Diply