Experts warn that as many as 40% of Americans will experience sciatic nerve pain at some point in their lives. Characterized by pain throughout the lower back, buttocks, leg, calf or foot, sciatica can range from a numbness, tingling or throbbing to a stabbing pain that is so intense that it interferes with your ability to stand or walk. For those that suffer from more severe cases, this pain interferes with their day to day life.
Sciatica is named after the nerve responsible, the sciatic nerve. The largest nerve located in the human body, it begins from the spinal cord in the lower back and extends through the buttocks and down each leg. This is the nerve that provides sensations to the sole of the foot, the ankle, the back of the thigh and the entire lower leg.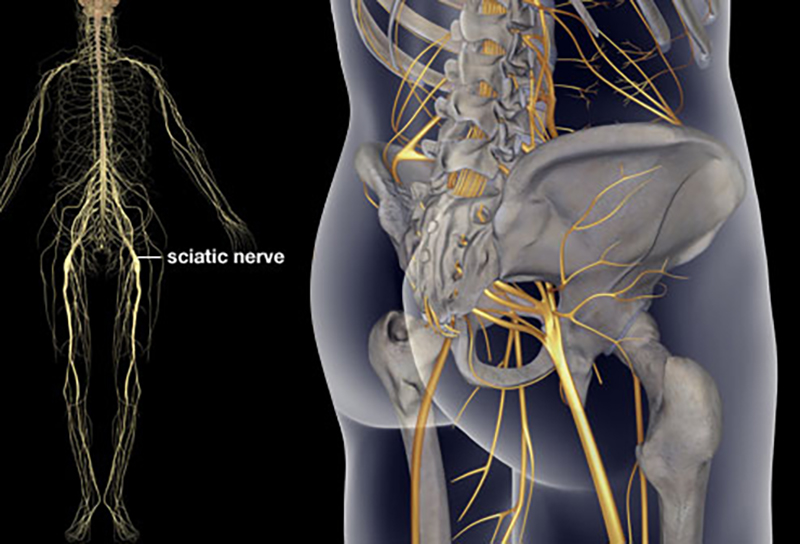 The challenge that most Americans struggle with is differentiating between back pain and sciatica. With 85% of Americans experiencing some form of back pain, many of these cases will be caused by poor posture, straining the muscles in the lower back, improper lifting techniques or overextending.
Caused by the compression of one or more of the nerve roots in the lower back, sciatica is often experienced as a radiating pain that runs down the leg into the foot. Some sufferers describe it as having an ongoing leg or foot cramp that doesn't pass with time. This may be caused by a bulging or herniated disk or a bone spur in the area of the lumbar spine.
If you are experiencing ongoing or severe sciatic nerve pain, then treatment is a must in order to continue living your life. While most sufferers can find relief through non-surgical options, there are some more severe cases in which surgery is required. There are many steps that one can take to treat this condition at home, such as the use of over-the-counter or prescription pain medications, the use of heat or ice packs for approximately 20 minutes, repeated every 2 hours, a number of exercises designed to stretch out the sciatic nerve.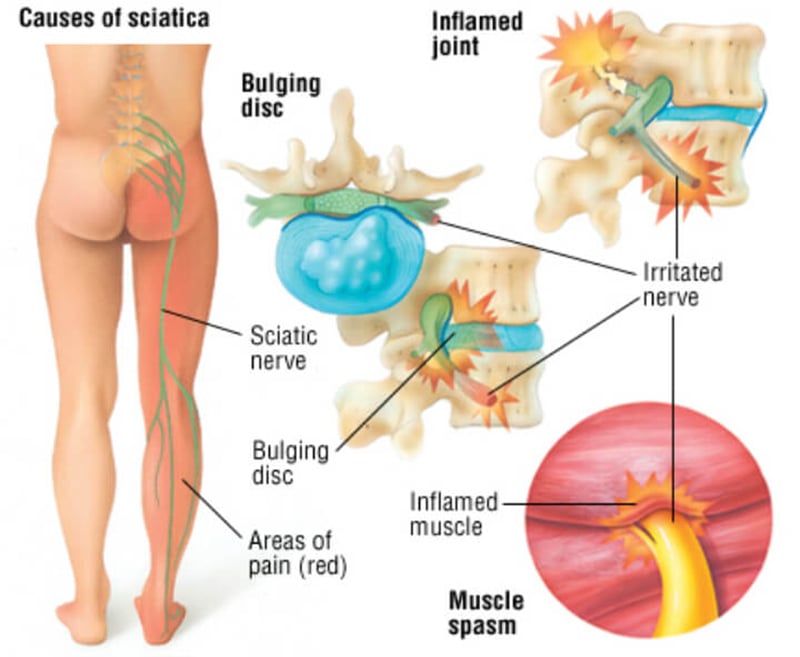 One such exercise referred to as 'Tennis Ball Therapy' involves the use of a tennis ball to work the piriformis muscle, which runs near the sciatic nerve. This can be done with a single tennis ball, especially for those that are just starting out, or 2 tennis balls to work a larger area of the body. Begin by sitting or lying on the floor and place the ball either on or near the area where the pain is originating from. Slowly move your body in a way that causes the ball to move the muscle in your body, paying careful attention to any tender areas or areas of pain, focusing the ball on these 'hot spots.' Repeat this exercise a few times each day, or as often as you find you need to in order to feel relief.
Interested in trying this technique? Check out this video: