According to the National Center for Missing and Exploited Children, at least 100,000 American children will be victimized through child sexual exploitation each year, a number that is higher than the number of people killed both in car accidents and by illegal drug use combined. It's a frightening statistic, and yet the topic is often avoided for fear of offending or upsetting others. The truth is that this is happening all around us, in our own neighborhoods and communities, and the only way that we can fight back is by taking a stance together.
For parents, we live in an incredibly frightening time. Not only do they have to be aware of potential predators at home, but the rise in popularity of the internet enables child predators and pedophiles to connect on a global level with the click of a button.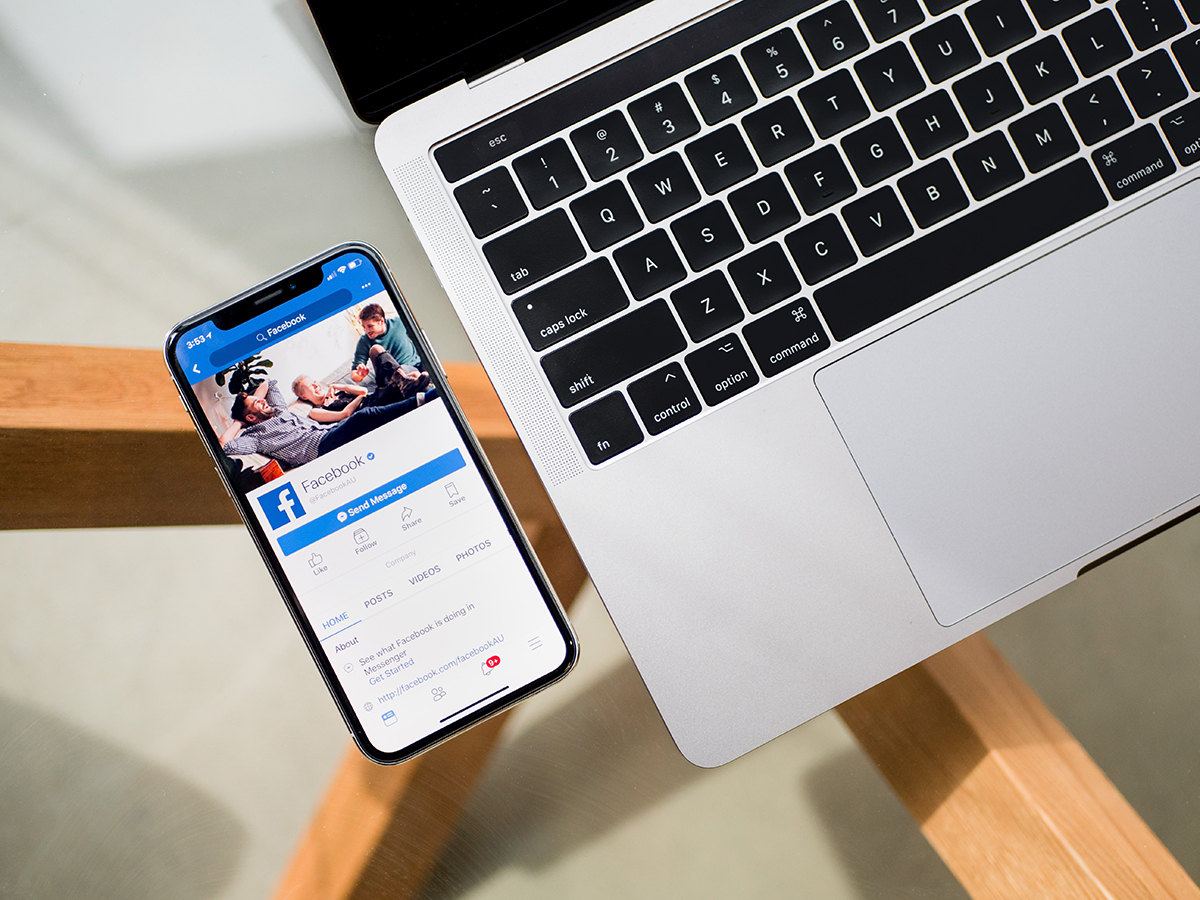 Just last month a case involving a child pornography video going viral on Facebook caught the attention of concerned parents and law enforcement officials across the country. Well-meaning individuals were sharing the video, prompted by a call to identify and locate the male perpetrator. While their intentions were good – consider the impact on the victim, in this case, a video of their abuse shared across the country for thousands to see. Furthermore, the act of sharing the video, warned law enforcement officials, fell under the definition of distribution of child pornography. It highlighted a major concern with social media – the incredible ease of sharing such questionable content.
This isn't the first time that the social media platform has been associated with some questionable activity. In 2016, BBC set out to investigate allegations that groups of pedophiles were using the platform to create secret groups where they could connect with one another and share images. They revealed that they had set up a fake profile on the site and set out to gain access to some of these groups. Joining groups like 'cute teen schoolies' and 'we love schoolgirlz,' they reported a total of 20 images. While some of the users took down the reported images themselves, BBC reported that Facebook only removed 4 which ultimately resulted in half the images still live on the platform.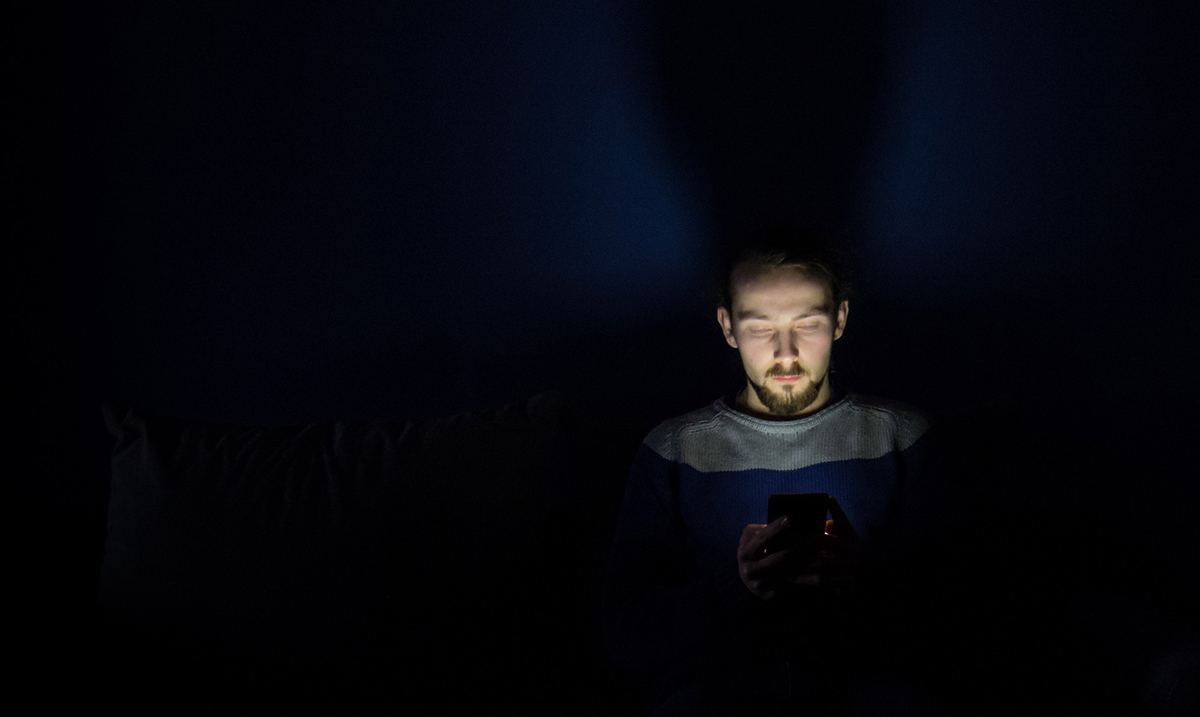 The report sparked great controversy. BBC, upset by the lack of action that Facebook was willing to take, handed all of their findings over to the police, as well as alerting both the Internet Watch Foundation and the National Crime Agency. Refusing their request for an interview, a representative for the company stated that they would deal directly with law enforcement in regard to the groups, asking for BBC to direct them to the specific groups of concern. The whole situation left many parents uncomfortable with the fact that the company didn't appear to take nearly enough responsibility for what was happening under their watch.
As if this wasn't bad enough, a recent survey on Facebook has once again called the company's position in regard to child pornography and exploitation into question. Like many internet-based companies, Facebook uses a series of online surveys in order to discover the opinions of their users in relation to their basic operations. These surveys have been used to discuss the 'fake news' debate and how the company should work to manage the information that is being shared across the platform, as well as how to improve the experience of those that use it regularly.
A survey that circulated last Sunday, however, was met with shock, anger, and outrage.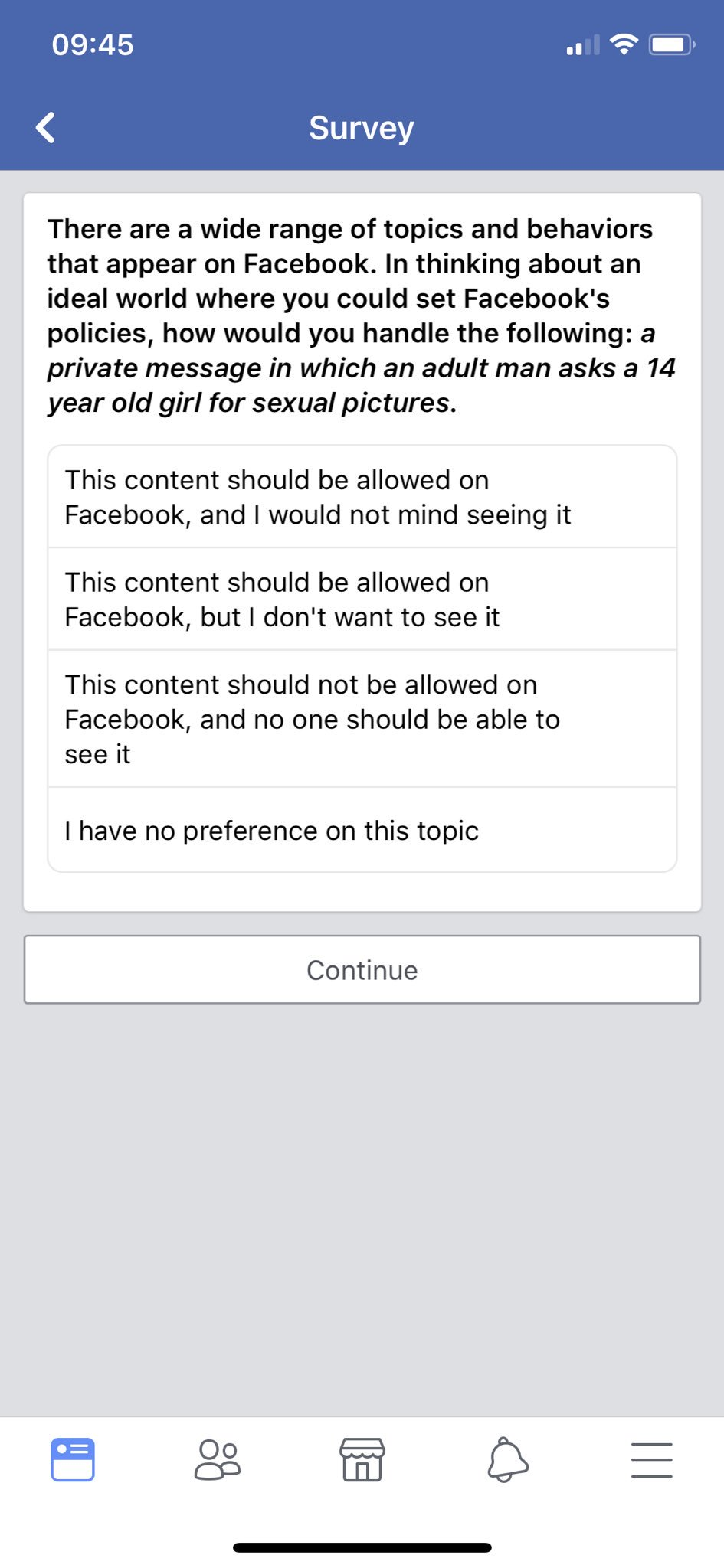 The survey asked: "There are a wide range of topics and behaviors that appear on Facebook. In thinking about an ideal world where you could set Facebook's policies, how would you handle the following: a private message in which an adult man asks a 14-year-old girl for sexual pictures." The choices? Users were asked to select between 4 options, ranging from "This content should be allowed on Facebook, and I would not mind seeing it" to "This content should not be allowed on Facebook, and no one should be able to see it."
Stop and consider this for a moment. Child pornography and exploitation is against the law, we aren't discussing some grey area in which we are debating religious views. Yet, the company offered users the choice to state that they think that a pedophile propositioning an underage child should be allowed on the website while there was no option for the obvious – CONTACT THE AUTHORITIES! This wasn't the end of it though, the survey continued with another question that further infuriated users.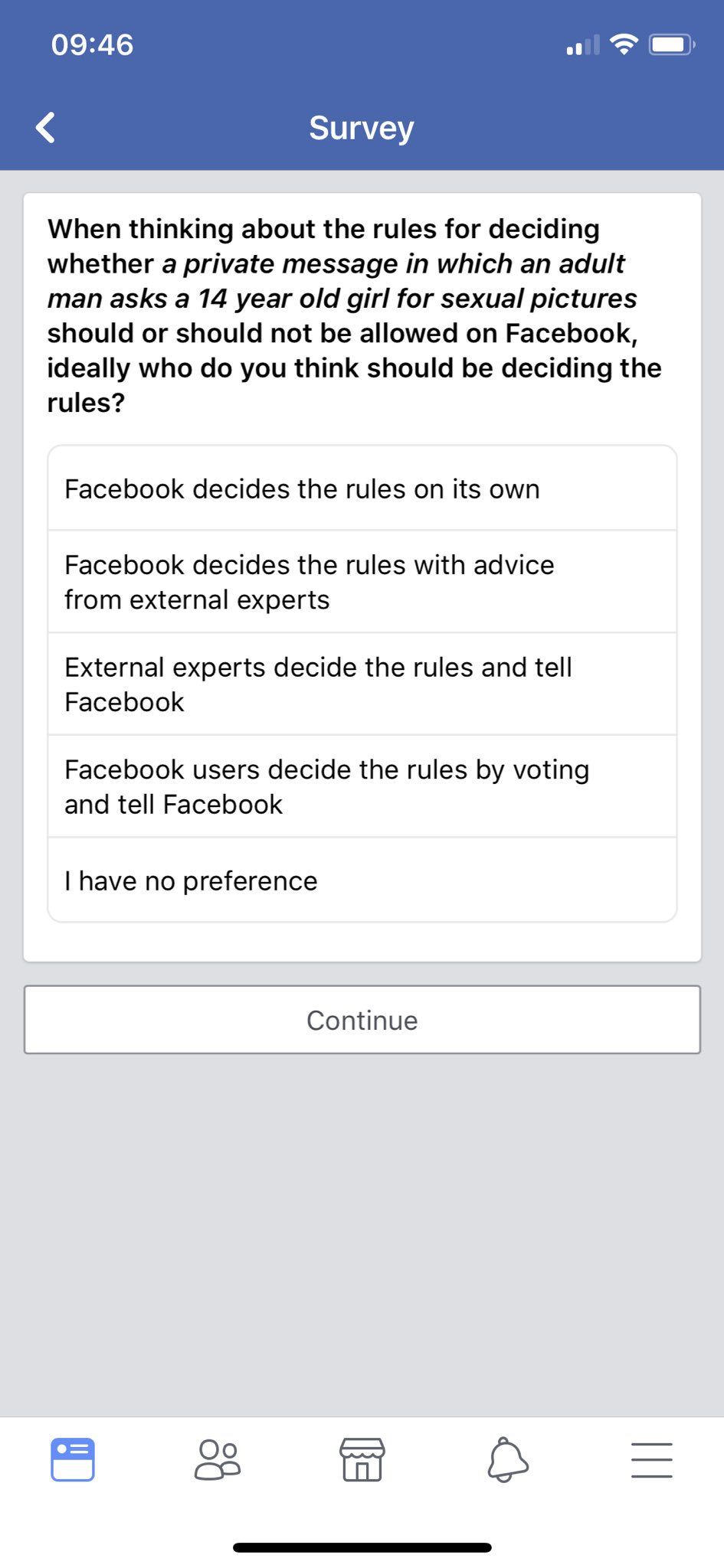 A second question asked: "When thinking about the rules for deciding whether a message in which an adult man asks a 14-year-old for sexual pictures should or should not be allowed on Facebook, ideally who do you think should be deciding the rules?" Once again, the obvious choice of speaking with law enforcement was left off the list with the options ranging from "Facebook decides the rules on its own" to "Facebook users decide the rules by voting and telling Facebook."
When approached about the survey, the company apologized, stating that the survey was a mistake and referred to content that is already prohibited on the platform. Vice President of Product Guy Rosen tweeted: "We run surveys to understand how the community thinks about how we set policies. But this kind of activity is and will always be completely unacceptable on FB. We regularly work with authorities if identified. It shouldn't have been part of this survey. That was a mistake."
For concerned parents, this is another red flag about the lack of security that is afforded to the younger members of the site. While the site is, arguably, not designed for young children, they do allow anyone aged 13 or older to sign up. As such, parents demand that the site take situations like these seriously. The risks of children connecting with a child predator are serious. As if the sharing of inappropriate photos and videos wouldn't be bad enough, this is often just the first steps in the eyes of a predator, who then uses this opportunity to groom these children to take it a step further – working towards the point where they can convince these children to agree to meet up in person.
Parents are encouraged to educate themselves on the steps that they can take in order to keep their children and teens safe while using any social media platform. This ranges from ensuring that their profiles are set up with the necessary privacy settings to having the important conversations regarding internet security with their children.