"Horror movies are all about getting your attention; you always have to be on guard. People love to be on the edge – there's nothing like a surprise."
As we enter into the month of October with it comes to a shift not only in seasons, leaving behind the sun and sand of the summer months and moving into the beautiful colors of all, but it also brings with it all things Halloween. Our store shelves have been packed for months with costumes and candy, ghosts and ghouls. One of the great traditions that gain popularity with this time of year is the watching of horror movies new and old.
The genre of horror movies has long captivated us. Classic films like Dracula and Dr. Jekyll and Mr. Hyde introduced the world to the entertainment of ghouls, goblins, and monsters. The options are incredible. In fact, IMDB released a list of the Top-US-Grossing Horror Titles, and it included over 92,000 titles! This mixture of well-known, high budget films and indie favorites will keep you marathoning long into the night! Just this year the first horror movie to gross $300 million in the United States  was the movie adaption of Stephen King's 'It.'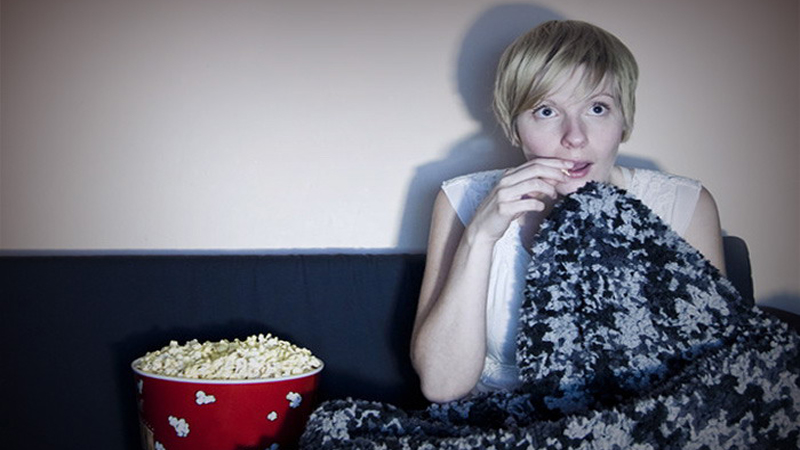 Now experts are saying that horror movies can serve a greater purpose than just entertainment (not that there is anything wrong with enjoying a spooky film for fun – we encourage it). In an article for Broadly, writer Abby Moss revealed that horror movies can actually help those with anxiety to find comfort and manage their symptoms.
Currently, over 40 million American adults are dealing with an anxiety disorder, with only 36.9% of these sufferers receiving treatment. Living with an anxiety disorder is often a challenge as it impacts every aspect of your life – holding you back from engaging in an active social life, interfering with your career efforts and disturbing your sleep habits.
Horror movies allow us to put these feelings of fear and worry into perspective, providing us with a real, tangible reason to feel scared. Discussing her personal experience, Moss wrote, "While horror films aren't a true alternative to seeking medical help if you need it, I was nevertheless inundated with responses from people saying they'd noticed the same thing." Curious about this phenomenon, she contacted Dr. Mathias Clasen from Aarhus University in Denmark, an expert on the psychological effects of horror movies on the human mind.
"Exposure to horror films can be gratifying when the negative emotions caused by the film are manageable. Moreover, there's psychological distance when we watch a horror film. We know it's not real – or at least, some parts of our brain know it isn't real. Other parts – ancient structures located in the limbic system – respond as though it were real," Clasen stated. "I'm not surprised to learn that some anxious individuals find horror films therapeutic. The genre allows us to voluntarily – and under controlled circumstances – get experience with negative emotion."
Writer Patricia Grisafi was also fascinated with the impact of horror movies on anxiety sufferers, writing an essay for LunaLuna Magazine. She wrote, "This disconnect makes perfect sense. After all, coping with real-world situations is sometimes intolerable for people with sensitive nervous systems. Dulling our senses with inexplicable horror and violence just might help a disordered nervous system become more amenable to the everyday crises of life."
It is important to note that this approach will not work for everyone, so be cautious and pay attention to the signs your body is giving you. While horror movies will provide comfort and relief for some sufferers, they will trigger intense anxiety attacks in others. If you are experiencing extreme feelings of anxiety it is recommended that you speak with a mental health professional.