When we set up a home security camera it is with the hope that we can capture evidence of any unwanted visitors that may make their way onto the property, however, in most cases that unwanted visitor is assumed to be a burglar or troublesome teenager. For one Australian man, however, setting up a CCTV camera left him with quite the mystery on his hands!
Reviewing the footage one day he discovered he had an animal visitor on the property around 2 AM. However, in looking at the images that he caught, this animal was unlike anything he had seen before. While it stood on four legs with a dog-like body, it was clear that he wasn't looking at a neighborhood dog. The thick tail of the creature was so long that it actually trailed on the ground behind it as it walked.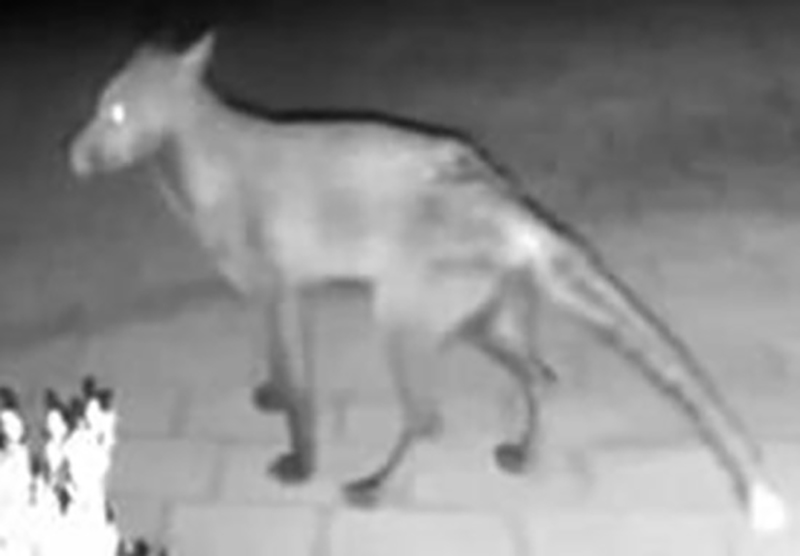 Unable to identify the mystery animal, the man turned to the users on Imgur for assistance, sharing the images and simply asking "What is this in my driveway?" The images have been viewed over 4000 times as of the time of this article, he received some interesting responses. Some users simply inquired into where the man lived, hoping that it would help clarify the situation. There appeared to be two main conclusions drawn from the users.
#1 – Thylacine or 'Tasmanian Tiger'
User clairelawrence79 wrote, "Please please please tell me that you live in Tasmania and you have footage of the long thought extinct Tasmanian Tiger!!!!!" Meanwhile, paranoidx shared a similar opinion, writing "That's a Thylacine!" and sharing a link to the Wikipedia page for the animal. The thylacine or Tasmanian tiger was native to Australia, Tasmania and New Guinea, however, it has long been accepted that the last thylacine died in 1936, rendering the species as extinct for over 80 years. Despite it's believed extinction, however, there continue to be reports made of interesting sightings of odd animals that resemble the Tasmanian tiger, leading some to believe that it may still exist. There has been no definitive proof to date, so if this does turn out to be a captured sighting, it could be big news!
#2 – Chupacabra
Believed by many to be nothing more than a mythical creature, that didn't stop users on Imgur from suggesting that the mysterious may actually be a sighting of the legendary being. LeapingAChasmInTwoJumps wrote "Looks like a Chupacabra to me," rohanreed voiced their opinion, stating, "Chupacabra, clearly," and JohnnyPeaches declared, "You have proof of El Chupacabra… in it's evening attire." The legend of the Chupacabra originated in Latin America, first reported as being seen in the mid-1990s. It is believed that it feeds off livestock, draining them of blood through two small incisions which experts say did not match that of a dog, monkey or 'any other known carnivore from the region.' While there have been reported sightings around the world, and even actual specimens captured and given to biologists for testing, they were found to be nothing more than coyotes, dogs or canine hybrids, often suffering from mange resulting in their hair loss and 'odd' appearance.
So, what is the mysterious creature in the images? Unless it returns to the scene of the crime, providing us with more evidence as to its existence, or is discovered and taken in for testing, there is no way to know. What we do know is that there's something interesting moving about in Australia!