As I have said before, this year is going to be jam-packed with wonderful reasons to look up at the night sky, and this is definitely of them. Jupiter will be forming a triangle quite soon and I for one will not be missing it.
Jupiter and two stars will be forming a triangle tonight and every night from here on out until September. That being said, the group is going to be changing shape and thus may not remain a triangle for long. After July 11th however, the triangle will become narrow and then eventually disappear as Jupiter will be changing directions at that point.
Tonight and in the nights to come, this triangle will be very bright and thus anyone in an area with a clear view of the sky should be able to see it quite well. Basically, all of April will be lit with this triangle's presence unless some crazy change does occur. It was also visible last year as you can see in the image below.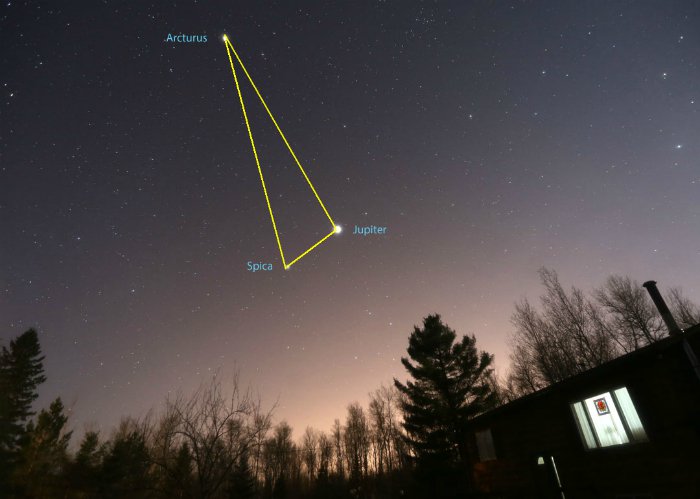 This triangle is made up of the stars Arcturus and Spica as well as the planet Jupiter. It is something we should be able to see best around 11 pm and while you can see it with the naked eye binoculars would prove to be useful depending on your area. Joe Rao of Space.com says that this triangle appears to point towards the northeast and will be a bit uneven.
As mentioned above, by July the shape change will have this triangle looking well, not very much like a triangle anymore but we will still be able to see what is left of it until September when Jupiter is done moving away. While this has happened two years in a row we will not see this same triangle again until the year 2030.
Image via Deviant Art/BooBooI