"Jealousy is a disease, love is a healthy condition. The immature mind often mistakes one for the other, or assumes that the greater the love, the greater the jealousy – in fact, they are almost incompatible; one emotion hardly leaves room for the other." – Robert A. Heinlein
Jealousy, the green-eyed monster, is a plague that has been growing among the younger population in the world today. Research out of the University of California, San Diego revealed that approximately 80% of people surveyed under the age of 30 admitted to feeling envious of someone in the past year. Feelings of jealousy can destroy your self-esteem, tear apart relationships and welcome toxic, negative energy into our lives.
Once believed to be a survival mechanism, experts are now saying that jealousy is losing its utility. Instead of protecting us in the modern world it is contributing to rising divorce rates, emotional struggle, infidelity, and heartbreak. But what do you do when jealousy is taking over your relationships?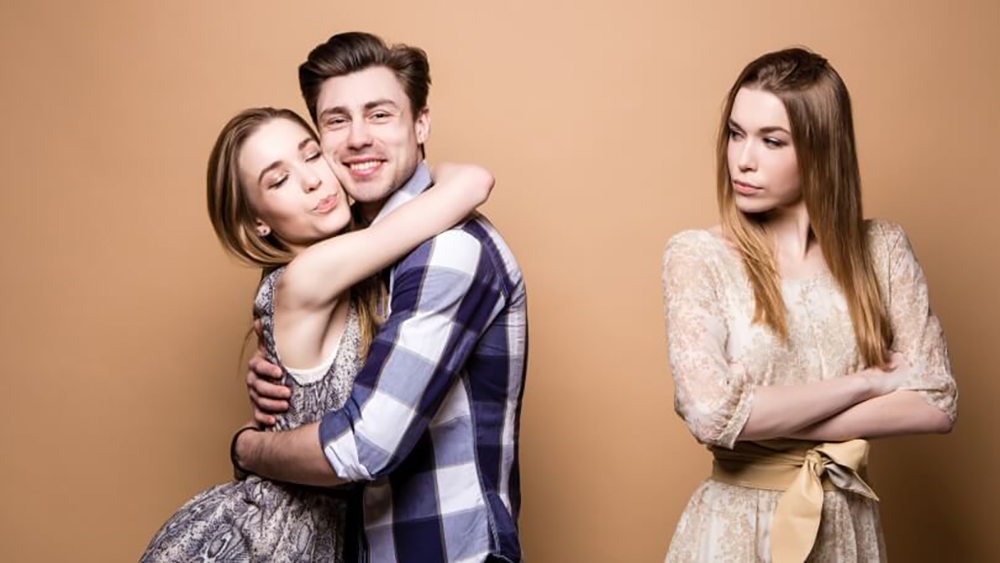 Overcome Jealousy in Your Relationship with These 9 Tricks:
#1 – Give yourself a much needed 'reality check.'
Many times, when we are jealous, we are actually jealous over a situation we have created in our minds rather than the actual facts. This can lead to toxic feelings of insecurity. Rather than allowing yourself to be dragged down by your own version of reality, step back and reconsider the facts. Is there real proof for what you believe is happening?
#2 – Wear a rubber band around your wrist to help you snap out of jealous thought patterns.
If you find yourself getting lost in a series of jealous thoughts and concerns, snap the rubber band on your wrist hard enough that it interrupts your internal dialogue. Once you are lost in your own thoughts it can be hard to break free. Avoid the trap entirely to avoid being caught up in your jealousy.
#3 – Try to look at your relationship from an outside perspective.
Sometimes when you are in the heat of the moment, emotionally charged, you can be biased by your role. This prevents you from being able to see the real situation before you. For example, you may perceive someone's actions as a personal attract due to the encounters you have had before, whereas they are actually responding in a reasonable way to the situation before you. Stepping back and viewing the relationship free from your biases will help you to put everything into perspective.
#4 – Keep a journal of your feelings.
Journaling is a great way to get your feelings, thoughts, and frustrations out in one place where you can later reflect upon them and determine which are worth your time, and which are nothing more than a toxic influence on your life. This will also help you identify which feelings are unfounded. Understanding that not every feeling is worth your time is a key step towards finding happiness in your relationship.
#5 – Learn to read your body's reactions.
While some of your actions and reactions are conscious decisions, others are subconscious reactions. That being said, your body has a way of communicating these subconscious responses to you through a series of physical reactions such as sweating, a rapid heartbeat or clenching your fists. Pay attention to these signs, they will warn you when you are stepping into an uncomfortable situation in which you are going to do something you will regret later.
#6 – Plan in advance for how you would react to your insecurities.
Each and every one of us has insecurities in our lives. These are the things threaten to tear us down or tear our relationships apart if we allow them to get the best of us. Start by identifying your insecurities, accepting that they exist. Once you know what you are struggling with, determine a plan for how to respond to these insecurities in your day to day life. This will help you to avoid allowing your insecurities to take over, creating negative situations that are far more difficult to correct afterward.
#7 – Focus on the positives in your relationship.
Every relationship has its highs and lows. Jealousy occurs when you become hyper-focused on your own lows while paying attention to the highs of those that are around you. Actively choose to focus on the good things in your relationship, reminding you of all the amazing things that you and your partner share each and every day. This will reduce the times in your life that you experience feelings of jealousy.
#8 – Replace your negative self-talk.
One of the main things that drive people to feelings of jealousy in their relationships is the negative self-talk that convinces them they aren't good enough, to begin with. If you are telling yourself that you aren't pretty enough, or you aren't smart enough, you are likely going to begin to notice those around you that you believed to be prettier or smarter than you are. Instead of tearing yourself down, focus on your strengths, building yourself up with positivity.
#9 – Let go of baggage from relationships in the past.
Often when someone is dealing with jealousy in their relationships, it isn't even drama and insecurities from the current relationship causing the struggle. Instead, you are holding onto past hurts and situations, carrying this baggage into the current relationship. These hurts may make you feel unlovable, or that your partner deserves better than what you have to offer. Remind yourself that your current partner chose YOU for a reason. They see the amazing things that make up who you are.