"People are taking the piss out of you every day. They butt into your life, take a cheap shot at you and then disappear. They leer at you from tall buildings and make you feel small. They make flippant comments from buses that imply you're not sexy enough and that all the fun is happening somewhere else. They are on TV making your girlfriend feel inadequate. They have access to the most sophisticated technology the world has ever seen, and they bully you with it. They are The Advertisers and they are laughing at you." – Banksy
Have you ever felt as though you are living in a world in which you are constantly bombarded with messages and influence from advertisers, governments, big corporations and those in positions of power? Rather than guiding you towards a better life, healthier choices or the secrets to success, instead it feels as though they are constantly tearing you down.
If you haven't already seen the movie 'The Matrix,' I highly recommend it – not just for the purposes of entertainment, but also because it provides us with a unique way of looking at the world that we live in. Have you ever considered the benefits that those in power can obtain by keeping you trapped exactly where you are right now, denying you the opportunity to seek something bigger or better? Allowing just enough of the things that make us happy to keep us content with our current situation, they are able to keep us in their system, blind to their lies, manipulation, and control. While the movie is a work of fiction, you can apply many of the principles that it portrayed to the world that we live in.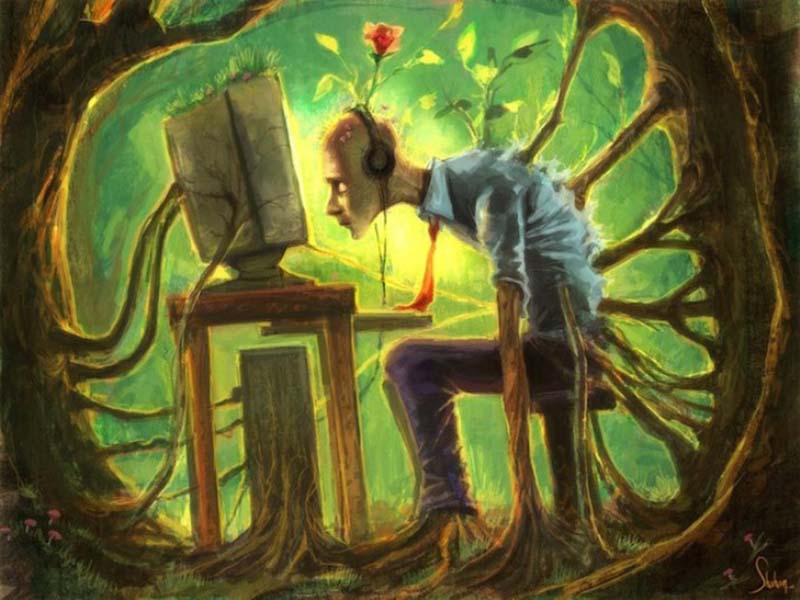 "The Matrix is a system, Neo. That system is our enemy. Look around, what do you see. Businessmen, lawyers, carpenters… the very minds of the people we are trying to save, but until we do, they are still part of the system…" – Morpheus, The Matrix
There is only one tried, tested and true way to escape the matrix and it starts with the acknowledgment of its existence. Open your eyes to the influences around you, the 'truths' that they are feeding you and the facts beyond that which they are sharing. Do you notice an inconsistency? Through the use of mainstream media, advertising propaganda, political agendas and our blind faith in many of the world's celebrities, they are able to convince us of many of their lies and deception. You must first open your eyes to the fact that this is occurring, willingly questioning the data that you are being fed. From there, you will begin to recognize the lies that you are being fed in your day to day life.
While we can provide you with all the information, it is you who must take the steps to open your eyes and your mind to the truth. As Morpheus states in The Matrix, "I'm trying to free your mind, Neo, but I can only show you the door. You are the one who has to walk through it."
Consider these illusions, accepted throughout today's society:
Truth
Possibly the most controversial of the illusions, and the most prevalent in the mainstream media today thanks to Trump's #fakenews is the concept of truth. While it is supposed to create a comfort that we are being given the real facts in a given situation, the truth in our society is far muddier and difficult to asses. Often, we are provided with a calculated version of the truth, carefully transmitted through the mainstream media and those with the power to influence, constructed to promote a specific agenda. A great example of the manipulation of truth is the military and war propaganda that was so unbelievably present during the world wars and is still seen today in regard to new potential areas of armed conflict. When those independent thinkers do choose to stand up and voice their opinion they are quickly shot down, shunned and judged – silencing them as quickly and effectively as possible to ensure that they maintain the control that they have over the minds of the general public.
Prosperity and Happiness – The Quest for Material Possessions
Have you ever stopped to consider what we consider to be a sign of success or happiness in our lives? Much of what we have been raised to believe centers around the quest for material possessions – the more that you own, the greater your wealth and thus, the happier you are ultimately. Advertising teaches us that in order to find happiness and more friends, we simply need to purchase the latest and greatest. This way of thinking encourages debt and credit, further strengthening the banking system, and the control that those with the upper hand have over the rest of us.
Higher Education
From a young age, we are taught the key to success in society is to obtain a higher education, and with such, we will have access to greater wealth, better power and the keys to the VIP lounge of life. The truth is, for many who invest their time and finances into obtaining a higher education all that they have to show for it at the end of the day is an incredible debt load. While they may find a job in their field, their increase in income is offset by the payments that they need to make to keep up with the debt they have acquired. Meanwhile, there are a number of phenomenal jobs out there that can be accessed by route of apprenticeship, entrepreneurship, and sheer willpower and hard work that can offer an incredible chance of success. Before blindly accepting the push of society that you must obtain a higher education, consider your options.
Time
One of the most powerful things that each of us are blessed with, there is little that is more important to use than our time. The way in which we view it, however, is where the problem lies. Our society teaches us that time is money, and our biggest focus should remain on where we are going and what we can do in order to reach it. This, in a roundabout way, demeans the value of both the past and the present, a dangerous shift in thinking that causes us to undervalue the importance of focusing on today. While our minds are wrapped up in the events of tomorrow, we are left vulnerable to the influences of the mainstream media, advertisers, governments and those in power – using our fear of what may happen tomorrow to manipulate what we choose to do today.
Law, Order, and Authority
From a young age, we are taught to respect those that hold a position of authority, introduced to the concept of rules and laws, and many Americans are raised to believe that they are to be followed without question, regardless of what may be considered 'right' or 'wrong.' This belief carried into our adult lives puts the power in the hands of the government and those in power, using laws and law enforcement to keep the general public under their strict control, while the wealthy are able to use status, power, and finances to grease the wheels of the court system, walking away free of consequence time again. The very system that we are taught is in place to protect us and our best interests are actually secretly working against us.
Separateness
Stop for a second to consider this – there are WAY more of us in the general public then there are the select few in positions of power and influence. The idea that we may band together, outnumbering them, is one of their biggest threats. In order to avoid this happening, those 'in charge' use their ability to manipulate and control our way of thinking by creating a feeling that each of us is, in inherently, alone. They create an 'us versus them' atmosphere in which we feel as though we are in competition with everyone that we meet, rather than considering the possibilities of what we could accomplish if we work together. By isolating us they are ensuring their control and power in our world.
Choice and Freedom
Do you truly have the power of choice in your life? You have been given the impression that you do, however, there is something that those in power don't want you to notice… rather than having true freedom of choice, we are instead given the power to choose between the options that they put before us. For example, look at our political system. Rather than choosing anyone that you see fit to rule the country, you are instead pushed to select between two corrupt political parties, even if neither party meets all of your personal requirements. By creating the illusion that we have a choice, they allow us to feel as though we have some power in our day to day lives while truthfully, even our choices are being controlled.
Mainstream Media
The media, we are taught, is a source of facts and information, providing us with the insight necessary to stay up to date on all that is happening in the world around us. But is the mainstream media really based on fact? Funded and supported by the very people who maintain their power, control, and success by keeping the rest of us firmly in the matrix, the mainstream media provides us with the distorted truth that they choose for us to hear. The stories that we are given are altered as needed to push a specific agenda. For example, when the country goes to war we hear stories of accomplishment and triumph of our troops, and a negative depiction of the country we are currently at war with. This creates a clear bias, influencing the general public to support the military's mission. Instead, do your research and seek out multiple opinions, including those of independent journalists.
Featured image via Design Father