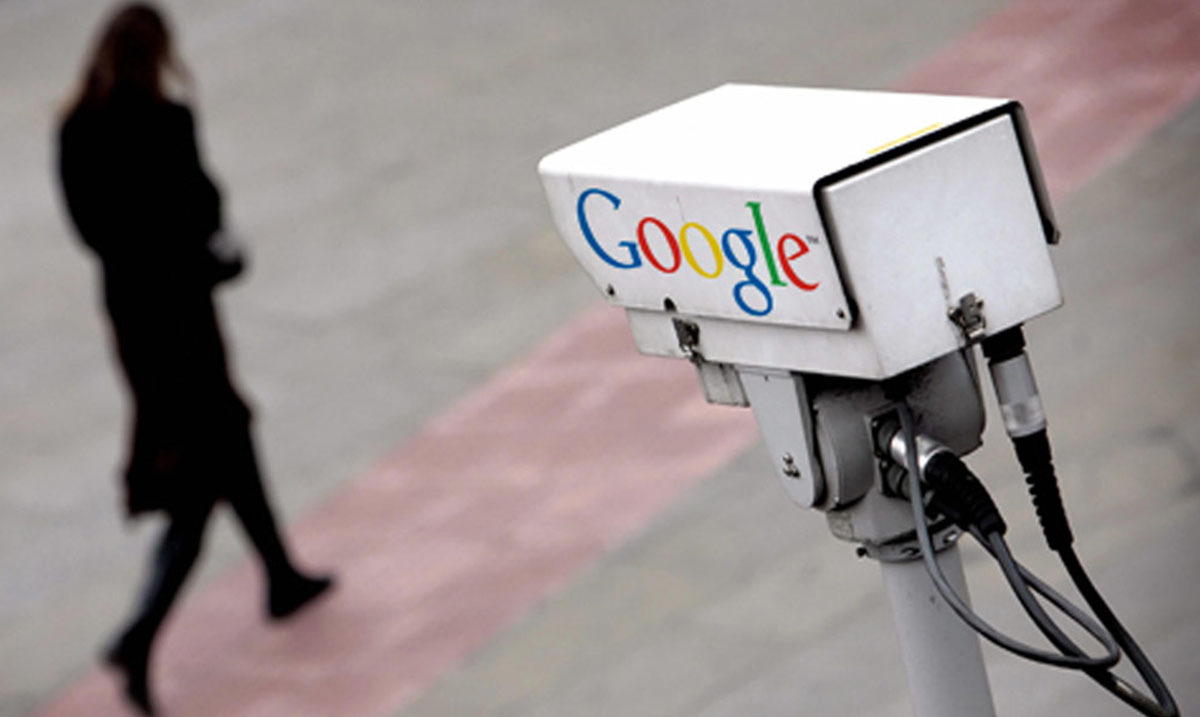 Google has become one of the major driving forces of the Internet age, providing us with services such as Gmail, Google Drive, YouTube and Google Maps among others. The company drives advertising campaigns, controls our ability to search the internet and has now moved into the smartphone market.
However, what many don't realize is just how much information Google is collecting as we browse the internet, learning a great deal about our shopping habits, our interests, our browsing habits and our families. These statistics are collected for a number of reasons, and not all are as negative as many conspiracy theorists would like to spin. It is this information that allows your computer to remember your passwords, tailor your advertisements to your interests, remember your searches for a quick autofill in the future and maintain your shopping cart as you navigate on and off various shopping sites.
While Google has collected a good deal of information, it is important to note that the company has taken important steps to protect your privacy by protecting your Google account. They have employed a two-factor authentication technique, making it even more challenging for strangers to break through your selected passwords, as well as practicing good mobile security hygiene throughout their regular practices.
It is also important to note that the information we are about to discuss is all optional. Should you choose to, you do have the ability to opt out of many of these different areas, taking control back of what information is collected. While this will protect your identity, it will also impact your browsing experience, so it is advised that you take the time to consider your options before making a decision.
Here are 8 different things that Google knows about you that you may not already know:
It Knows Your Search History
Each time that you use Google as a search engine, it saves the information that you have been searching for. This works for a number of different purposes – allowing them to provide an accurate auto fill in your future search efforts, as well as providing information regarding your interests for advertising purposes.
View your search history here: Web History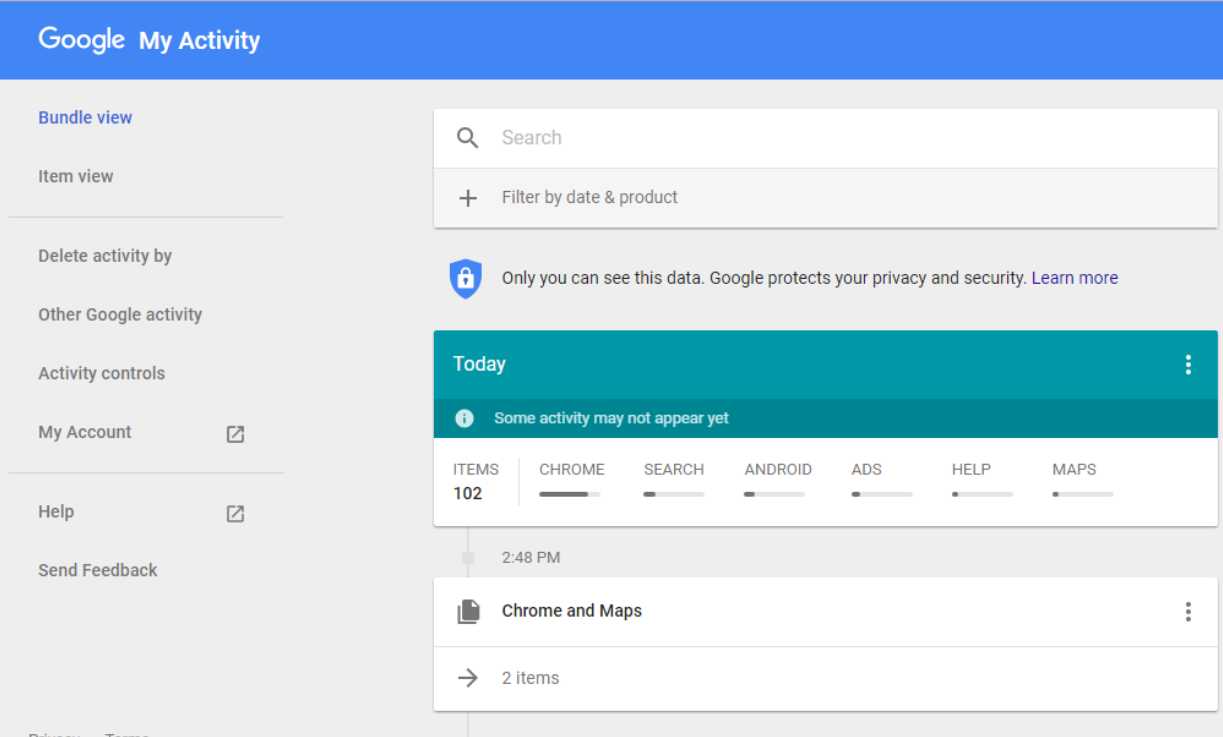 It Knows Your Invite-Accepting Habits
The Google Calendar application has become a highly used method of planning and organizing our days, keeping our schedule all in one clear, concise spot. Each time that you receive an event invitation and select either 'yes' or 'no,' not only does Google import the necessary information into your personal Google Calendar for future use, but it also keeps track of this information. You can view a breakdown of how many events you either accept or reject in your Google Calendar, even going as far as offering a pie chart to show this information in a clear visual.
View your invite-accepting habits here: Google Dashboard
It Knows Your Hobbies and Interests
In order to tailor the advertisements that you see to your individual hobbies and interests, Google tracks and collects information about what topics you view most often on the internet. This is collected from your browsing habits, as well as your search history as referenced above. For example, if you are regularly viewing websites about Cats, due to the feline members of your family, Google will start showing you advertisements about cat-related products such as cat food, treats, and toys.
View the information that Google has collected for your ads here: Google Ads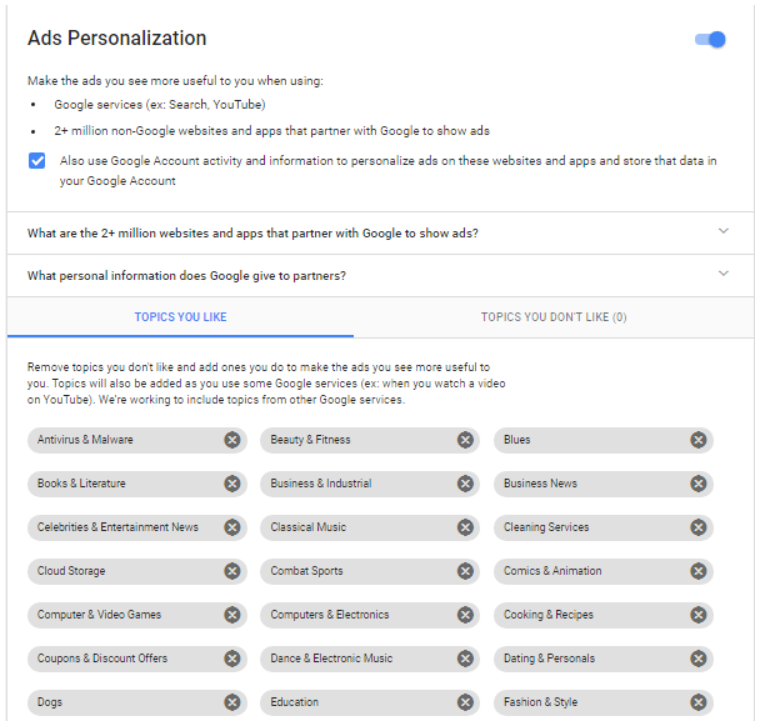 It Knows All Your Gmail Conversations
Rather than just deleting your Gmail messages, they offer an archiving system which may surprise you. This system tracks every conversation you have had since creating the account (unless, of course, you have turned the archiving option off). While in your Google account dashboard, simply click on the 'Gmail' header to see all of the emails that they currently have saved.
View your Gmail archive here: Google Dashboard
It Knows About the Various Services and Apps You Use
Google keeps track of all applications and services that are linked to your Google account, as well as any devices associated with your account at any given time. This allows them to create a well-rounded account of everything that you are doing in one place. It does, however, offer you some additional security as you are able to log in and see if anyone is invading your privacy by connecting to your account at any moment.
Check your services and applications here: Google Dashboard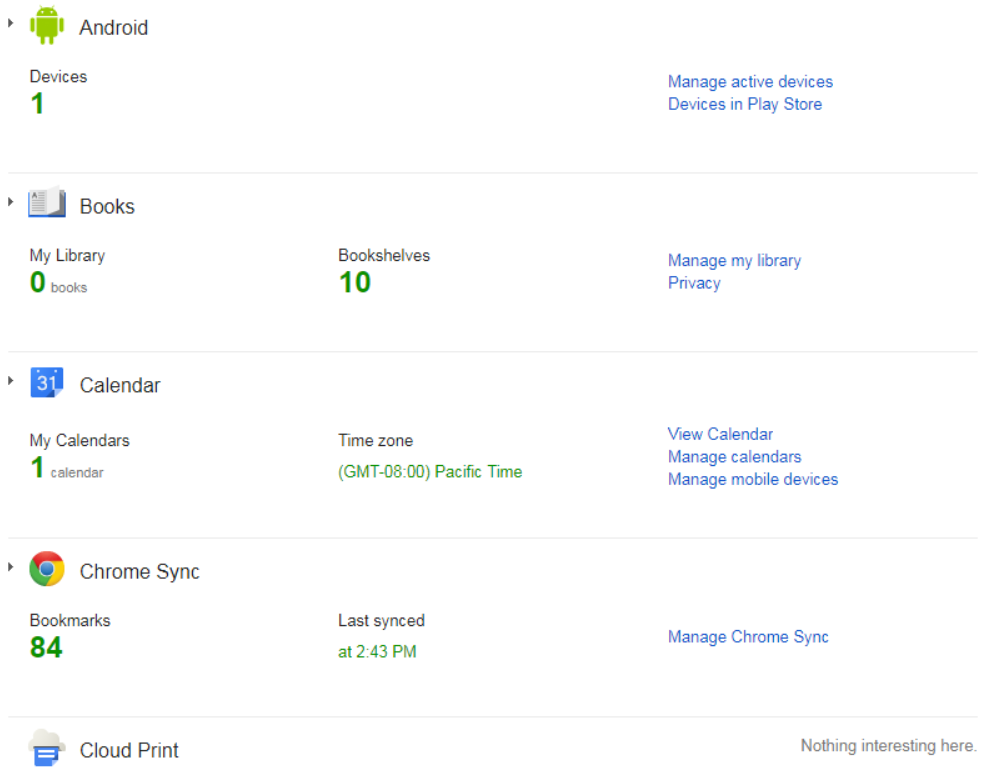 It Knows Your YouTube Viewing Habits
While many users may not realize this, YouTube is also part of the big Google internet empire. Every time that you log on to YouTube and watch a video, Google saves this information. They keep track not only of how many videos you are watching, keeping a running tally but also what types of videos you are watching. This is what generates the 'related' section on YouTube, providing you with suggestions of videos similar to those that you have already shown that you enjoy.
Check your YouTube viewing habits here: Google Dashboard
It Knows Your Geographic Location
Whether you are browsing on your phone or your laptop, the use of Location works to tailor the content that you are seeing, keeping it focused on relevant content for your area. This means that Google knows where these devices are at any given time, which means that Google will know where you are so long as your location settings are turned on.
View the location history that Google has saved for you're here: Location History