Women have come leaps and bounds in their roles in the world. Once viewed as the weaker sex, only permitted to care for the house and the children, today they can be seen dominating the office, ruling corporate America and, ultimately, do anything that they set their mind to accomplishing.
They refuse to be tied down and live for the adventure and excitement that this life has to offer.
They are our mothers, daughters, sisters, and friends. They know their power and refuse to apologize for demanding to be heard. These very women motivate and inspire us, showing us that we, too, can rule the world that we live in if we are willing to stand tall, holding tightly to our values and beliefs.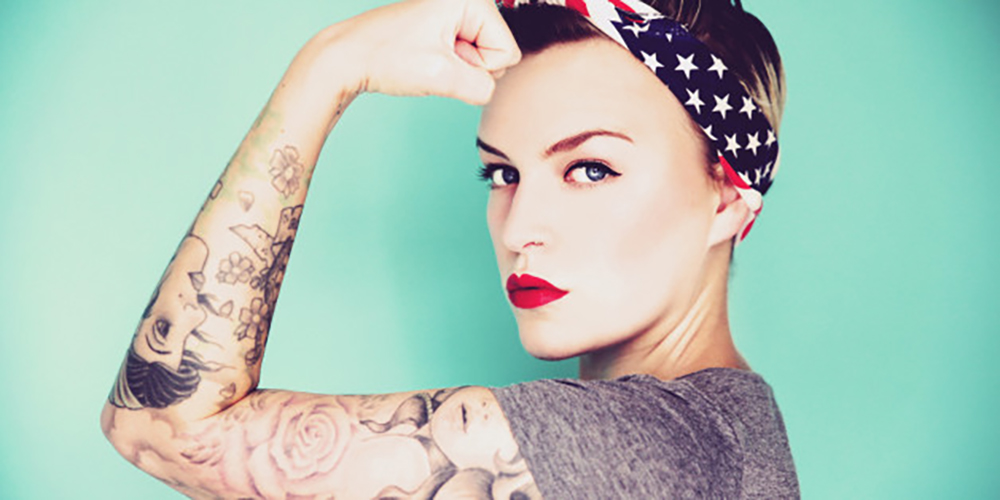 Do you believe there is a strong woman in your life? Watch for these 14 signs:
#1 – Inauthenticity
In an effort to get ahead, many people will focus heavily on who they believe that they have to be in order to fit in and succeed in our society. They create a version of themselves that meets these perceived expectations, an in time she may even begin to lose sight of her true self. A strong woman refuses to allow others to define her, remaining true to herself regardless of how she 'fits in.'
#2 – 'Popular' Fashion
Each year women spend thousands of dollars on the latest fashion trends and popular accessories. In some cases, these items are comfortable and functional, but this isn't always the case. A strong woman doesn't need to fit into the trends that dominate this world, choosing instead to dress in what makes her feel comfortable and confident.
#3 – Drama
A strong woman isn't going to waste her valuable time and energy on the pointless drama and gossip that many find to be entertaining. She would much rather learn the truth, create genuine connections, develop lasting friendships and support one another, living each other up rather than tearing each other down.
#4 – Approval of Others
Too many people spend their time worrying about whether or not they will be accepted by those around them, or what they may need to change to earn their approval. A strong woman knows that no one's opinion matters except for her own, and she isn't about to waste her time on seeking the approval of the people around her.
#5 – Lost Chances of Love
While she is strong and smart, a strong woman knows better than to forget about matters of the heart. She loves deeply, passionately and without holding back. This is both her greatest strength and her greatest weakness, but that won't stop her. She understands that all is possible through a world of love.
#6 – Social Media Addiction
The world of social media today is an incredible tool in our society, influencing everything from our buying decision to our political views. However, this powerful tool for communication has a dark side. For many, this becomes a way to judge your self-worth, determined by every like, share and comment, but not for the strong woman. She posts what she wants, when she wants, without seeing it as a reflection of her value in this society.
#7 – Learning 'Her Place'
For generations, women have been encouraged to find their place in the world, encouraged to submit to the men in our lives, and accept their role as the 'weaker' of the sexes. Today, this image has changed dramatically as women fight for equality, however, the fight is still ongoing. A strong woman is willing to stand up and take control, proving that women are capable of anything they set their mind to.
#8 – Judgment
She is open-minded and welcoming to everyone, regardless of race, gender, sexual orientation, religion or social standing. She learned the value of understanding others in place of judgment a long time ago, realizing that there is not always a 'right' or 'wrong' answer. Not everything in life is black and white, and she is open to the grey areas of the world.
#9 – Disrespect
A strong woman understands the importance of respect, both for herself as well as for the other people in her life. She believes that everyone is innocent until proven guilty and will give a second chance where it is warranted. That being said, don't cross her twice. Once you have lost respect, it is nearly impossible to regain.
#10 – Toxic Relationships
The people in our lives can either be an incredible strength, providing us with the support and courage when it's needed most or a toxic influence, tearing us down. A strong woman knows her worth, she sets the bar high for those that she allows into her life and refuses to settle. If someone is a bad fit, she isn't going to waste her time trying to 'fix them,' she simply walks away.
#11 – Dwelling on the Past
It is easy to become swept up in the regret of mistakes made, looking back on choices and actions of our past with upset, disappointment and disdain. The difference, for a strong woman, is that she acknowledges that the past is behind her and out of her control. Rather than wasting time on the past, she focuses on the here and now, and how to best control it.
#12 – Body Shaming
Sadly, our society today is incredibly negative when it comes to the topic of body image. Women are taught an unrealistic idea of body perfection and often guilted, shamed and belittled into going to extreme lengths in an effort to obtain it. This results in a lack of self-confidence and self-esteem. This isn't true for a strong woman. She loves and accepts her body, flaws and all, recognizing the beauty in its uniqueness.
#13 – Instability
She acknowledges that true power will only come through finding a balance between matters of the head and those of the heart. This means realizing that there is a time to act, and a time to step back and consider our actions. In doing so, she is able to make smart, strategic choices, avoiding the potential consequences of acting irrationally.
#14 – The Sexual 'Taboo'
There is far too much that is considered to be 'hush hush' or taboo in our society today. Women often avoid talking about what they actually want in the bedroom for fear of being seen as intimidating, demanding or 'too much' for the men in their lives. A strong woman knows that she will never be too much for the right person. She knows what she wants, and she isn't afraid to ask for it.