"Young people need something stable to hang on to – a culture connection, a sense of their own past, a hope for their own future. Most of all, they need what grandparents can give them." – Jay Kesler
An important part of our lives from the day that we are born, it is easy to find ourselves taking advantage of these important influences that we have been given. Our parents' parents, people who we can, ultimately, thank for our very existence. They take joy in their growing families, excited to spend time with you, get to know you and impart their knowledge to you… Unfortunately, in many cases, that time is far more limited than we would like it to be.
When the day comes that we inevitably say goodbye, a curse of old age, we are left with memories that make us smiles, photographs that remind us of the good times and stories shared among family members. But is that really the end? Is that all there is? The impact our grandparents have on us extends beyond their own physical lives – The influence they have on our lives, including our beliefs, morals, and values, will carry on well into adulthood, shaping who we are and what we hold true.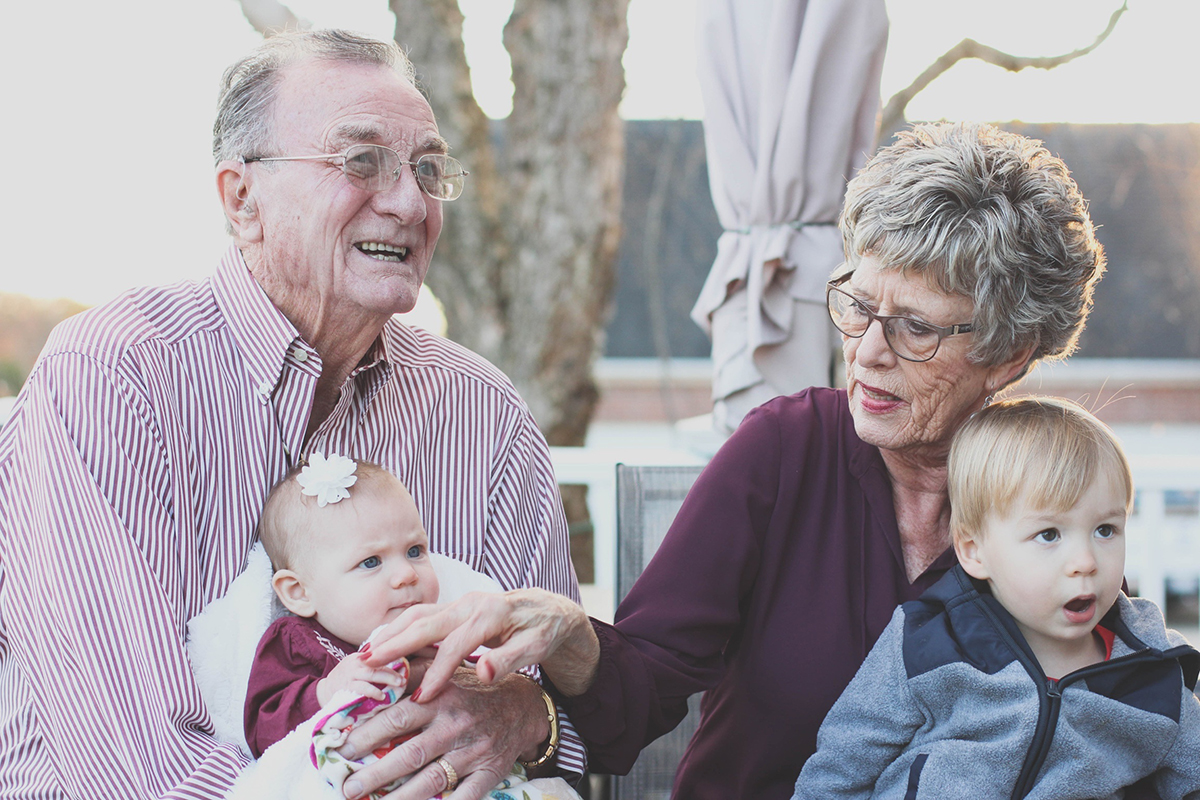 Here are 12 reasons why the bond between grandparents and grandchildren continues long after death:
#1 – They Provide a Healthy Example for the Aging Process
As we grow and develop, we look to the adults in our lives to provide us with examples of how to handle different experiences and areas of our lives. For example, parents in a happy marriage can provide a child with a positive example of how marriage and love can work. Grandparents also play an important role, providing children with a role model of how to handle the aging process. This is important information that will serve the child well down the road when they face the reality of aging themselves.
#2 – They Teach Children to Value the Family Unit
It can be easy for children, at their young age, to view the family unit as including only their immediate family, forgetting about the pats of the family that extend outside the walls of their home. Grandparents are able to teach their grandchildren the importance of family values, encouraging them to view their family relationships outside of the immediate family as a high priority.
#3 – They Teach Us to Confide in Others
From a young age, many children learn to confide in their grandparents, trusting them with our deepest secrets, and biggest struggles in this life. Experts say that the bond created between a grandparent and their grandchildren can actually help the child to develop better social skills. In this way, they are highly important to a child's development.
#4 – The Show Us How to Have Fun
It's a stereotype for sure, but one that has some truth to back it up. Often, we look forward to time with our grandparents because they show us how to have fun in life, demonstrating that it isn't all about following the rules. Grandparents are often the adult that allows us to stay up late, eat a little more sugar and brush off our chores that one night just to enjoy playing together a little longer. This is an important reminder for all of us that it's ok to take some fun time in our lives.
#5 – They Help Children Navigate Family Relationships
As children, it's hard to picture our parents as children themselves. This bigger picture is easier to identify when a child's grandparents are in the picture, interacting with their parents in a way that they can see and comprehend. They actively see their parents establishing that parent/child relationship with their parents, putting everything into perspective. This serves as a role model for their family on a bigger scale down the road.
#6 – They Teach Children New Skills
Look back on your childhood and the time that you spent with your grandparents. Most of us can tell tales of baking together, working in the garden, making crafts and other hands-on activities. Often these are skills that we aren't exposed to somewhere else in our lives, which makes this time spent with our grandparents incredibly valuable. Our grandparents grew up in a time where they had to work for what they wanted, not everything was automated, and they are more than willing to share that experience if we let them.
#7 – They Provide Emotional Support
As children we are navigating a difficult time, learning to identify and recognize our own feelings and emotions while working to navigate the difficult minefield that is life as we know it. During these times it may be a challenge for children to speak with their parents, especially if their parents are the cause of their struggles. Grandparents provide children with emotional support outside of the home, important for their ability to 'survive' childhood.
#8 – They Teach Us the Value of a Dollar
As we've previously mentioned, our grandparents grew up in a very different time. When they were younger, the world was far less materialistic. It wasn't all about who had the latest gadget, or what could be purchased easier online. They worked hard for little pay, earned everything they had, collected far less 'stuff' and focused their sense of worth largely around what they achieved as opposed to what they possessed. This is an important lesson that many children today need to hear in order to maintain some balance in our lives.
#9 – They Impart Wisdom and Advice
The best people to turn to for advice in life are those who have been there and experienced the situation first hand, walking away with an outcome that we would be happy to obtain. If you see your grandparents happy and health in their life today, then it stands to reason that they would be able to assist you with advice on how to do what they have done. This may include when you are first moving out on your own, how to find a lasting relationship, dealing with the pressures of college or how to select a career that will keep you happy for years to come.
#10 – They Teach Us How to Put Things in Perspective
Have you ever been regaled by your grandparent's tales from the war, or how hard they had to work just to get to school while we are blessed with a bus showing up at our front door each day? It's easy to become wrapped up in the many struggles that we experience in our own lives without stopping to consider just how lucky we actually are today. By hearing real-life stories from our grandparents and their lives, we can put our experiences into perspective, feeling more gratitude for the things we have.
#11 – They Share Knowledge of Family History
Our ancestors actively shared information about family history from generation to generation, an important step in the recording of history through the ages. As we moved into written and digital records, this need to verbally pass history on was seen as outdated, however, without it a lot of the smaller details and finer nuances are lost. Some experts even believe that knowing about their history can improve a child's emotional well-being. By listening to their grandparents, children are given this valuable information that they can then pass down to those who follow in their footsteps.