Just a few months ago WikiLeaks revealed that the Rothschild's were involved in a billion dollar money laundering scheme in Africa! This is something the Rothschild's are doing their best to push under the rug.
WikiLeaks published a classified cable from the Public Library of US Diplomacy and in this exposed the Rothschild bank taking part in a secret billion dollar transaction in order to create what you could call a "massive money laundering scheme." In doing this they were intending to crash the Senegal's struggling economy. This deal involved the Senegalese state selling off Sonatel which is the national telecommunications company.
It has been reported that this type of deal would only benefit the Rothschild Bank and the Senegalese's ruling family. Jay Smith, the charge d'affaires in charge of the Dakar Embassy while the ambassador is not present had this to say on the matter: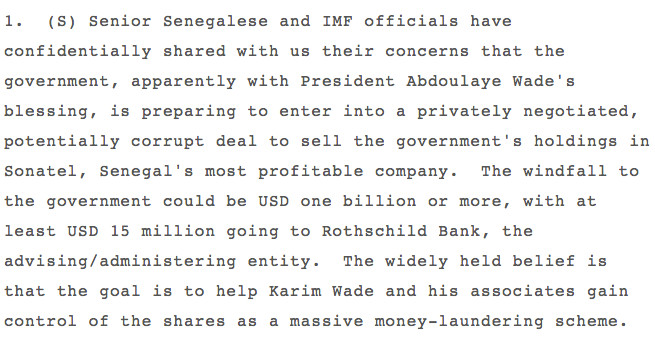 This cable also shows that the US government was aware of the illegal deal and were even working on petitioning the Senegalese government against it. The Rothschilds are above the law and things like this make it even more apparent that the elites need to be stopped. To see the full cable click here.
The Rothschilds are said to be the wealthiest family in the world and the most devious. They will do anything they can to make and keep large amounts of money. How can we stop someone who is so powerful? When the government is too afraid to step in should be a red flag. We are being controlled by the elite families, the people too rich for their own good. It appears we can add this to the list of things that the Rothschild family have gotten away with. For more information on the Rothschilds and who they are in the world please watch the videos below.