As a number of Americans are preparing to evacuate their homes with the coming arrival of Hurricane Irma, the safety of our friends and family is on the forefront of everyone's mind. This ingenious tip will help to ensure that the food you eat is safe and healthy, whether you are returning home from an evacuation or a long vacation.
When we are away from the home, we run the risk that there may be a power failure. So long as the power is restored before our return, many of us forget that it could still have had a big impact on the safety of the food in our freezer! This tip, originally shared on Facebook by Sheila Pulanco Russell from North Carolina, provides us with the ability to monitor the state of our freezer even when we aren't home!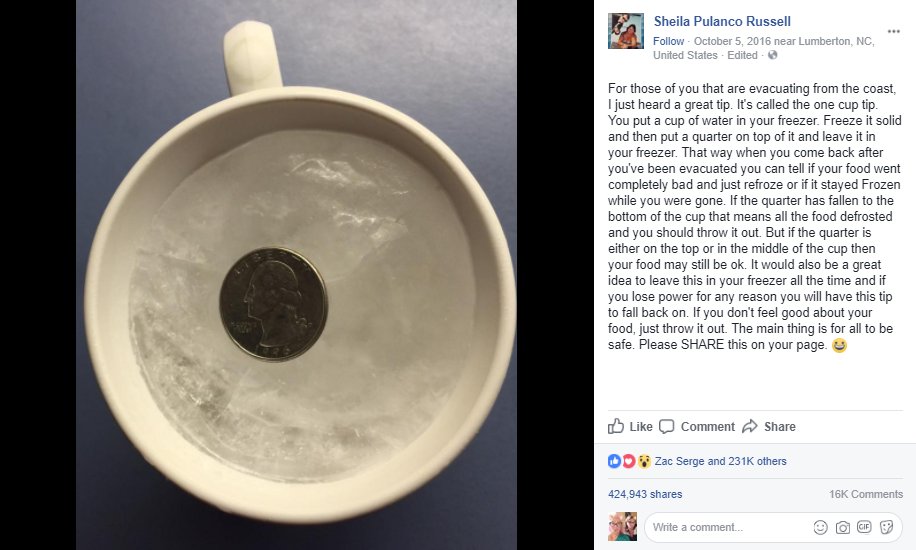 "For those of you that are evacuating from the coast, I just heard a great tip. It's called the one cup tip. You put a cup of water in your freezer. Freeze it solid and then put a quarter on top of it and leave it in your freezer. That way when you come back after you've been evacuated you can tell if your food went completely bad and just refroze or if it stayed Frozen while you were gone. If the quarter has fallen to the bottom of the cup that means all the food defrosted and you should throw it out. But if the quarter is either on the top or in the middle of the cup then your food may still be ok. It would also be a great idea to leave this in your freezer all the time and if you lose power for any reason you will have this tip to fall back on. If you don't feel good about your food, just throw it out. The main thing is for all to be safe."
First shared in October 2016, as Americans were facing evacuation for Hurricane Matthew, the post took the Internet by storm. To date, it has been shared over 424,900 times and received over 231,000 reactions!
So simple, and yet such a genius idea!