I am sure you are well aware at this point that there are two new hurricanes in the Atlantic. These hurricanes are being called Jose and Katia.
As you know residents of the Caribbean have battled Hurricane Irma and faced horrifying devastation because of it. Now, both Jose and Katia are well on the move. 
Tonight, far too many people in #Irma's path and in its wake. pic.twitter.com/bWQMxae9GV

— Randy Bresnik (@AstroKomrade) September 8, 2017
Florida has been preparing for some time now for Irma to hit and it seems the time is well on its way. We can only hope that those who did not evacuate remain safe and have done all they can in preparation for this massive storm. As Irma moves towards Florida, Katia and Jose are working on their own disasters.
If Hurricane Jose hits the Caribbean, its impact will be more devastating, because Irma has already been through the area to such an extreme extent. This will be the first time three major hurricanes have made landfall at the same time. Why in the world are we experiencing such disasters? Between these hurricanes, the monsoon flooding in Asia, and so much more I am not sure where things will go from here.
NASA's Aqua Satellite actually caught a view of Hurricane Jose as it strengthened into a powerful Category 4 hurricane. According to NASA officials, powerful storms have been detected near its center and the cloud tops were reaching temperatures as low as 63 degrees Fahrenheit. Take a look at their infrared temperature image below.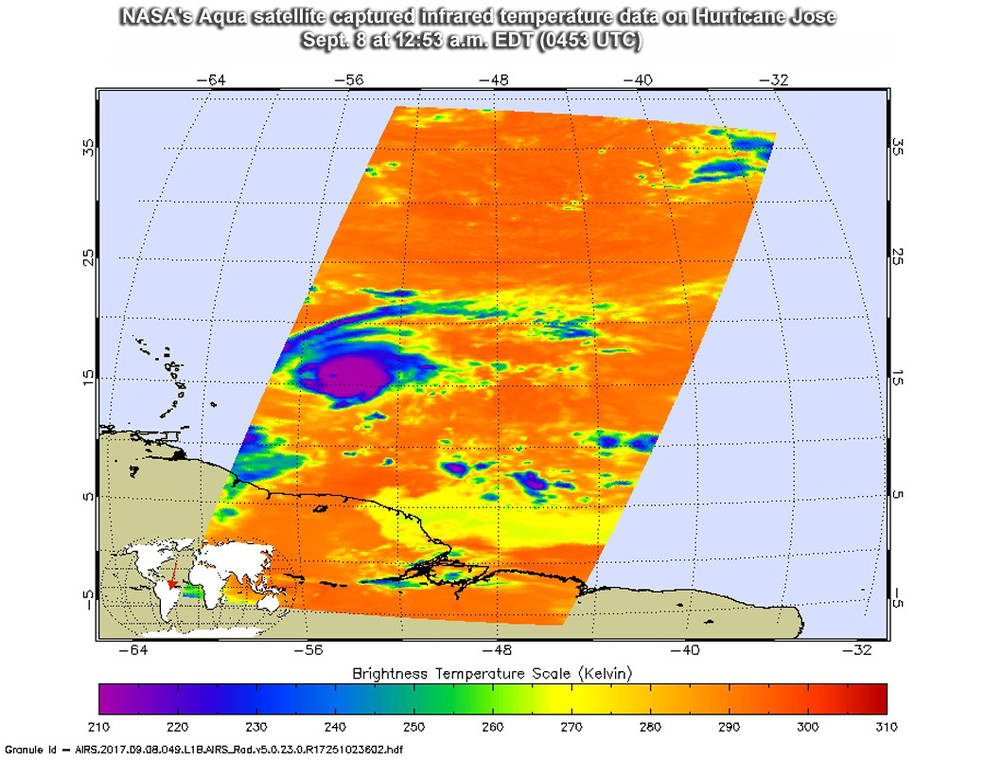 According to NASA Hurricane Katia has been crawling its way to the coast of southeastern Mexico for days, and finally made landfall on Friday.  If you have been keeping up with the news, then you know this is just one day after their most recent earthquake. Luckily, compared to the other two Atlantic storms Katia was a bit mild coming in as just a Category 1 hurricane.
For more information on this check out the videos below. What do you think about all of this? I for one am beyond terrified for any disasters to come.