Hurricane Harvey and the impending threat that is Hurricane Irma apparently were not enough for us, Mother Nature sure is pissed about something! (More like everything, we really need to get our shit together.) From southern California to Washington thousands of acres of land are burning.
While you may have been aware of the struggles many states have had with wildfires over this summer, things have recently become a lot worse. Saturday, Governor Jay Inslee of Washington declared a state of emergency because of the risk of wildfires. According to the National Weather Service 26 of the states, 39 counties were at a huge risk of wildfires. The department of Ecology even noted that air quality in many areas was already suffering because of fires in general. Smoke is literally being pushed eastward across the US.
Saturday one fire in Washington was burning across 15,000 acres! Almost 4,000 homes in the area have received Level 2 and 3 evacuation orders. That isn't the only area being evacuated either, the Eagle Creek fire burning on both sides of the Columbia River Gorge in Washington and Oregon has ruined around 10,000 acres and the Norse Peak Fire in Pierce County has burned 19,000 acres. This last fire I mentioned has been burning since last month and has evacuated far more people.
Conditions will only continue to get worse before they ever begin to get better. Authorities expect the fires to burn for the rest of September. On Saturday Montana literally failed to register even one area of 'good air' quality. These fires are a serious issue and they are all over the West. Over 10,000 firefighters have been working to contain 23 large wildfires across California. Take a look below for some of the damage going on in the west.
As seen from Washington, the Eagle Creek Fire this morning as it burned all around Multnomah Falls #LiveOnK2 pic.twitter.com/pr2fD51kri

— Evan Bell (@evanbellKATU) September 5, 2017
'The gorge will never be the same': Oregonians grieve as Eagle Creek fire burns https://t.co/fOT5FHuEwa pic.twitter.com/gVo1hu5lHZ

— The Oregonian (@Oregonian) September 5, 2017
At Multnomah Falls. Flames are really close to the lodge. The lodge itself isn't burning, per @MultCoSO. pic.twitter.com/SXCElPLE7m

— Jim Ryan (@Jimryan015) September 5, 2017
4,000 firefighters, 125 aircraft, 350 Montana Air Guardsmen battled 40 wildfires 655,171 acres with 23 still actively burning #MontanaFires pic.twitter.com/Q4Ggm9K90v

— w h i t n e y (@WhitneyKnaff) September 1, 2017
Homes are burning in Montana and no one in the nation seems to care…@abcnews @NBCNews @FoxNews @CNN @potus @SecretaryZinke #MontanaFires pic.twitter.com/1opAawVUkv

— S (@Sandistarfish) September 3, 2017
Thousands flee #CaliforniaFires. Read more: https://t.co/Y34QfHPHR8 pic.twitter.com/onE4l2KDoZ

— Jacaranda News (@JacaNews) July 11, 2017
The #PowerlineFire, 20 miles SW of Pocatello, is about 47% contained, 52,014 acres. 468 personnel on fire. (Inciweb) pic.twitter.com/KrXnpypFoo

— Idaho Public Radio (@IdahoPubRadio) August 9, 2017
7am 9/5: Smoke will continue to blanket much of ID and the NW. Look at how far east though wildfire smoke extends – to the east coast! #idwx pic.twitter.com/JbbOFrUzt3

— NWS Pocatello (@NWSPocatello) September 5, 2017
Of course, on top of all of this more bad news is to come. There are two new hurricanes forming in the Atlantic. Yes, that means there are currently 3 hurricanes in the Atlantic. These hurricanes are being called Jose and Katia. They formed Wednesday afternoon as Hurricane Irma was transforming into a Category 5 storm. It seems just when we think things cannot get any worse these days, they do.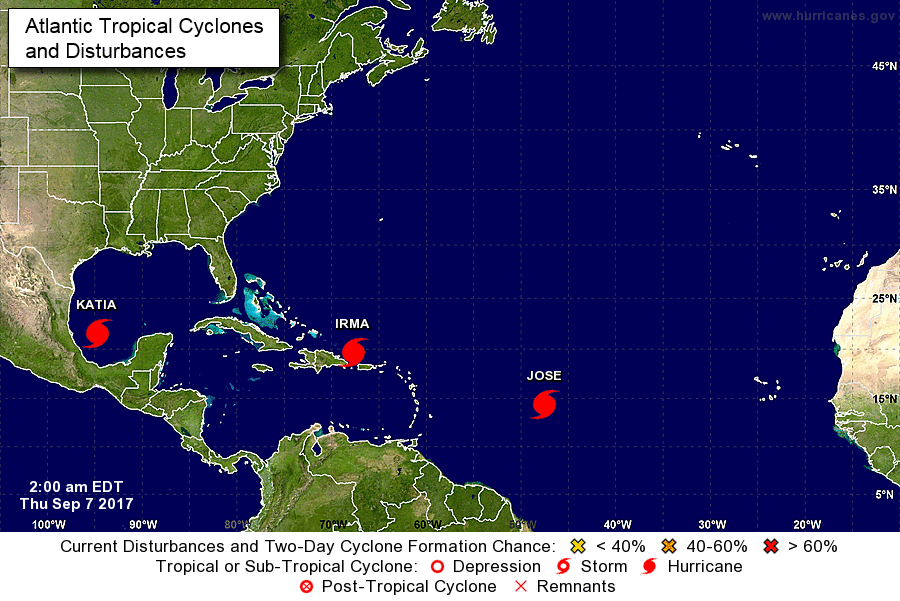 Hurricane Katia formed in the southwestern Gulf of Mexico and Jose seems to be moving toward the west-northwest from the latitude 13.9 North and longitude 45.8 West. Katia has winds of about 75 mph at this time. Irma, as you may know, is currently one of the five most powerful Atlantic Hurricanes we have had in the past 80 years. Most seem to think Irma is going to hit Florida very soon, and with all that is going on in the US at the moment this is going to be catastrophic.
For more information on these things please take the time to check out the videos below. Please, while you are keeping the Hurricane victims in your thoughts please remember those who are dealing with these fires as well. If you can get out and help or even donate, do it. These people are losing a lot.