Recently, as part of their mini-series 'America's War on Drugs' the History Channel addressed the now declassified CIA program MK-Ultra. The series was surprisingly honest, criminalizing the American government, and more specifically the CIA, for their contribution to the drug problem in the United States including drug production, trafficking, and testing. It highlighted the program MK-Ultra and the role that it played in the introduction of LSD into the general population.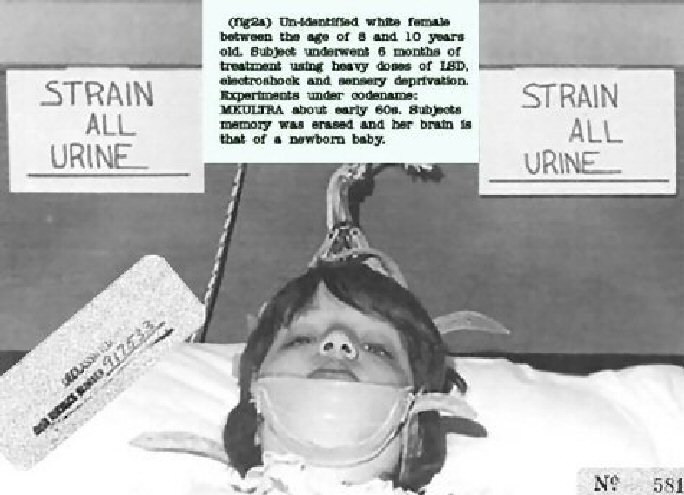 This is the clip of MK-Ultra on 'America's War on Drugs':
While the clip did a great job in discussing the role LSD played in the program, it left out a large portion of the true story, glossing over the extreme mental, physical and sexual abuse suffered by both willing and unwilling participants. While the show was specifically about drugs, it does make sense that they would zero in on that part of the portion, but the whole story needs to be told!
What Was MK-Ultra
MK-Ultra was a top-secret CIA program from the 1950's to mid-1970's that has now become declassified, revealing the atrocities that it has hidden for so long. As part of the program, the CIA worked with a Swiss manufacturer to design LSD, hoping that it could be used in their efforts. The program focused on the ability to force participants to take the drug, and altering their mental state enough that the CIA could then convince them to act on outrageous and unspeakable demands, acting in a way that they morally would never allow themselves to do without the influence of the drug, forgetting about their actions the next morning as the effect of the drugs wore off.
One specific program within MK-Ultra, called Midnight Climax, used prostitutes to test this theory. Unwilling test subjects were lured into a hotel room by a prostitute, however, instead of receiving sexual favors, the prostitute drugged their drink. Behind a wall of the hotel room, a CIA agent would then monitor the actions of the subject, recording details of what happened as they tripped out. Expanding the program further, they then progressed to the use of full brothels, luring men in only to be drugged, observed and analyzed.
Armed with the information collected from Midnight Climax, they then moved onto testing willing patients in laboratories, asking them questions while experiencing the effects of LSD and recording their responses. This escalated quickly, as they pushed the boundaries testing the ability to control the minds of their test subjects, which included a large number of children!
Ultimately researchers were looking both to control the minds of their participants, as well as to discover new and effective techniques that could be used during interrogations and torture that would allow them to force an answer out of the individual in question. Although most official documentation from the program has long been destroyed, several whistleblowers have come forward, sharing their experiences and shining a light on the horrors that occurred in the name of our government.
A hypnotist claiming to have been involved in the program came forward, admitting that as part of his role in their experiments he would hypnotize the subjects and forced "young girls to engage in sexual intercourse" with him.
In his essay 'British Psychiatry: From Eugenics to Assassination" Anton Chaitkin dedicated one section to the events of MK Ultra, saying: "Cameron would drug his victims for weeks on end, waking them daily on to administer violent electric shocks to the brain… Patients lost all or part of their memories, and some lost the ability to control their bodily functions and to speak."
Many accounts of the program even go as far as discussing murder/suicide situations that they attribute to the program, such as that of biochemist Frank Olson. Having worked under the MK Ultra program on various test subjects, his connection to the program was clear. It was alleged that Olson committed suicide, however, after analyzing the body, the medical examiner cited injuries that were consistent with a homicide.
In an effort to better understand and uncover the truth behind much of the information that was coming forward, FBI special agent Ted Gunderson began to focus his efforts on high-level pedophilias, satanic rituals and sexual abuse performed by 'the elite,' some of which was connected with the actions of MK Ultra. One of the victims that he worked closely with was Brice Taylor, a sex slave involved with part of the MK Ultra program.
Here is her testimony:
Have We Seen the End of MK Ultra?
While many claim that the program ended in the 1970s, many whistleblowers have now come forward pointing at a new classified program called Monarch Mind Control (MMC) which they claim is a continuation of the theories of MK Ultra. The program is said to focus on a mind control technique that combines psychology, neuroscience and occult rituals, which works to control and program 'monarch slaves' to deliver messages and carry out rituals. Among those believed to be used as test subjects are a large number of children.
Psychologist and well-respected author Dr. Cory Hammond discussed the MMC process in a 1992 speech, saying:
"When you start to find the same highly esoteric information in different states and different countries, from Florida to California, you start to get an idea that there's something going on that is very large, very well coordinated, with a great deal of communication and systematicness to what's happening. So I have gone from someone kind of neutral and not knowing what to think about it all to someone who clearly believes ritual abuse is real…
What they basically do is they will get a child and they will start this, in basic forms it appears, by about two-and-a-half after the child's already been made dissociative. They'll make him dissociative not only through abuse, like sexual abuse but also things like putting a mousetrap on their fingers and teaching the parents, "You do not go in until the child stops crying. Only then do you go in and remove it." They start in rudimentary forms at about age two and a half and kick into high gear, it appears, around six or six and a half, continue through adolescence with periodic reinforcements in adulthood."
Knowing that these actions are still allegedly occurring in the name of our government, the responsibility is on us to demand answers. It has become far too easy in the past sit back and allow the government to continue their experimentation behind closed doors, however today we are more aware than ever before! We need to demand accountability and transparency, especially in those programs testing on children!
Inspired by an article that originally appeared on Collective Evolution.