Sure, sometimes we have emotions that seem to affect parts of our bodies, but do you really ever stop to think about whether it is actually affecting them? There is a clear connection between the mind and body.
Researchers in Finland actually asked around 700 volunteers to think about 14 predetermined emotions and then paint the areas of a blank silhouette that felt stimulated by that emotion. These people were also asked to paint the areas that felt 'deactivated' on a second silhouette. You can actually do this yourself if you want by clicking here.
According to their findings, emotions do tend to be felt in your body in ways that seem to be consistent from one person to the next. Certain emotions were known to be associated with pain and so forth in specific regions regardless of the person's age, gender, or race. The Atlantic actually reported that this mapping exercise produced exactly what you would assume it would, this is because you feel these things too. Anger is a hot head and happiness having something to do with your whole body.
"Our emotional system in the brain sends signals to the body so we can deal with our situation,"

"Say you see a snake and you feel fear,"

Your nervous system increases oxygen to your muscles and raises your heart rate so you can deal with the threat. It's an automated system. We don't have to think about it."
While we do not yet have the technology to visually observe the link between emotions and our bodies in the ways we would like that doesn't mean the connection is not there. It is obviously there. You must observe the effects of your emotions in order to really see how they play a role in your health. Our emotions are very important, they can make your life better or worse depending on how you deal with them.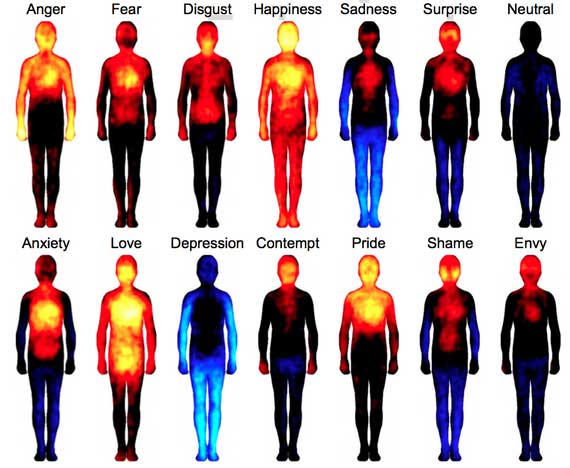 For more information on this check out the video below. What do you think about all of this and did the emotions shown in the image above turn out how you thought they would? I cannot wait for the day when we have the technology needed to make this sort of thing more of a reality. Observing this connection would be monumental.
Outside sources for this article: The Atlantic, NPR, and Psychology Today.