According to the latest poll data for the 2016 Time Magazine person of the year, Vladimir Putin is winning by a landslide. Apparently, his efforts to thwart the New World Order is now being recognized by the majority of the American population.
As of November 27th, Putin was sitting at 38%, while Donald Trump held second place with 13%, coming in at third place, Julian Assange held 3% of the vote. Where do Hillary Clinton and Barack Obama stand? Well, currently, they are at less than 1%.
If you take these numbers into consideration, you can see that the Russian president has a lead of over 25% of the vote. Could it be possible for Time magazine to actually grant Putin his crown of victory for person of the year?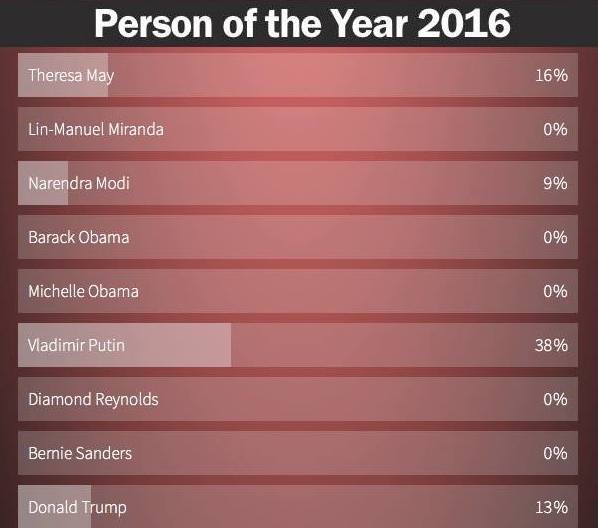 Putin, currently has the New World Order terrified, and in turn, they have been pushing propaganda out against the Russian president in order to attempt to steer the public blindly against his endeavors to expose them.
Thankfully, the polls are telling us that despite their attempts to accomplish this, American's are not buying in.
Due to this, we could be seeing an event in the near future, where the mainstream sources of media will try to smear Putin's reputation with various allegations.
Currently, the New World Order has the tightest grip they have ever obtained over the media, and they are fighting hard against Putin's attempts to steer the American public in the right direction. Putin has expressed interest for negotiating towards peace, yet the media continues to make him an enemy of the nation.
Putin has ignored the agenda of the New World Order and took a different path that appears to be directed by his own conscience rather than for a spot at their high table. In recognizing and exposing their agendas he has pushed towards something that they are quite uncomfortable with: the destruction of their ideal situation, or a one world government. His determination has continued to further prove that he understands what he has to do in order to protect the people of his nation, and in turn possibly the citizens of other nations of the world as well.