Sure, you may think you have tried every thing out there when it comes to reducing your stress and anxiety but have you really? There is a method that might be able to do you some good, it is a Chinese method that lots of people overlook.
Have you ever heard of energy meridians? These are the special points in your body, they are known as acupuncture points. They are located around lines known as energy meridians. There are 12 energy meridians total and each one is associated with a vital organ.
Our life force flows through these meridians, they keep us alive and healthy. They are so important that if one of them is not functioning properly it can and will wreak havoc in your life. Depending on the issue applying pressure to specific parts of your body could ease your troubles. This process is known as acupressure; it is similar to acupuncture but does not involve needles.
When it comes to stress and anxiety I suggest you target the CV 17 area you will see its location in the image below. It is pretty much the center of your chest, this is usually where we feel pain when we are stressed. It is close to the heart, therefore, it deals with a lot of your bodily emotions. The heart is the place that knows how you are feeling so we owe it to the heart to keep the CV 17 point free of strain.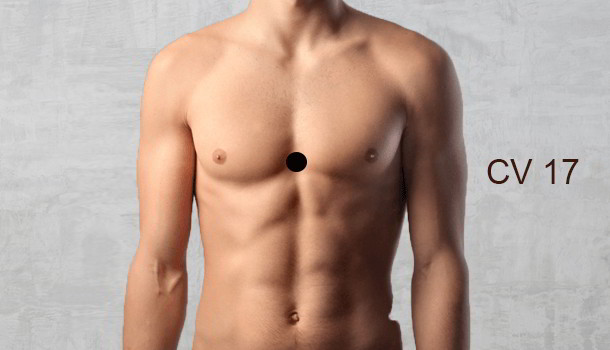 Using the back of your thumb knuckles gently apply some pressure to the center of your CV 17 area. Do this for about three minutes straight. Close your eyes and just breathe. Relax your neck and shoulders but remember to keep your head upright. Doing this will calm your CV 17 area and along with getting rid of stress, it will help you sleep better, prevent chronic fatigue, and improve nervous system functioning.
For more information, CV 17 check out the video below. Healing yourself is much easier than you might think. Why not give this a try?
Image Via Herbal Shop.