According to John Ehrilchman, who was imprisoned due to his involvement in the Watergate scandal, the War on Drugs was designed to thwart anti-war and black rights movements in the 1970's. While the law was supposedly to keep America's streets clean from drugs, John admitted in 1994 that simply wasn't the case.
Dan Baum, a writer for Harpers, wrote that he had tracked Nixon's former domestic-policy writer down to his place of work at an engineering firm in Atlanta where he worked on minority recruitment. Due to the fact that Baum was writing a book on the policies of drug prohibition, he probed John about the War on Drugs. In response to his questions, John stated,
"You want to know what this was really all about?" he asked with the bluntness of a man who, after public disgrace and a stretch in federal prison, had little left to protect. "The Nixon campaign in 1968, and the Nixon White House after that, had two enemies: the antiwar left and black people. You understand what I'm saying? We knew we couldn't make it illegal to be either against the war or black, but by getting the public to associate the hippies with marijuana and blacks with heroin, and then criminalizing both heavily, we could disrupt those communities. We could arrest their leaders, raid their homes, break up their meetings, and vilify them night after night on the evening news. Did we know we were lying about the drugs? Of course we did."
And this wasn't the first case in which the American government lied about drugs for their ulterior motives either. Henry Anslinger, the first commissioner of the Federal Bureau of Narcotics- the precursor to the DEA- associated drugs with racial threat. He was known for his racist remarks regarding drug use.
"There are 100,000 total marijuana smokers in the U.S., and most are Negroes, Hispanics, Filipinos, and entertainers. Their Satanic music, jazz, and swing result from marijuana use. This marijuana causes white women to seek sexual relations with Negroes, entertainers and any others," he famously said. He also claimed "[r]eefer makes darkies think they're as good as white men." With regard to war, Anslinger insisted marijuana "leads to pacifism and communist brainwashing."
Despite the fact that he was found to be dishonest regarding drug policies, his opinions influenced drug laws for many years. Anslinger's time was during the 1930's-1960's, yet his anti-marijuana propaganda became the basis for the War on Drugs which launched in 1971.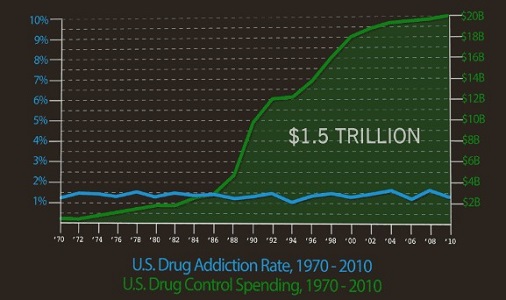 And what's worse it since the War on Drugs began, the African-American community has seen much higher levels of imprisonment due to non-violent drug crimes. Sadly, the entire nation has seen a rise in such crimes, and for what? In order to thwart the Hippies from protesting against unjust wars and policies? Of course, they couldn't stop that, either. Civil unrest remains high in the United States, and obviously for good reason: our government lies to us to meet their own agendas, leaving us in an increasingly degenerating society.