NATO generals which are now in panic mode due to fears that Russia may attack the West have been rushing around in order to put together a military operation of 300,000 troops on high alert. With rising tensions between Russia and the Baltic states, the troops would possibly speed up response times if the situation were to escalate.
Back in October, we reported how NATO was preparing to send over 4,000 troops to the Russian border, making for the largest military deployment since the Cold War. The NATO troops would come from nations far away from the alliance, including the UK.
Jens Stoltenberg, secretary-general of NATO, told The Times:
"We have seen Russia being much more active in many different ways,"  continuing, he said, "We have seen a more assertive Russia implementing a substantial military build-up over many years – tripling defence spending since 2000 in real terms; developing new military capabilities; exercising their forces and using military force against neighbours.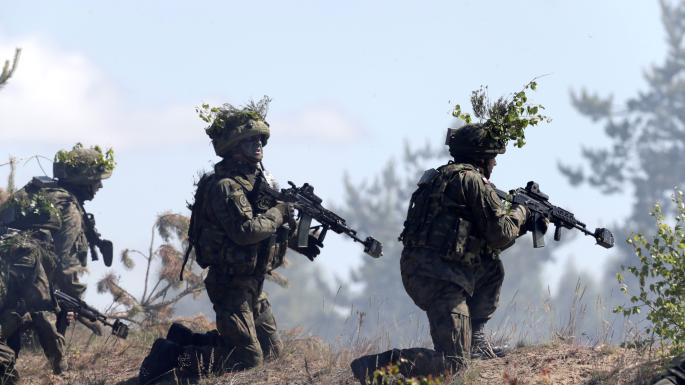 "We have also seen Russia using propaganda in Europe among Nato allies and that is exactly the reason why Nato is responding. We are responding with the biggest reinforcement of our collective defense since the end of the Cold War."
While Mr. Stoltenberg would not say exactly how many troops have been placed on "high alert", Britain's NATO representative Sir Adam Thomason said it would likely be around 300,000.
The aim, according to Sir Adam, was to find a way to make the troops mobile within two months, instead of the typical 6-month time frame.
"There are a large number of people in the armed forces of Nato allies, we are looking into how more of them can be ready at shorter notice," Mr. Stoltenberg added.
Over the past few months, we have seen the tensions between the U.S, Russia, and nations throughout the Middle East continue to escalate. As the tensions have risen, so have the responses that NATO have made to prepare for what appears to be something of massive proportions. What is odd, though, is that no one will say exactly what they are preparing a quicker and harder response to? What exactly do they foresee, or propose is going to happen? Furthermore, considering the massive deployments to the Russian border, what exactly are they planning to use the troops for? Could that be what this massive high-alert response team is for as well?