Typically, when we think of fascinating aspects of our culture we overlook language. However, recently, a beautiful language tree was created by Minna Sundberg, and it has taken the internet by storm.
And for good reason, as the website owner of "Stand Still. Be Silent," put the illustration together to describe her online comic and the reason behind why her characters could understand one another in different languages, according to the Guardian.
With deeper research, it turns out the linguists actually use tree metaphors to explain the relationships between languages, which is fascinating. For example, an ancient source (Indo-European) has various branches, (Romance, Germanic), which also have branches (West Germanic, North Germanic.) These branches then create languages (Swedish, Danish, Norwegian.)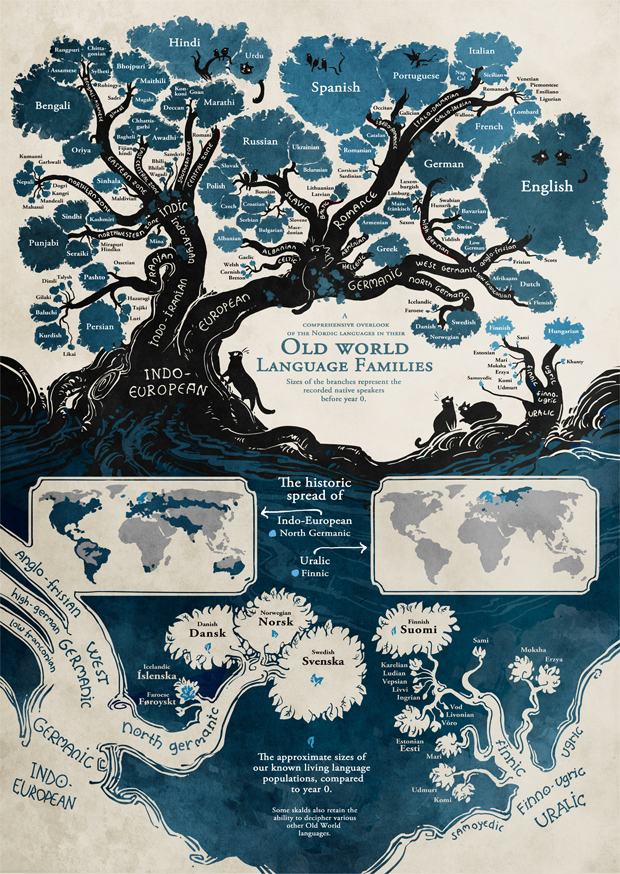 With even more research, it is interesting to find that those branches actually branch off into 5,000 to 7,000 different languages in the modern world! 
In Minna's infographic (shown below), she focuses on the Indo European aspects of the tree, however, the Indo-European languages account for six of the world's top languages, which are estimated to be spoken by a whopping 1.4 billion natives.
As explained by Archaeology Magazine in 2013,
"By the 19th century, linguists knew that all modern Indo-European languages descended from a single tongue. Called Proto-Indo-European, or PIE, it was spoken by a people who lived from roughly 4500 to 2500 BC and left no written texts. The question became, what did PIE sound like? In 1868, German linguist August Schleicher used reconstructed Proto-Indo-European vocabulary to create a fable in order to hear some approximation of PIE. Called "The Sheep and the Horses," and also known today as Schleicher's Fable, the short parable tells the story of a shorn sheep who encounters a group of unpleasant horses. As linguists have continued to discover more about PIE (and archaeologists have learned more about the Bronze Age cultures that would have spoken it), this sonic experiment continues and the fable is periodically updated to reflect the most current understanding of how this extinct language would have sounded when it was spoken some 6,000 years ago. Since there is considerable disagreement among scholars about PIE, no single version can be considered definitive."
Of course, to those of us who didn't major in languages, the infographic may be hard to decipher. However, after deeper glancing, it becomes easier to realize how closely related our languages truly are, and where they descended from. To make things even more interesting, the languages branch out to dozens, possibly more, languages.