In Berlin, Germany the most notable bank is now at risk of collapsing. This is going to have major effects for the EU as well as the United States.
There has not been catastrophic global banking collapse of this stature since 2008 when the Lehman Brothers imploded. Rothschild warned early on this year that the world was moving into what he considered 'uncharted waters' and that they would be reducing stock market and currency exposure increasing their gold holdings. Rothschild stated:
"The six months under review have seen central bankers continuing what is surely the greatest experiment in monetary policy in the history of the world. We are therefore in uncharted waters and it is impossible to predict the unintended consequences of very low interest rates, with some 30% of global government debt at negative yields, combined with quantitative easing on a massive scale."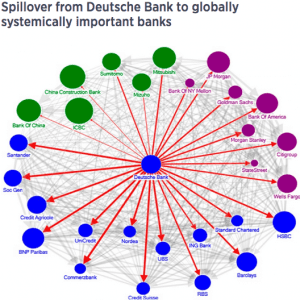 The collapse of this bank (Deutsche Bank) would quite likely begin a domino effect on many Western banking institution. Deutsche Bank's current value is at $1 trillion dollars and its collapse would be one with the likes of something that has never been seen by the world. It would disintegrate the EU, Deutsche Bank shares have been falling dramatically and German Chancellor Angela Merkel has refused to bail out the struggling bank. It seems that Germany may be considering something called a 'bail-in' now, rather than a bailout. A bail in according to Investopedia is:
A bail-in is rescuing a financial institution on the brink of failure by making its creditors and depositors take a loss on their holdings. A bail-in is the opposite of a bail-out, which involves the rescue of a financial institution by external parties, typically governments using taxpayers money. Typically, bail-outs have been far more common than bail-ins, but in recent years after massive bail-outs some governments now require the investors and depositors in the bank to take a loss before taxpayers.
This generally meaning that the bank would be stealing deposit funds and those individuals who have their savings stolen will not be allowed any recourse. This could explain why Germans were told back in mid-August to stockpile at least 10 days worth of water and 5 days worth of food in case of a 'national emergency;' hitting the country. Similar announcements made within days by other countries as well.
When government warnings begin it is apparent that it is too late to fix the issue. Only time will tell if this is going to be the beginning of the explosion of global economy.  Please pass this information along and watch the video below for more information on this issue. It seems the German government will, in the end be forced to bail this bank out in order to avoid global issues. It seems though if and when they do bail out this bank Merkel's credibility will be taking quite a bit hit considering the many denials made, only time will tell.