The government here in the United States is definitely not a democracy anymore. As citizens, we are forced to tunnel through piles of garbage in order to find the truth behind all of the propaganda.
Weather modification is a subject that if brought up in this day and age would be something people cast off to the side and consider 'impossible.' However, the government recently released a 'notice of intent' on page eleven of the Pasadena Star Classifieds announcing their intentions to carry out weather modifications in Los Angeles County. This is no joke.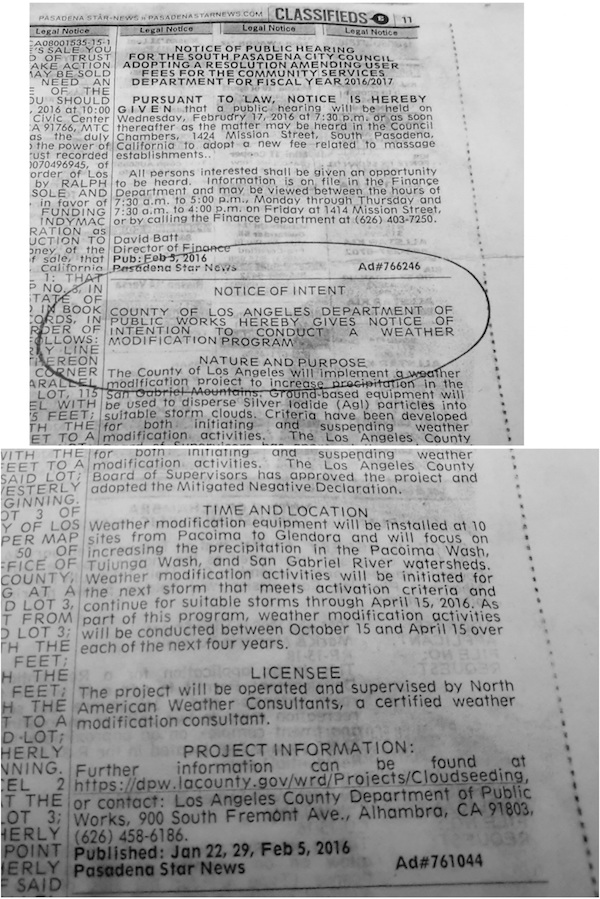 This was posted in January and was of course posted in the classifieds in hopes that not many people would notice it. Previous practices of weather modifications were confirmed back in 2014 by the Navy. Even with evidence people still for some reason write weather modification off as a conspiracy theory.
It appears we have been trained to ignore anything that goes against the mainstream narrative. People argue the truth behind the post in the classifieds because 'if the government wanted to admit something like that they would have it on the front page.' This is not true, the government does the minimal to admit to the things they do. They rub it in our faces, because many people are too brainwashed to even pay attention. The classifieds are exactly where they would put something they wanted out there, but did not want seen.
The government here in the United States has turned into the type of government they had hoped to prevent. Things like this need to be thought about and brought to light. The front page is the last place our government would publish anything truthful. Please take the time to watch the video below for a little more information.