Members of government that is willing to stand up for its citizens who have been done injustice are not a very commonplace occurrence. However, there are a select few, and apparently governor Peter Shumlin is one of those exceptions.
His announcement to pardon thousands of people who have had their lives torn to shreds because of the drug way is exactly why we believe him to be that very exception.
"Today I am announcing an effort using the Governor's pardoning power to expedite our move to a saner drug policy and criminal justice system," the Governor said on Thursday. "Decriminalization was a good first step in updating our outmoded drug laws. It makes no sense that minor marijuana convictions should tarnish the lives of Vermonters indefinitely."
According to the most updated data for 2014, there were 1,561,232 people incarcerated due to drug charges within a single year. 83% of those incarcerations were possession alone. Out of 1.5 million people arrested, 700,993 were simply for marijuana, and 88% of those arrests were for the mere possession of the herb.
"It could have happened in the 1960s, 1970s, 1980s. There are thousands of them," said Shumlin.
For decades since the war on drugs began, millions of otherwise innocent people have had their basic rights removed, have been held captive in a cage, and tortured for their choice of relaxation at the end of a long day. Furthermore, for merely possessing a naturally grown plant, hundreds of thousands of people now have permanent drug records and have lost thousands of dollars to a flawed system that has done nothing to truly eradicate the drug problem. Instead, we now have more drug users than ever before, more overdoses than ever before, and a system which perpetually creates new criminals rather than rehabilitating current ones.
Shumlin's goal is to reverse this ridiculous and vicious cycle.
"We've got folks who got charged for an ounce or less of marijuana in a different era when we were running a failed war on drugs. Let's give those folks the opportunity to have a clean record," Shumlin said.
Sadly, this program is only available in Vermont.
Basically, what his deal entails is that if you have been convicted in Vermont for possessing an ounce or less of pot, you can now go to his website until Christmas and apply for a pardon. If you have any prior felonies or violent offenses on your record, you are immediately disqualified from this program.
"As governor, I've been trying to lead a more sane drug policy," Shumlin said.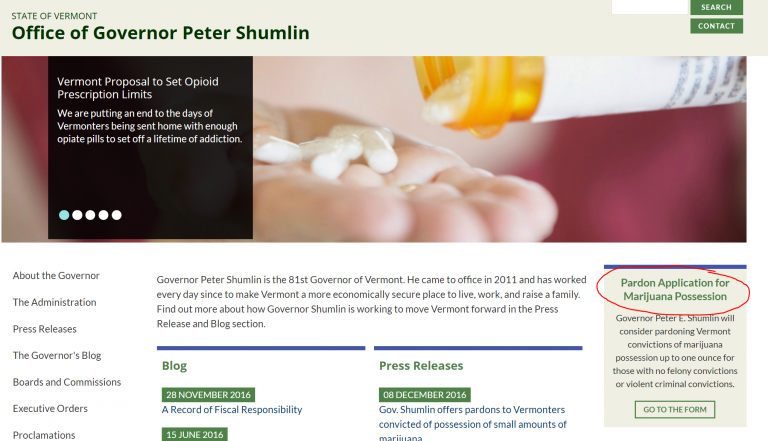 "Each application will be considered individually, and there is no guarantee of a pardon," notes the governor's office.
"However, I will try to get through as many as possible before the end of my administration on January 5th," Gov. Shumlin said. "This is the right thing to do."
While many states have moved towards the legalization of cannabis over the past few years, there have been few and far between that have decided to pardon those who have been incriminated due to failed legislation. What better time than now would there be to begin releasing and expunging those who have been victimized by obviously failed polices surrounding the drug laws? The choice is obvious people. Hopefully, other lawmakers will take heed of Governor Shumlin's decision and begin providing justice to their citizens.