The concept of needing to take time off for one's health is far from a new one, with sick days included as a noted part of most employee contracts. Recently, however, a tweet shared by Madalyn Parker, a web developer at Olark in Michigan has brought another very important topic up for discussion – the importance of also caring for our own mental health.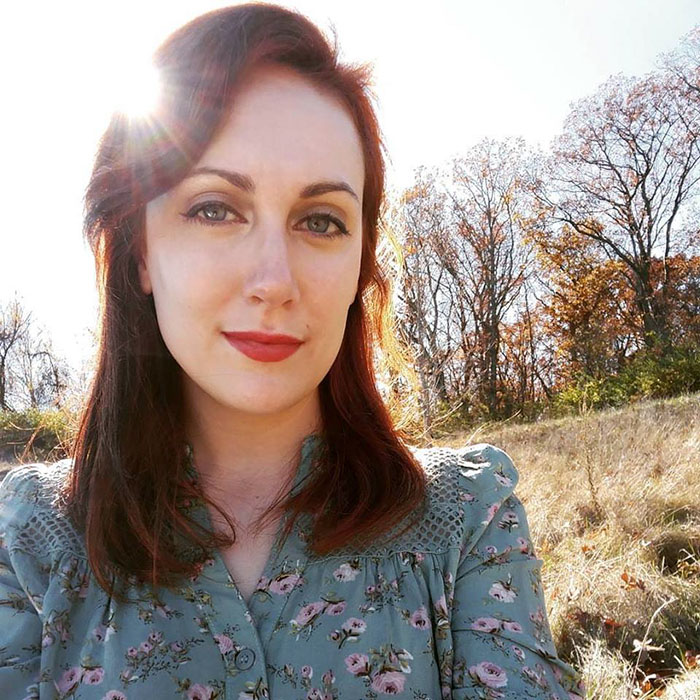 Parker advised that she was already well acquainted with the importance of focusing not only on her physical health but also her mental well-being, having previous been hospitalized due to some of her own struggles with her mental health. In fact, this isn't even the first time that Parker has made waves online in an effort to raise awareness about mental health issues! In March 2015, she wrote a post for Medium focusing on the struggles of overcoming mental health hurdles in the workplace. Discussing her own struggles, and the way the company went as far as revising their own policies to include considerations for mental and emotional health, she painted a picture of a supportive and understanding employer.
Her employer would once again find themselves in the spotlight with her recent post on social media.
Realizing that she was in need of some time off she emailed her team, along with the CEO of the company to advise that she would be taking a couple days off to focus on her mental health.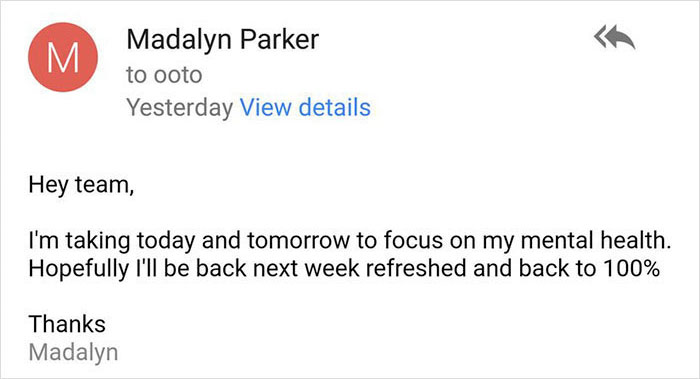 Rather than making her feel guilty for her decision, or questioning her motives, as many employees are afraid would happen if they had sent off a similar email, the CEO of the company, Ben Congleton, replied praising her for focusing on her mental health and setting a good example for other employees who may be facing similar hurdles.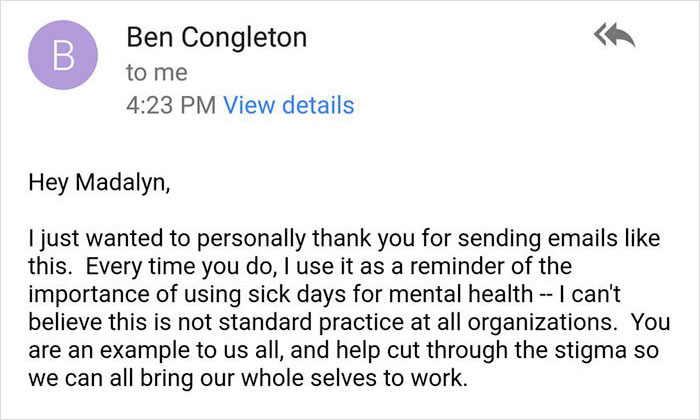 After receiving permission from Congleton to share the email exchange online, Parker posted on Twitter hoping to spark an important discussion regarding mental health in the world place. Having now been retweeted more than 11,500 times and receiving over 36,000 likes, she accomplished exactly what she had set out to do. The conversation that followed included all sides of the debate from those who supported her actions, praising her for having the courage to share the email exchange in such a public manner, to those that were far less understanding.
When the CEO responds to your out of the office email about taking sick leave for mental health and reaffirms your decision. ? pic.twitter.com/6BvJVCJJFq

— madalyn (@madalynrose) June 30, 2017
Some respondents, unfortunately, took to Twitter to share their own less than desirable experiences with employers who weren't willing to offer the support that Parker had shared, while others spoke of their jealousy.
I took a mental health afternoon at my last job and got passive aggressive documentation about the mental health coverage in our health plan

— Janie Clayton (@RedQueenCoder) July 1, 2017
Are y'all hiring

— Anthony Ly (@Funkopedia) July 10, 2017
Any jobs going where you work? So rare. I left a mental health charity once bc HR wanted to know in advance when I'd have a panic attack

— mollywallop (@mollywallop) July 6, 2017
health day recently and lie about my reasoning for not coming in, because it's not seen as a viable excuse for missing work.

— Miranda ? (@movntainwoman) July 11, 2017
This is great!! I once called in to take a mental health day.. My boss told me anxiety isn't a real illness & that I needed a doc's note ??

— danielle willette (@pickleDWilly) July 11, 2017
Had to do a double take to realize your boss and your company are so awesome! I wish at least half the companies on the planet were as nice

— The Zooter (@BluntBong) July 6, 2017
The tweet also sparked a conversation among others in regards to vacation policies, what kind of leave employees should be taking at times like this and just how much information these employees need to be sharing with their employers.
But *vacations* are for mental health too. So then really what's difference btwn sick leave & vacation leave? Could be just 1 leave policy

— Andrew Cohen (@acohenNY) July 1, 2017
Agreed. "I want to go hang out with family" and "I need to separate from stressors" are quite different. I want my co to be like yours.

— Matt Olson (@carnivorous8008) July 1, 2017
I also agree. You wouldn't take holiday leave because you've got flu. Mental Health is just as serious and real as Physical Health

— Josh Hancock (@josh_the_tech) July 11, 2017
Who needs to know what kind of sick I am when I log sick leave?

— Dieter Petereit (@dpetereit) July 6, 2017
Call me crazy, no pun intended, but I dont feel like they need to know WHY im taking off. It's my time and I use it for what I need it for..

— Joyce Andrews (@Joyce1913) July 11, 2017
Others still went on to discuss their own employers and the ways in which they have incorporated a similar policy or supported in them during their own difficult times.
As in "hey you're looking haggard. Why don't you take a z day" not in a negative connotation

— Allan Chow (@chowspecial) July 6, 2017
Once IMed my boss:

Me: Gotta go. Panic attack.
Boss: omg. Go. Whiskey in the supply room if you need it.

— Peter Welch (@peterhuntwelch) July 11, 2017
One thing is true – Madalyn Parker sparked a conversation that took the world of Twitter by storm, bringing the importance of mental health and breaking the stigma that exists today in regards to those that struggle with mental health concerns to light. Hopefully, this conversation will continue, and more employers will take a page out of Olark's book when determining their own policies.