Have you found yourself working extra hard, and making a staggering number of sacrifices to maintain your partner's happiness only to feel as though you aren't getting the same in return? Do you find yourself 'loving' your partner to the point of exhaustion, your own needs remaining neglected and on the back shelf? If so, you may be in a codependent relationship.
Scott Wetzler, Ph.D., psychology division chief at Albert Einstein College of Medicine stated, "Codependent relationships signify a degree of unhealthy clinginess, where one person doesn't have self-sufficiency or autonomy. One or both parties depend on their loved ones for fulfillment."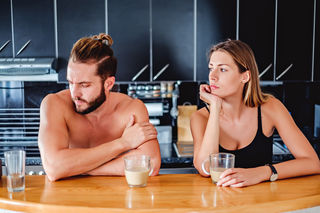 Traditionally codependency referred to a relationship in which one party is chemically dependent or engaging in some form of undesirable behavior, for example, the alcoholic husband and his enabling wife. The inner workings of the relationship are focused on a balance of control and nurturing.
It is often difficult to step away from the relationship long enough to be able to see when you are in a codependent relationship. While there are a number of signs that you can watch for, psychologist Seth Meyers advises that "Individuals can also assume that they are in a codependent relationship if people around the have given them feedback that they are too dependent on their partner or if they have a desire, at times, for more independence but feel an even stronger conflict when they attempt to separate in any way."
Meyers went on to explain, "They'll feel anxiety more consistently than any other emotion in the relationship and they'll spend a great deal of time and energy either trying to change their partner or … trying to conform to their partner's wishes."
While some signs, such as being married to an alcoholic or addict, may be easier to recognize, others will be harder. If you believe that you may currently be involved in a codependent relationship you need to step back and look at your relationship in an unbiased way, watching for any of these signs:
You spend a great deal of time talking about and worrying about your partner's issues, going as far as to make them your own issues.
You will go to great lengths to ensure that your partner's needs are always met in your relationship, however, your own needs are often ignored or forgotten about.
You place such a high value of importance on your partner's mood, and your responsibility or it, that it impacts your day.
You often allow your partner to have his/her way when you are disagreeing, only to find that you are caught up in feelings of anger and/or resentment afterward.
You have allowed hurtful behavior and irresponsible actions to enter into your relationship, not only physically but also both emotionally and financially.
You often find yourself doing things for your partner that he/she can and should be doing in their life, however, you end up doing this for them out of love.
You are so closely tied in with your partner that you can't stand to be separated, even for a short period of time, always wanting to know what they are doing or thinking.
Despite the fact they are a grown adult, you often find yourself feeling a sense of responsibility for your partner's actions and behaviors.
The good news is that once recognized, codependency can be treated. It will, however, require therapy exploring the individual's dysfunctional behavior patterns as well as exploring any possible connection with incidences of early childhood issues. The first step is to find a suitable therapist who will help to guide both yourself, and your partner (should you choose to stay together) through the process.
While you may believe that you would like to 'work on the relationship' it is important to remember that if your partner is unwilling to change their ways, it will be healthier for you to walk away from a painful, toxic relationship putting your own physical, mental and emotional well-being first!