"We are like fish, and consumption is our water, we don't even realize how much it surrounds us and becomes a part of us. We're swimming in the idea that if you have more, then you can be happy."
Greg McKeown, author of Essentialism: The Disciplined Pursuit of Less
The organization World Population Balance states that Americans make up 4.5% of the overall world population, however, the United States is responsible for nearly 20% of the world's energy consumption. Even more frightening is the fact that the United States produces more waste than any other country in the world!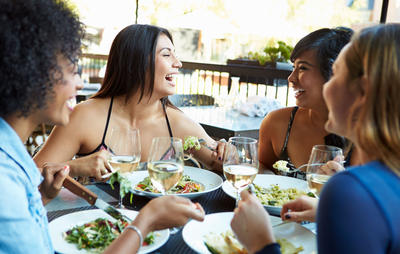 We live in a world where blind consumption has become the norm. We go through our lives with very little awareness of just how many products our daily routine requires, or how much waste each household is churning out. To add to this mentality, the media further pushes this consumption by working to convince us that we can't start our mornings properly without that specific brand of coffee, or that a new beauty product will make us look younger and more beautiful than anyone else. In fact, as Annie Leonard explains, "The average person now consumes twice as much as 50 years ago."
We continue to purchase new, bigger, better and more in an attempt to reach the vision of happiness portrayed in these advertisements, hoping that these products will make us smarter, thinner, more attractive and more popular. The 2016 World Happiness Report paints a different picture, revealing that despite our attempts, the United States only ranked 13th for overall happiness in the world, falling behind Denmark, Switzerland, Canada, Australia and several others.
This realization has triggered a shift in the thinking of many, acknowledging that the answer doesn't lie in consumption and the search for the right product to bring happiness and joy into our lives, but rather in discovering a different way of living. In an attempt to simplify their lives, many Americans are consciously pairing down their belongings, lowering their level of consumption and minimizing their foot print with the waste that they are producing.
One group of Americans have been embracing this new, simpler way of living with the tiny house movement that is sweeping the nation.  They are trading in their large, elaborate homes for smaller homes that, despite their size, are still designed to meet all of their needs. The average home built in the United States in 2015 was 2,687 sqft, whereas a 'tiny home' is under 500 sqft!
Not ready for a change that big? Here are 6 tips to simplify your own life:
Live Within Your Means
As Americans, we have a bad habit of 'keeping up with the Jones',' pushing ourselves to spend beyond the funds we currently have available. This spending has fueled industries like the credit card industry, pushing us into debt. This debt, in turn, causes stress and often forces us to work longer, harder hours just to keep up with our lifestyle. In order to scale back your spending, try to make nonspending a game in your family. How many days can you go without buying clothing? How long can you survive without buying 'rewards' for yourself? At the end, if you allow yourself to purchase one slightly larger item, you will save money by cutting out all the smaller rewards, and you will have less 'stuff' cluttering your house.
Pay Attention to Whether You Are 'Hungry' or Just Bored
Much of our consumption is fueled by nothing more than just boredom. This includes not only our food/drink consumption but that of our media, entertainment, beauty products, accessories and more. We may reach a point where we are 'full' and don't genuinely NEED more of the product, however, we continue to purchase and consume. For example, you may continue eating after the point of satiety, or you may find that you are numbing out watching a television show that you don't really have an interest in. Try keeping a journal, recording your feelings throughout the day, and the various types of consumption watching for trends. Do you notice that every evening around 7 PM you find you are getting bored, and suddenly are watching television without really watching it? Do you eat when you're stressed? Understanding these patterns will help you make conscious decisions.
Conserve Energy – Your Personal Energy!
When we accumulate a lot in our lives, this can actually be incredibly draining on a personal level. We expend a great deal of energy each day trying to take care of and manage it, taking away from the energy level that we have for the things we deem to be important such as time with family and friends, or hobbies that we enjoy. As soon as you start to take steps to cut down on all that you have accumulated you will begin to feel a sense of relief. Go into your house today and find one item that can be sold, donated, recycled or thrown away. Tomorrow aim for 2 items, and the next day 3. Continue this pattern and it won't be long before you start to feel the freedom of pairing down.
Be Mindful in Your Efforts to Pair Down
Paring down isn't all about hitting numbers, making sure that you are eliminating a certain amount. It is important that you take the time to consider what you actually NEED in your daily life, as well as what items carry the most significant meaning to you. A small figurine handed down from you grandmother, for example, may not carry any practical use, however, it may hold significant importance to you. Don't allow the 'emotional connection' to be a crutch to keep far more than you need! There are many areas in our life where we have far more than we require, such as in most American closets. Try packing all of your clothes into a box or suitcase, and only removing what you actually wear for the next month. After 30 days, reassess the items still in the box – you likely have a number of things you aren't going to use that can be donated to someone who will.
Take Note of What You Have
We purchase SO much and collect SO much in our homes, that it is not uncommon for Americans to lose track of just what we possess. This leads to repeat purchases, which in turn adds to the clutter in our homes. Look around your home, can you spot something you know that you have duplicates of where you don't need them? For example, how many coats do you own? Is there one for each season? Three for each season? Are you even positive you can remember how many are in your home? Try gathering all of these coats out and lay them side by side. Select which you plan on wearing for each season, and you'll likely find there are a number left that can be donated. Move through other items in your life such as footwear, hair accessories, Tupperware, etc.
Choose Quality Over Quantity
Consider the return on investment in the items that you are purchasing, and choose higher quality products that will last longer. While this may cost you a little more upfront, over time you will save money by not having to continually replace the item, and this will also reduce the amount of waste that you are sending to the landfill. By being conscientious about what companies you are purchasing from will also help you to bring happiness to the world by supporting companies that exhibit moral responsibility. The next time that you are preparing to purchase something, try to think through your purchase rather than jumping on the first sale you see. Try making a list before you go out shopping, but not just of the items that you want – itemize the brand/model of the items that you have found have the highest reviews or come from companies that you support. Make a well thought out decision rather than an impulse buy.