Have you ever gone outside and noticed those weird chemtrails in the sky? Go outside and look, they are all over the sky.
A 1975 U.S. Patent – #3899144 Powder Contrail Generation submitted by Donald K. Werle, Sidney Katz, and Roman Kasparas (assigned through the US Navy) shows us just how fucked our government really is. This patent document proves that there is, in fact, a chemtrail program. This is supposed to be a part of the US government's geoengineering program. Contrails are vapor trails that are extremely visible and made up of condensed water vapor made by the exhaust of aircraft engines.
Chemtrails are the trails that are being dispersed by what you see in the design below. These are attached to the aircraft and have been used for decades while the government steadily denied their existence. The government has for the longest told us that what we are seeing is simply contrails and nothing to be worried about but that is far from the truth.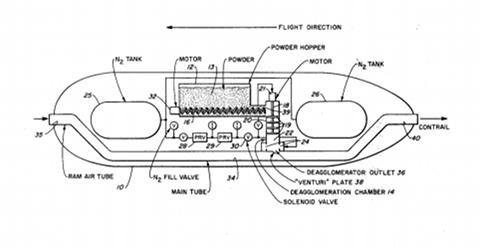 We should be very concerned. These chemtrails are dangerous and will cause long-term damage to us. This is no different than agent orange when you really break things down. For more on this issue please take the time to watch the video below. Our government is doing everything they can to keep us sick and the fact that nothing is being told to us about these chemtrails should be seen as more of a red flag than anything. Our government has denied their part in all things terrible for far too long.