Mount Everest is the final resting place for hundreds of people. Lost souls who will never find their way home and yet it is still so beautiful in the most terrifying ways.
The Death Zone is the area above 26,000 feet, when our bodies enter this altitude the race against time begins. Climbers must mark the peak and head back down before their body fails. The pressure itself causes extreme distress on organs and makes the climber disoriented. Because of that, they are urged to use oxygen at all times and only have a window of about 48 hours inside the Death Zone before they die.
Below you will find the thirteen most disturbing stories of people who died and are still stuck on Everest to this day.
Karl Gordon Heinze
Heinze was a NASA astronaut who served on the Space Shuttle Challenger in 1985. In 1993, hoping to test a NASA device for radiation at different altitudes he took leave and joined an expedition to Everest with a British research group. During just his second day at 22,000 feet, he began showing signs of high altitude sickness as his lungs began to fill with blood plasma. He was unable to get off of the mountain in time and died at 18,000 feet of pulmonary edema. He was buried above Changste Glacier.
After just securing Everest he was struck with sudden blindness coming back down. You see, during high altitudes, climbers often are struck with retinal hemorrhages and this causes blindness. While his group worked hard to help him down they all began suffering from hypothermia in the process and ended up having to make the hardest decision ever. They had to leave him behind. His body was found months later on a ledge preserved by the ice.
Yasuko Namba
Working hard to complete her challenge of conquering the Seven Summits this Japanese climber had reached the top and secured her title as the oldest woman at the time to have submitted. She was 47 years old and upon coming back down was struck by a blizzard. She and her group became trapped on South Col, and no one was sure where the camp was. Namba's body, in the end, succumbed the harsh conditions after being left behind by the guide.
After starting a Google Adventure Team Fredenburg and his group decided to give Everest a try. Their timing could not have been worse because during their climb a massive earthquake rocked Nepal and caused a monstrous avalanche on Mount Everest. This avalanche claimed his life.
Siffredi scaled Everest in hopes of snowboarding his way back down. Once he reached the top his partner urged him to begin his decent, but he would not pass up the opportunity to shred this 'holy grail' of snowboarding. After being unable to convince him, his partner returned to the bottom never seeing him again. Many claims have been made that he has been seen sliding down the mountain from time to time without any tracks following…spooky!
Wilson believed that by prayer and his faith alone he would be able to succeed. He intended on flying a plane to the upper slopes and then hike to the summit, but he was not allowed to do so. Being unaware of ice climbing and lack of training to make his way up Wilson was forced to retrace his steps and lose his bearings the whole way. He was urged by those who crossed him to return back to camp, but never returned from his last attempt. He was found dead and covered in snow along with his diary that recalled many details from his failed expedition.
Rainbow Valley is nothing like what you would normally associate with rainbows. It is a mass pit of dead bodies, a rainbow of climbing gear still clinging to the corpses. Climbers have been known to push bodies over the mountainside and into the valley so that it is less of a hazard for those making their way up.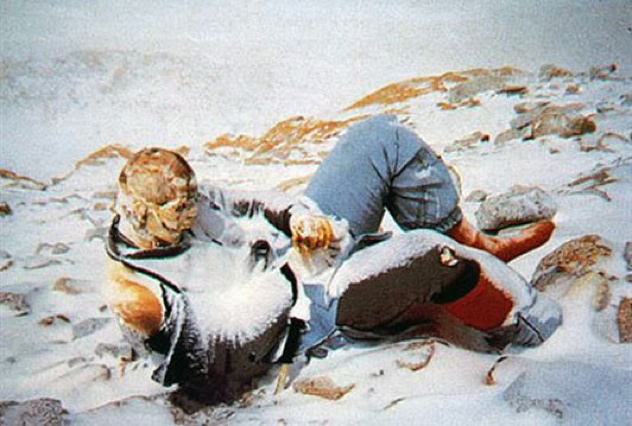 Schmatz was a German mountaineer who had successfully climbed Everest in October of 1979, however, on her way down her and her partner Gener were overcome with exhaustion. While they should have continued on and returned to camp they chose to spend the night in the Death Zone. Their temporary camp consisted of merely sleeping bags and Genet didn't even make it through the night. He passed away from hypothermia and sadly Schmatz a mere 330 feet from camp succumbed to exhaustion. For years climbers passed her body until it was swept down due to high winds.
George Mallory
Mallory was one of the most famous expert climbers of the 20th century. He is known as the oldest corpse on Mount Everest and was missing for over 75 years. His body was found on the north side of the mountain, and it appeared he had suffered severe rope jerk injuries on his torso. The theory is that he was tethered to Irvine when one of them fell off of the mountain and the other was pulled along with.
Attempting to trek to the top of Everest without the help of oxygen, Sherpas, or teammates he made his way to the top. For some reason on his way down, he stopped to rest inside Green Boots' cave. He became disoriented and was suffering from exhaustion. It is said he did not perish right away and that over 40 climbers passed by him refusing to help. He was left to die but seemed to be unsavable as he was completely frostbitten and incoherent. On Everest it seems helping others does not happen often.
Francys & Sergi Arsentiev
The couple were scaling Everest without the help of oxygen this made them travel much slower than others. They were not able to summit until late in the day and ended up being forced to spend another night in the Death Zone. The two became separated and Sergi made his way to camp hoping she had done the same.
After noticing she had not made her way down he rushed back up bringing with him oxygen but was never seen again. Francys was found half alive unable to move on her own and an Uzbek team helped her as far down as they could until they were forced to abandon her. While it was a painful decision they did all they could in hopes of saving her.
This man's body became quite the infamous marker when gauging how far a person has to go before they reach the top. Paljor is said to have succumbed to 'summit fever.' He was wearing some very bright green boots when he passed and since has been nicknamed 'green boots.' While his body is no longer in the same place as it was he is still one of the bodies lost to the mountain itself. The conditions on Everest are terrifying.
Attempting a previously unclimbed route up Everest Hoey fell 3,000 feet meeting her death. If successful this would have been one of the few expeditions to conquer Everest from its Chinese side. Falling seems to be one of the more common ways of death on Everest as with any mountain and Hoey's body is still there today along with many others.